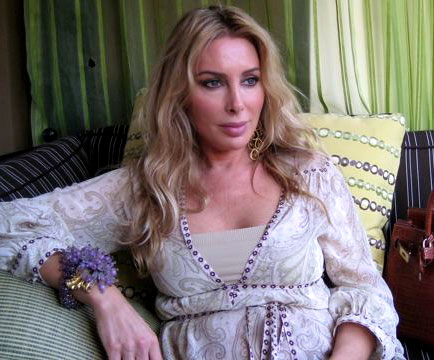 By Adrienne Papp
In the field of fashion there are recognized ongoing timeless names that represent the very highest form of style, like the 'Gucci Loafer' or the 'Hermès Scarf.'
And there are also designers who have that same sense of timelessness, a sense of style that leaves the rest of us wondering how we can have just a tiny part of what comes easily to others.
And it comes easily to Svetlana Hunt, an LA-based designer who has a track record for being at the leading edge of fashion trends. Her history includes a life of travel and inspiration that resulted in innovative new designs for a woman who would like to be modern, simple, young and yet elegant.
Svetlana was born in Russia and left as a child in 1979 to live in Europe. As a young girl she started designing cool T-shirts for herself and her friends. When her family couldn't find any fashionable clothes for plus-size women, she created a line of hand-beaded gowns which she imported into Russia.
Svetlana moved to London and discovered a line of exclusive professional cosmetics that was unknown in Russia. She soon was importing 4 lines of British brands for the women's market, and in 3 years had over 1,000 retailers selling her products. With her intuitive sense of style and the needs of women, Svetlana had become an internationally-recognized style guru before the age of 30.
Life took Svetlana to the glamour capitol of the world, Los Angeles, where she didn't waste any time. She had an inspiration to create a unique jeweled bathing suit line that would be wearable both in the bedroom or outdoors, easily going 'from bed to beach,' as she puts it. 'For me, it is not so much about business as it is about the creativity,' she says. 'It's usually something that doesn't yet exist.' Sourcing jewelry for her new designs, Svetlana found a Dubai-based manufacturer owned by an Indian princess who made an offer for the original design concept. She sold the idea and moved on, before she even cashed the check!
'Sometimes I just feel like designing something for myself. I love fashion, but it should not rule you,' she says. 'My designs are about complementing the woman and not hiding her behind overpowering colors and ornaments. I had an idea for a line of simple, high quality clothes in subtle colours that would be suited to women who wanted a stylish everyday wardrobe that they could mix and match, something very chic with an understated elegance.'
Quickly formalizing her ideas, Svetlana created a small line and called it Sam & Mandy, with a tongue in cheek S&M logo and the slogan 'For the Girl Who Has Everything, But Wants More.' 'Quality and finishing are the most important aspects to me, in everything. These are not mass production items,' Svetlana says. 'My designs are created first of all for me, and are a way for women to enjoy a little of my inspiration, which is all about a woman who is strong, confident, feels good about herself and yet is still very sexy and feminine.'
Svetlana's latest project is line of patented garment storage system called Le Moth Fix designed to organize and protect fine fabrics like cashmere and silk. A unique case made out of light, sheer fabric is treated with organic lavender to repel moths and has a labeling space for easy stacking and identification, an elegant and effective alternative to the bulky plastic storage bags found at typical organizer stores.
With so many ideas to her credit, I asked Svetlana what was next. She answered with a sparkle in her eye. 'I have always been fascinated with cooking,' she says. 'I feel the happiest in the kitchen. Let's see…'
Image courtesy of Adrienne Papp/Svetlana Hunt
______________
About the Writer:  
Adrienne Papp
 is a recognized journalist who has written for many publications including Savoir, Beverly Hills 90210, Malibu Beach, Santa Monica Sun, The Beverly Hills Times, Brentwood News, Bel-Air View and Celebrity Society, among many others. She is the President and CEO of Los Angeles/New York-based publicity companies,
Atlantic Publicity
and
Atlantic Publisher
. Adrienne writes about world trends, Quantum Physics, entertainment and interviews celebrities and world leaders.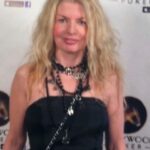 About the Author of This Article:  Adrienne Papp is a recognized journalist, economist and feature writer, who has written for many publications including Savoir; The Westside Today Publications ; such as Beverly Hills 90210; Malibu Beach; Santa Monica Sun; The Beverly Hills Times; Brentwood News; Bel-Air View ; Celebrity Society ; Celeb Staff ; It Magazine;  Chic Today;  LA2DAY;  West Side Today among many others. She is the President and CEO of Los Angeles / New York-based publicity company, Atlantic Publicity and publishing house, Atlantic Publisher. Adrienne writes about world trends, Quantum Physics, entertainment and interviews celebrities, world leaders, inventors, philanthropists and entrepreneurs. She also owns Atlantic United Films that produces and finances true stories made for theatrical release or the silver screen. Spotlight News Magazine is owned by Atlantic Publicity that just opened a new extension to it : PublicityLosAngeles. Adrienne Papp is a member of the International Press Academy.She is the Founder, CEO and President  of Youthful & Ageless ™, Bringing Information to Billions™, An Honorable Cause™  www.LatestAgeless.com. www.OurMediaVenuesAndCompanies.com, Atlantic Publicity Articles, Latest Ageless, Events Photo Collection, Linked In Profile, Movie Data Base  Profile, Twitter, Instagram, Youthful and Ageless Google+, Atlantic Publicity Google+, Atlantic Publisher Google+, Adrienne Papp Google+, Adrienne Papp Personal Google+, Spotlight News Magazine, Atlantic Publicity Productions, Atlantic Altitude, Altitude Pacific, Atlantic Publicity Photography and Filming, About Adrienne Papp   What Others Say  AtlanticPublicitySEO, BrilliantMarketing365, An Honorable Cause, Academic Research, Knighthood Today,    Youthful and Ageless™. She was knighted and became a Dame in 2010. Her official name is Lady Adrienne Papp and Dame Adrienne Papp. Voting Member of The International Press Academy and The Oscars: Academy of Motion Picture Arts and Sciences. She is the Managing Editorial Director of The Beverly Hills Times Magazine, and Hollywood Weekly. She has a Master of Science in Economics majoring Logistics; an MBA Degree; An International Law, Trade and Finance Postgraduate: Marketing and Advertising Postgraduate from NYU and UCLA. Guest Professor at Oxford University; Director and Producer of TV and Airline On Camera Editorials; Adrienne Papp Enterprises