By Adrienne Papp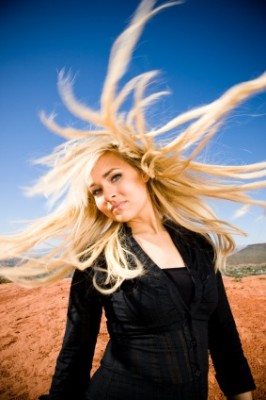 Los Angeles, and especially the Westside, has no shortage of hair salons. But it does have a shortage of total service salons that can make a significant difference not only to your appearance, but also to your mood for the day.
Kyle Mathis Organic Hairdressing, located on Wilshire Blvd. in Santa Monica, offers much more than any ordinary salon. Now going into its fourth year, this stylish space offers a wide variety of custom treatments and services, all in an atmosphere that proprietor Mathis calls "Zen Rock 'n' Roll."
It's easy to see why that description is accurate when you enter the premises. It's a comforting, open space, very calm and orderly, unlike typical salons that can be crowded and noisy. A number of guitars hang on the walls as decorations and give the interior a rock 'n' roll vibe–without the actual need for loud, blaring music. You immediately get the feeling that this is a very contemporary place that goes about its business in a highly professional way.
The salon treatments here are offered in an atmosphere of calming serenity, which immediately relaxes you, and the treatments are based on providing the best possible look and creating naturally healthy hair.
"We spent a lot of time developing organic, natural treatments that will help restore the natural luster and health to hair. This is especially important when hair has been subject to different processes that can stress and damage it," says Mathis. These treatments include proprietary natural blends of herbal and vegetable extracts.
Mathis has over fifteen years of experience in the styling and maintenance of hair, and spent the first fifteen years of his career in Texas. After a close brush with a serious illness, he decided to pack up everything and move to the Big Time, opening his salon in Santa Monica and offering his unique services to an area where appearance and style are so important.
Now staffed with seven employees, Kyle Mathis Organic Hairdressing is developing a reputation as a salon offering a wide variety of services in an atmosphere that is calming and serene. "Personalized service is one of the things we excel at," says Mathis. "Every customer is offered highly individualized custom treatments for each unique hair type and style."
One of the most popular treatments, used along with restorative organic extracts, is the scalp massage, which is part of the Zen at work here. After one of these treatments, you will walk of the salon with a not only a radiant new look for your hair, but also what amounts to a complete attitude adjustment.
Kyle's Salon is now open seven days a week, so there is no excuse for not stopping in for the type of service that will help you look and feel your best.
For more information: www.kylemathishairdressing.com
______________
About the Writer:  
Adrienne Papp
 is a recognized journalist who has written for many publications including Savoir, Beverly Hills 90210, Malibu Beach, Santa Monica Sun, The Beverly Hills Times, Brentwood News, Bel-Air View and Celebrity Society, among many others. She is the President and CEO of Los Angeles/New York-based publicity companies,
Atlantic Publicity
and
Atlantic Publisher
. Adrienne writes about world trends, Quantum Physics, entertainment and interviews celebrities and world leaders.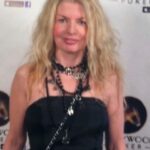 About the Author of This Article:  Adrienne Papp is a recognized journalist, economist and feature writer, who has written for many publications including Savoir; The Westside Today Publications ; such as Beverly Hills 90210; Malibu Beach; Santa Monica Sun; The Beverly Hills Times; Brentwood News; Bel-Air View ; Celebrity Society ; Celeb Staff ; It Magazine;  Chic Today;  LA2DAY;  West Side Today among many others. She is the President and CEO of Los Angeles / New York-based publicity company, Atlantic Publicity and publishing house, Atlantic Publisher. Adrienne writes about world trends, Quantum Physics, entertainment and interviews celebrities, world leaders, inventors, philanthropists and entrepreneurs. She also owns Atlantic United Films that produces and finances true stories made for theatrical release or the silver screen. Spotlight News Magazine is owned by Atlantic Publicity that just opened a new extension to it : PublicityLosAngeles. Adrienne Papp is a member of the International Press Academy.She is the Founder, CEO and President  of Youthful & Ageless ™, Bringing Information to Billions™, An Honorable Cause™  www.LatestAgeless.com. www.OurMediaVenuesAndCompanies.com, Atlantic Publicity Articles, Latest Ageless, Events Photo Collection, Linked In Profile, Movie Data Base  Profile, Twitter, Instagram, Youthful and Ageless Google+, Atlantic Publicity Google+, Atlantic Publisher Google+, Adrienne Papp Google+, Adrienne Papp Personal Google+, Spotlight News Magazine, Atlantic Publicity Productions, Atlantic Altitude, Altitude Pacific, Atlantic Publicity Photography and Filming, About Adrienne Papp   What Others Say  AtlanticPublicitySEO, BrilliantMarketing365, An Honorable Cause, Academic Research, Knighthood Today,    Youthful and Ageless™. She was knighted and became a Dame in 2010. Her official name is Lady Adrienne Papp and Dame Adrienne Papp. Voting Member of The International Press Academy and The Oscars: Academy of Motion Picture Arts and Sciences. She is the Managing Editorial Director of The Beverly Hills Times Magazine, and Hollywood Weekly. She has a Master of Science in Economics majoring Logistics; an MBA Degree; An International Law, Trade and Finance Postgraduate: Marketing and Advertising Postgraduate from NYU and UCLA. Guest Professor at Oxford University; Director and Producer of TV and Airline On Camera Editorials; Adrienne Papp Enterprises