By Adrienne Papp
HBFF 2012 will open with World Premiere of "Note to Self" Starring Christian Keyes, LeToya Luckett, Richard T. Jones, Brian McKnight and Valarie Pettiford
Festival Closes with "24 Hour Love" Starring Melinda Williams, Tatyana Ali, Flex Alexander, Chico Beynmon, Lynn Whitfield and Darius McCrary
On October 8, Tanya Kersey, Founder and Executive Director for The Hollywood Black Film Festival (HBFF) announced Note To Self will open the 12th Hollywood Black Film Festival on Thursday, October 25, 2011, 7pm, at the Montalban Theater, 1615 Vine Street, Hollywood, CA. The festival will close with 24 Hour Love on Sunday, October 28 at 6 pm at the same location. HBFF 2012 runs October 25-28 in Hollywood, CA.
Note to Self centers around a handsome and popular student-athlete who embarks on a journey of self-realization while navigating the choppy waters of a love triangle. The film stars Christian Keyes, LeToya Luckett, Richard T. Jones, Brian McKnight, Eva Marcille, Clifton Powell, Valarie Pettiford, Jason Weaver, Brely Evans, Sebastian Siegal, Willie Taylor, Mishon Ratliff, Brian McKnight, Jr. and more. Trey Haley directs from a script by Christian Keyes. ND Brown, Eric Tomosunas, Veronica Nicholas and Keith Neal are the producers. Gregory Anderson and Reginald Jones are the executive producers. The film is produced Tri Destined Studios and Swirl Films, and is being distributed by One Village/Image Entertainment.
Following the screening there will be a Q&A with the director, writer and cast, and a college-themed after-party will follow.
Closing Night will feature the world premiere of 24 Hour Love, which showcases seven stories of everyday people experiencing love, laughter, life and relationships of the heart … the Good, the Bad and the Ugly. The film stars Melinda Williams, Tatyana Ali, Keith Robinson, Eva Marcille, Flex Alexander, Chico Benymon, Lynn Whitfield and Darius McCrary. Fred Thomas directs from a script by Don B. Welch. The producers are Eric Tomosunas and Don B. Welch.
Following the screening there will be a Q&A with the director, writer and cast. The festival wrap-party will follow.
About the HBFF
Founded in 1999, The Hollywood Black Film Festival aims to enhance the careers of emerging and established North American filmmakers through a public exhibition, competition program and industry panels. Known amongst the entertainment industry's powerbrokers as, "The Black Sundance," the festival brings independent works of accomplished and aspiring black filmmakers to an environment encompassing the mainstream Hollywood community and Southern California film-going audiences. The festival's goal is to play an integral role in discovering and launching independent films and filmmakers by bringing them to the attention of the industry, press and public.
HBFF Sponsors
HBFF 2012 is made possible by the generous support of its sponsors. Official sponsors are NBC/Universal, Wells Fargo, Nike and Studio System. Donor sponsor Greenhouse Studios. Patron sponsors are Final Draft, Hawaiian Springs Water, Michael Baisden, Motions Haircare, Syncom and Waves & Trails Travel. Festival friends include CC Nails, Cofer Entertainment Group, Creative Handbook, Emma's Cupcakes, Glidecam and Sony Creative Studios. Blackpr, and Naija Standard Newspaper are media partners. One Village Entertainment, Tri Destined Studios, Swirl Films and Southern Girl Desserts are the Opening Night sponsors. Additional thanks to the W Hotel and The Montalban.
About the Author of This Article:  Lady Adrienne Papp is a recognized journalist who has written for many publications including Savoir, Beverly Hills 90210, Malibu Beach, Santa Monica Sun, The Beverly Hills Times, Brentwood News, Bel-Air View,Celebrity Society,Celeb Staff, It Magazine, Chic Today, LA2DAY, West Side Todayamong many others. She is the President and CEO of Los Angeles / New York-based publicity company, Atlantic Publicityand publishing house, Atlantic Publisher. Adrienne writes about world trends, Quantum Physics, entertainment and interviews celebrities, world leaders, inventors, philanthropists and entrepreneurs. She also owns Atlantic United Films that produces and finances true stories made for theatrical release or the silver screen. Spotlight News Magazineis owned by Atlantic United, Incwith Adrienne Pappbeing the majority shareholder.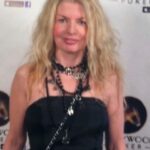 About the Author of This Article:  Adrienne Papp is a recognized journalist, economist and feature writer, who has written for many publications including Savoir; The Westside Today Publications ; such as Beverly Hills 90210; Malibu Beach; Santa Monica Sun; The Beverly Hills Times; Brentwood News; Bel-Air View ; Celebrity Society ; Celeb Staff ; It Magazine;  Chic Today;  LA2DAY;  West Side Today among many others. She is the President and CEO of Los Angeles / New York-based publicity company, Atlantic Publicity and publishing house, Atlantic Publisher. Adrienne writes about world trends, Quantum Physics, entertainment and interviews celebrities, world leaders, inventors, philanthropists and entrepreneurs. She also owns Atlantic United Films that produces and finances true stories made for theatrical release or the silver screen. Spotlight News Magazine is owned by Atlantic Publicity that just opened a new extension to it : PublicityLosAngeles. Adrienne Papp is a member of the International Press Academy.She is the Founder, CEO and President  of Youthful & Ageless ™, Bringing Information to Billions™, An Honorable Cause™  www.LatestAgeless.com. www.OurMediaVenuesAndCompanies.com, Atlantic Publicity Articles, Latest Ageless, Events Photo Collection, Linked In Profile, Movie Data Base  Profile, Twitter, Instagram, Youthful and Ageless Google+, Atlantic Publicity Google+, Atlantic Publisher Google+, Adrienne Papp Google+, Adrienne Papp Personal Google+, Spotlight News Magazine, Atlantic Publicity Productions, Atlantic Altitude, Altitude Pacific, Atlantic Publicity Photography and Filming, About Adrienne Papp   What Others Say  AtlanticPublicitySEO, BrilliantMarketing365, An Honorable Cause, Academic Research, Knighthood Today,    Youthful and Ageless™. She was knighted and became a Dame in 2010. Her official name is Lady Adrienne Papp and Dame Adrienne Papp. Voting Member of The International Press Academy and The Oscars: Academy of Motion Picture Arts and Sciences. She is the Managing Editorial Director of The Beverly Hills Times Magazine, and Hollywood Weekly. She has a Master of Science in Economics majoring Logistics; an MBA Degree; An International Law, Trade and Finance Postgraduate: Marketing and Advertising Postgraduate from NYU and UCLA. Guest Professor at Oxford University; Director and Producer of TV and Airline On Camera Editorials; Adrienne Papp Enterprises