A Tribute to Alan Rickman, By Adrienne Papp 
Remembering Alan Rickman
Born to a working-class family in London, Alan Rickman (February 21, 1946 – January 14, 2016) took to the arts at a young age, initially following in his older brother's footsteps as a graphic designer. But acting was his real passion, and in the early 1970s he successfully auditioned for the Royal Academy of Dramatic Art. Steady stage roles grounded in the classics led Rickman to the Royal Shakespeare Company, and his work as the Vicomte de Valmont in the RSC's Broadway transfer of Les Liaisons Dangereuses earned the actor a Tony nomination.
Hollywood soon came calling, and what it saw in the performer was a first-class bad guy; Bruce Willis wouldn't have seemed nearly as heroic in DIE HARD if Rickman's German terrorist wasn't so menacing. His juicy turn as the Sheriff of Nottingham in ROBIN HOOD: PRINCE OF THIEVES won Rickman BAFTA's Best Supporting Actor award, and the title role of TV's "Rasputin" earned him an Emmy and a Golden Globe. His role as Severus Snape in the HARRY POTTER franchise, is at first glance another frightening antagonist – Harry Potter's least favorite teacher of Potions and Defense Against the Dark Arts. Yet by the series' end, Snape is seen as someone much more complex, thanks largely to Rickman's performance.
And so it is with the actor himself. Look past the blockbusters and Rickman's versatility is quickly evident. From sophisticated romance (TRULY, MADLY, DEEPLY; SENSE AND SENSIBILITY) to sci-fi comedy (GALAXY QUEST, THE HITCHHIKER'S GUIDE TO THE GALAXY), there wasn't a character beyond his range. His final screen appearance, as a lieutenant general in the new British thriller EYE IN THE SKY, is another to treasure: thoughtful, commanding and thoroughly memorable.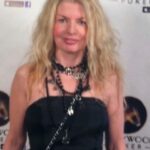 About the Author of This Article:  Adrienne Papp is a recognized journalist, economist and feature writer, who has written for many publications including Savoir; The Westside Today Publications ; such as Beverly Hills 90210; Malibu Beach; Santa Monica Sun; The Beverly Hills Times; Brentwood News; Bel-Air View ; Celebrity Society ; Celeb Staff ; It Magazine;  Chic Today;  LA2DAY;  West Side Today among many others. She is the President and CEO of Los Angeles / New York-based publicity company, Atlantic Publicity and publishing house, Atlantic Publisher. Adrienne writes about world trends, Quantum Physics, entertainment and interviews celebrities, world leaders, inventors, philanthropists and entrepreneurs. She also owns Atlantic United Films that produces and finances true stories made for theatrical release or the silver screen. Spotlight News Magazine is owned by Atlantic Publicity that just opened a new extension to it : PublicityLosAngeles. Adrienne Papp is a member of the International Press Academy.She is the Founder, CEO and President  of Youthful & Ageless ™, Bringing Information to Billions™, An Honorable Cause™  www.LatestAgeless.com. www.OurMediaVenuesAndCompanies.com, Atlantic Publicity Articles, Latest Ageless, Events Photo Collection, Linked In Profile, Movie Data Base  Profile, Twitter, Instagram, Youthful and Ageless Google+, Atlantic Publicity Google+, Atlantic Publisher Google+, Adrienne Papp Google+, Adrienne Papp Personal Google+, Spotlight News Magazine, Atlantic Publicity Productions, Atlantic Altitude, Altitude Pacific, Atlantic Publicity Photography and Filming, About Adrienne Papp   What Others Say  AtlanticPublicitySEO, BrilliantMarketing365, An Honorable Cause, Academic Research, Knighthood Today,    Youthful and Ageless™. She was knighted and became a Dame in 2010. Her official name is Lady Adrienne Papp and Dame Adrienne Papp. Voting Member of The International Press Academy and The Oscars: Academy of Motion Picture Arts and Sciences. She is the Managing Editorial Director of The Beverly Hills Times Magazine, and Hollywood Weekly. She has a Master of Science in Economics majoring Logistics; an MBA Degree; An International Law, Trade and Finance Postgraduate: Marketing and Advertising Postgraduate from NYU and UCLA. Guest Professor at Oxford University; Director and Producer of TV and Airline On Camera Editorials; Adrienne Papp Enterprises