By guitarists for guitarists, Posted by Adrienne Papp from source: https://www.jenreviews.com
There are always going to be people who inspire you as you learn how to play the guitar. Obviously, your overall goal will be to create a sound unique to yourself, and hopefully one day someone will recognize your personal sound as an influence on them, but in the meantime, it's always fun to try and sound like your heroes!
In this important guide, I'll show you how to create a sound similar to 10 of the most influential guitarists of all time.
If you're looking to sound like any of these great players, you're in the right place…
Jimi Hendrix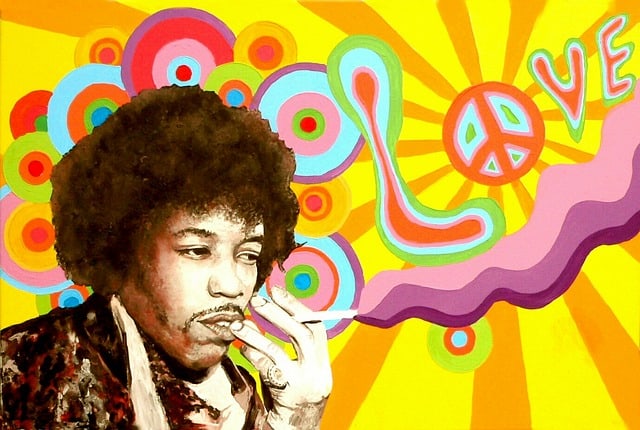 Widely regarded as the most influential guitarist of all time, Jimi Hendrix brought his guitar playing across the world through his overdriven, hard rock approach. You'll be hard pressed to find a guitarist who doesn't cite Hendrix as an influence.
Key Tracks:
     Hey Joe: This track kicks off with an instantly recognisable clean run down before it moves into a chordal accompaniment.
     Wind Cries Mary: One of Hendrix's only ballads, the chromatic chord sequences of this piece perfectly compliment his husky voice.
     51st Anniversary: The 3rd out of 3 tracks that appear on The Jimi Hendrix Experience's Axis Bold As Love is this, which includes a sweet duet between his voice and guitar as they play the same melody.
His Technique:
     Breaking Up Chords: Much of his sound came from breaking chords up into smaller chunks. This came from letting some notes ring out (often on open strings), embellishing via hammer ons and bends, while hitting bass notes with his thumb on string 6. This gives multiple, defining aspects to every chord. 'Little Wing' is a good example of this technique in action.
     Stage Moves: While if you're playing on record, then these techniques aren't going to have much of a positive impact on your sound, but if performing Hendrix, then classic moves of his such as playing behind the head and playing with your teeth will recreate the spirit of his live show.
His Tone:
     Fender Strat: The unique Fender Strat that is most associated with Hendrix, uses a right handed body, a flipped bridge pickup and a left handed neck. His custom version is Mexican-made and widely available as the 'Fender Jimi Hendrix Stratocaster'. Grab one to push your tone towards the great man's sound.
     Wah: Aside from an obvious reinvention of what it was to use overdrive, the Dunlop JH1D Hendrix Wah pedal is able to imitate the genre-defying sound used in tracks like 'Voodoo Child'. Combine this with Hendrix's playing techniques and a delightful amount of overdrive, and you'll hear yourself getting close to his sound.
Give It A Shot:
     Something easy: While replicating the tone of Hendrix is especially hard even when you know exactly what to do, 'Foxy Lady' is one of Hendrix's more forgiving riffs. Take a look here.
     His best solo: Take your pick from one of the three immense solos on 'All Along The Watchtower'. While originally written by Bob Dylan, Hendrix reimagines the piece in his hard rock style with my personal favourite moment coming in the opening bars.
Mark Knopfler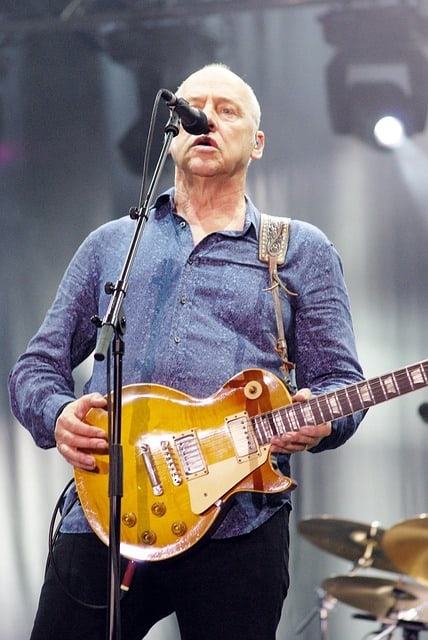 The lead guitarist and vocalist of world dominating band Dire Straits, Mark Knopfler has since gone on to have a folky solo career. The main thing that has followed him throughout his career is his fingerpicking style.
Key Tracks:
     'Sultans Of Swing' is often regarded as having one of the greatest guitar solos of all time, while retaining its place as one of Knopfler's most defining pieces. The hammer on/pull off section of the solo is stunning.
     'Telegraph Road' is one of Dire Strait's ventures out into the world of progressive rock, as this 15-minute tune takes us through a variety of different approaches to guitar playing.
     'Why Aye Man' is actually from Knopfler's solo career, and foreshadows his genre shift that pushes towards folky country rock, showing his versatility since leaving the band behind.
His Technique:
     Fingerpicking: The main thing Knopfler is known for is his ability to maintain a virtuosic performance while never using a guitar pick. This means a distinct, muted, trebly tone persists throughout his work.
     Guitar Fills: Between his vocal lines, you may notice that Knopfler pretty much always chucks in a short fill. It's a bit like a melodic drum fill between phrases. This is an easy way to move towards the classic Knopfler sound.
His Tone:
     Reverb: Or rather, lack of. This common effect both appears naturally and is extended by so many guitarists that there is almost no point mentioning it. Knopfler, however, favours a short, sharp delay effect instead.
     Dynamics: These are important to Knopfler, who already has a nice amount of compression on his guitar, but also adds an extra layer of control through the use of volume pedals. Grab one of these and you'll be one step closer.
Give It A Shot:
     Something easy: While a bit of an anomaly tone-wise, 'Money For Nothing' has one of the most iconic intros and riffs in all of music, and it's incredibly satisfying when you pull it off. Take a look here.
     His best solo: While there are many (including 'Sultans Of Swing') that could take this title, 'Tunnel Of Love' tops the list with its magnificent outro.
David Gilmour
Joining Pink Floyd in 1968 after the demise of singer, guitarist and founder Syd Barrett, David Gilmour brought his iconic guitar tone (and majestic voice) to one of the biggest bands of all time.
Key Tracks:
     Comfortably Numb: I'm sure that within weeks of picking up the guitar you came across the iconic guitar solo from this piece. Opening with the immediately recognisable harmonic, this pentatonic based solo is one of the best of all time.
     Shine On You Crazy Diamond: Split into two parts across the Wish You Were Here album, this 9-movement suite is built on one of Gilmour's most iconic hooks. Have a look at this tab.
     High Hopes: After the creative genius of Roger Waters left Pink Floyd, their music went downhill. However, the one standout piece, 'High Hopes', combines Gilmour's beautiful acoustic guitar playing with a fierce slide guitar solo.
His Technique:
     Blues influence: The influence from blues comes through in Gilmour's style, as his often quite simple phrasing, expressive note bends (and 'blue' notes) and sustained notes. His playing doesn't use virtuosic speed, but it is, in his own words, 'instantly recognisable'. To bring this out in your own sound, focus on feeling the music and creating melodies, rather than showing off.
     Pentatonic scale: The use of the pentatonic scale is a simple, but effective way of imitating Gilmour. Unlike many guitarists, chromaticism and complexity isn't frequent in Pink Floyd's guitar sound. This is probably why a huge focus on the simple notes of the pentatonic scale give such a melodic feel to his performances. This guide will help you use the scale.
His Tone:
     Black Strat: A huge amount of Gilmour's distinctive sound comes from the many guitars he uses throughout his career (many of which are now going up for sale at auction if you really want to sound like Gilmour). His signature guitar was used on every album from 1970 until the mid 80's, as well as the Live 8 reunion. Replications can now be bought in order to create its tone yourself.
     The Tone: This comes from a combination of the guitar's elements, with the SSL-5 pickup being created to take you towards his tone. His string gauges are .010, .012, .016, .028, .038 and .048, a relatively thick guitar pick, (often) a Hiwatt 100 wat amp head through many cabinets and a huge array of pedals, including a pedal called ProCo Rat that imitates Fuzz Face and Big Muff as well as phaser, delay and a compressor. Combine these until you hear your sound get towards Gilmour's.
Give It A Shot:
     Something easy: Possibly the most recognisable aspect of the entire Pink Floyd catalogue is the immensely simply 3-note riff of 'Another Brick In The Wall Part 2' (and it comes back throughout the entire album The Wall). Take a look at the tab.
     His best solo: Taken from the iconic Dark Side Of The Moon, the solo from 'Time' tops the traditional approach found in 'Comfortably Numb' and explodes into a heavy, gloriously melodic piece of blues-inspired improvisation.
Jimmy Page
Master riff-writer Jimmy Page brought his blues inspired, hard rock riffs to Led Zeppelin, perfectly mingling with the voice of Robert Plant. He was able to move between fast, virtuosic solos and twisting psychedelic freak outs.
Key Tracks:
     'Whole Lotta Love' combines hard rocking riffs full of heavy reverb, with the ability to control psychedelic noise and effects. Take a look at our guide to the best pedals to buy to create your own psychedelic freak out.
     'Kashmir' is one of the most famous examples of Led Zeppelin's output, with the unique combination of 3/8 and 4/4 time signatures to pull off the piece's distinctive sound. It's not too hard to learn either.
     'Achilles Last Stand' is a much harder one. At roughly 10 minutes long with many changes of section, this is one of the band's most progressive works… get used to changing sections a lot.
His Technique:
     String Bending: One of the reasons Page uses extra light gauge strings is in order to create the distinctive bends that come across in every track. Often, his bend will use the microtones that appear between the major 3rd and 4th before returning to the original note. Even the iconic 'Stairway' solo opens with one of his trademark bends. Have a look at our guide.
     Vibrato: Adding some sting vibrato (or even shaking the entire guitar) will bring you closer to the classic Page sound. In particular, applying vibrato to an already bent string is a classic move he applies in both riffs and improvisation.
His Tone:
     Telecaster: Page is known for both his classic Gibson Les Paul and a Fender Classic Player Baja 60s Telecaster. The latter guitar combines the alder body, maple neck, rosewood fretboard and single coil pickups to create a tone similar to Page's.
     Fuzz Pedal: This pedal is key to capturing Page's hard rock sound. Specifically, the Surpo 1304 Fuzz box when combined with harsh gain and a loud amp can give you the aggressive tone of riffs that appear on tracks like 'Rock And Roll'.
Give It A Shot:
     Something easy: The huge reverb and dazzling ringing notes of 'Dazed And Confused' contrast the slow, descending bassline that underpins it. Luckily, the guitar doesn't get too complex here, so you'll be able to pick it up quite easily.
     His best solo: Obviously you're well aware of 'Stairway To Heaven'. Voted the best guitar solo of all time pretty much across the board, and it really does live up to its title.
Tony Iommi
Essentially credited with inventing the entire metal genre as part of Black Sabbath, Iommi's heavy tone comes in part from the loss of the tips of his middle and ring fingers when he was a factory worker.
Key Tracks:
     'Black Sabbath' is the song that pretty much invented heavy metal. The crushing distortion and dissonant, tritone intervals foreshadow the sound of an entire genre.
     'Paranoid' takes the sound of Black Sabbath up a notch, by bringing the speed up tenfold, and showing off Iommi's ability to alternate between palm muting and open, ringing strings.
     'War Pigs' is the track fellow metallers Judas Priest take to the stage with at every show, and its infections singalong chant interjected with the aggressive chords prove why.
His Technique:
     Thimble: Interestingly, one of the ways to take a step towards an Iommi-esque tone, is by crafting your own version of the trademark thimble. It's a bit of a stretch, but it'll really help kicking off his permanently semi-muted sound.
     Tritones: The augmented (#) 4th, diminished (b) 5th, or even 'the devil in music', the tritone is key to Iommi's playing. The brutal riff shown in 'Black Sabbath' brings this to the forefront of the piece, but any movement that cuts an octave in half gives off the classic Iommi brutality.
His Tone:
     The Guitar: The Gibson SG is a guitar rarely used in heavy metal, but Iommi's customised SG with light strings and dropped tunings gave him the perfect way to play with his injuries.
     Overdrive: Obviously, Iommi wouldn't have been able to essentially invent heavy metal without a decent bit of overdrive. However, his gain was never too high, with a treble booster acting to increase the overdriven sound.
Give It A Shot:
     Something easy: Filled with Ozzy's favourite technique of singing along with Iommi's catchy riffs, 'Iron Man' is abundant with quality playing. Take a look at the tab for an easy tune to play along with.
     His best solo: With a cover by System Of A Down increasing the heaviness of this tune, 'Snowblind' includes one of Iommi's most virtuosic displays.
BB King
Arguably the most influential blues guitarist of all time, BB King and his iconic guitar Lucille maintained their place as key figures in blues throughout his entire lifetime.
Key Tracks:
     'The Thrill Is Gone' opens with a drum fill that leads straight into one of BB King's most iconic licks and bluesy improvisation. His gentle tone, fuelled by emotion, is key to the track.
     'Every Day I Have The Blues' takes it down a notch, giving the spotlight to King's interjecting fills, played on Lucille with burning passion every time.
     'Why I Sing The Blues' is one of King's more upbeat tracks, and this collaborative performance alongside the likes of Phil Collins, Eric Clapton and Chaka Khan includes one of King's best performances.
His Technique:
     Emotion: The main element of BB King's approach to improvisation is his use of emotion in his playing. His microtonal bends and delicate phrasing combined with his aversion to randomly playing notes (as many guitarists tend to do) will help you to replicate a style similar to the King.
     BB Box: The BB Box is a great way to create BB-style licks. Simply find a specific pattern on the top three things and move it up and down the neck within the given key.
His Tone:
     Lucille: The blue ES-355 that is standard for King is easy to get your hands on. There are various Epiphone models that provide the semi-hollow sound, while a Gibson replica Lucille is also available at the upper end of the price range.
     Guitar Modifications: King did a lot of work to his guitar, including blocking the F-holes on Lucille to combat feedback, adding a 6-way switch that moves through all three pickups, as well as combinations of these pickups.
Give It A Shot:
     Something easy: The standard 12-bar blues of 'Rock Me Baby' is a nice easy one to get a hold of for any beginner guitarist. Have a go.
     His best solo: While 'The Thrill Is Gone' is King's most inspiring piece, but 'Never Make A Move Too Soon' includes his most well thought out, emotive solo.
Slash
With his long black hair that sits beneath his top hat, and his trademark Gibson Les Paul in his hands, Slash is one of the most iconic looking guitarists of all time, and his tone is distinctive to match.
Key Tracks:
     'Civil War' is full of subtle, clear arpeggios, harsh, sudden distorted chords and one of Slash's most impressive displays of virtuosity in the final solo.
     'Mr Brownstone' has heavy riffs galore, and remains a firm favourite for the fans and the band since their 2015 reunion.
     'Anastasia' is actually taken from Slash's second solo album, and after a tasteful Spanish guitar introduction, explodes into a huge arpeggio-based riff that I recommend you take a listen to immediately.
His Technique:
     Blues Licks: While Slash's trademark sound doesn't necessarily have much surface connection to his main influences such as BB King and Steve Ray Vaughn, the licks are all there. From his subtle bends, to pentatonic wailings and Dorian mode inflections. Try dropping these into a hard rock context.
     Melody: Slash's feel for melody is what puts him above many other guitarists. His uncanny ability to pulse out melodies mid-solo that would be any other guitarist's career highlight is unfathomable. Obviously, the natural skill he has isn't exactly transferrable, but aiming to make your playing as melodic as possible will always help.
His Tone:
     Gibson Les Paul: The beautiful gold-top Les Paul that basically accompanies every mental image of Slash is the first step towards his signature sound. They're pretty expensive, yes, but cheap Epiphone can still help you look and sound like the man himself.
     Marshall Amps: My knowledge of amps isn't great, but Slash's use of the Marshall sound is a testament to the great brand. Grab a valve amp with a nice amount of overdrive and a little reverb and his crunchy live sound will be within your reach.
Give It A Shot:
     Something easy: While this track is known to be one of his most well-loved pieces, the slowness of the first half makes 'November Rain' surprisingly easy to get the hang of.
     His best solo: My personal favourite solo of all time comes towards the end of 'Sweet Child O Mine', where sudden high notes and a total mastery of the wah pedal make for an impressive combination of melody and virtuosity.
Eddie Van Halen
Known for making guitar neck-tapping techniques famous across glamorous 70's rock while fronting Van Halen, Eddie often appears near the top of 'best guitarists of all time' lists, and for good reason.
Key Tracks:
     'Jump' is mostly known for its world famous synth intro (which is played by Eddie anyway), but you can deny the strength of his underpinning subtlety and the roaring guitar solo that was spliced together from multiple takes.
     'Hot For Teacher' combines two of the things EVH has mostly strongly stored within his arsenal. It kicks off with an astonishing piece of tapping virtuosity, before diving into a simple,  ZZ Top-like blues riff.
     'Everybody Wants Some!!' is full of interesting feedback and volume techniques over the jungle-like rhythmic accompaniment. The guitarist makes his guitar squeal and shriek, letting these sound effects take prominence over riffing.
His Technique:
     Tapping: This is pretty obvious. The thing EVH is most well-known for is popularising tapping, especially two handed, so if you can get a good technique down for that then you'll basically be halfway there. You can learn about tapping here.
     Extended Techniques: The variety of sound effects EVH is able to produce are innovative, and appear in works I've mentioned both above and below. Whether it's the scraping the pick up and down the strings, grinding on the springs of the tremolo arm or using a device that allows the guitar to be played like a piano.
His Tone:
     Customised Guitars: His EVH Frankenstein guitar is key. He has expressed a dislike for buying regular guitars from shops, but the replicas that exist of his own signature model are pricey. His tone has been described having the thick tone of a Les Paul and the expressiveness of a Strat.
     Brown Sound: This one is specific. Put a Dunlop/ MXR EVH Flanger and an EVH Phase 90 stompbox into a tape delay of 100-150ms going through a late- '60s 100-watt Marshall Super Lead and turn everything up.
Give It A Shot:
     Something easy: The 2-chord 'punk parody' 'Ain't Talkin' 'Bout Love' isn't well loved by EVH himself, but it's a good one to start with due to its repetitive simplicity. Have a try.
     His best solo: Without a doubt, 'Eruption' is one of the most impressive pieces in all guitar repertoire. It isn't actually as hard as it sounds, so combining the things I've mentioned above (with a lot of other stuff) will give you a good shot at creating something that sounds similar to this tapping masterclass.
Yngwie Malmsteen
While often derided for his show-off approach and brutal shredding, there is no denying that Malmsteen's natural talent for stunning speed is impressive and important in guitar playing history.
Key Tracks:
     'Far Beyond The Sun' is Malmsteen's most revered creation. Its opening solo moments could easily be written for violin, and immediately show off the creativity behind the player.
     'Black Star' is similar, but opens with a short acoustic prelude that shows off Malmsteen's varied playing abilities and clearly classically trained ear that returns in the melodies that follow.
     'Icarus' Dream Suite Op. 4' appears on the same iconic album as the above, but is based on neo-Baroque piece 'Albinoni's Adagio', showing his ability to bring classical melody into the shredding metal world.
His Technique:
     Shredding: Pure, unrivalled speed is the main thing people think of when Malmsteen comes to mind. Combine every possible element of fast guitar playing (sweep picking, tremolo etc) into brutally attacking arpeggios and scales and you'll already be channelling Malmsteen.
     Neo-Classicism: Many guitarists bring classical influence into their work in various ways, but the structures of his pieces (sonata form, as suites etc.), combined with Bach and Paganini style melodic figures give off more of a neo-classical style than most.
His Tone:
     Neck Pickup: This is a simple one that you can combine with his classical inspired arpeggio figures: use your neck pickup in order to get the trebly sound he creates.
     Scalloped Fretboard: Not only is this rare customisation going to make you feel a lot more like Malmsteen, the curved frets give off a distinctive tone, different to regular fretting. If you can get your hands on a signature Strat with one of these fretboards then it'll help your tone and playing (but it'll take getting used to).
Give It A Shot:
     Something easy: It's pretty hard to get something easy by a player so consistently fast, but  the baroque melody of 'Evil Eye' is (mostly) a simple one to get the hang over during the intro. Take a look.
     His best solo: The entire 'Trilogy Suite Op. 5' is designed to show off Yngwie Malmsteen's impressive playing ability, and does so in style, connecting soaring melodies and extended techniques into one work.
Tom Morello
As part of Rage Against The Machine, Tom Morello brought his completely unique, effects heavy sound to the world stage. While technical virtuosity wasn't his goal, the sound he created is instantly recognisable.
Key Tracks:
     'Know Your Enemy' kicks off with a chopping effect that cuts his chords to pieces. It's this sort of guitar based atypicality that defines the unique sound of Morello.
     'Bombtrack' builds into a riff that combines funk and metal so perfectly that it's almost impossible to split the genres. When the piece gets gentler, he transitions into a hip-hop accompaniment like it's nothing.
     'Wake Up' opens by combining a Kashmir-like chord rhythm with Morello's sustained, bending notes, before hushing into gentle chords and finally a beefy metal riff.
His Technique:
     Hip Hop/Metal: Combining filthy metal riffs and restrained but angsty accompaniments for RATM meant Morello had to go from overdriven, catchy metal riffs, into turntable-like chords like it was nothing.
     Nosie: Practice pumping out police siren wails, screams and falling bombs and you'll be able to replicate some of the background noise that fills a lot of his playing.
His Tone:
     Effects: Considering the varied tone he is able to create, Morello doesn't have that many pedals on his board. Get yourself at least the following: whammy, cry baby, delay and phaser and combine them. There is also a Digitech XP-300 Space Station pedal which imitates a lot of Morello's sounds.
     Arm The Homeless: This classic guitar combines an Ibanez Edge Floyd Rose, a Les Paul toggle switch and a knock off Kramer neck with EMG H  and EMG 85 pickups.
Give It A Shot:
     Something easy: Both their most well know tune, and one of their easiest, the guitar performance in 'Killing In The Name' doesn't take too much technical skill, especially when blasting through that open chord. Take a look at this tab.
     His best solo: While technically, Morello's solos aren't beautifully melodic, his effect-based virtuosity gives us masterpieces like 'Bulls On Parade' which basically sounds like a turntable solo for a while.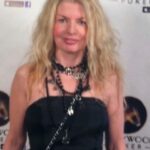 About the Author of This Article:  Adrienne Papp is a recognized journalist, economist and feature writer, who has written for many publications including Savoir; The Westside Today Publications ; such as Beverly Hills 90210; Malibu Beach; Santa Monica Sun; The Beverly Hills Times; Brentwood News; Bel-Air View ; Celebrity Society ; Celeb Staff ; It Magazine;  Chic Today;  LA2DAY;  West Side Today among many others. She is the President and CEO of Los Angeles / New York-based publicity company, Atlantic Publicity and publishing house, Atlantic Publisher. Adrienne writes about world trends, Quantum Physics, entertainment and interviews celebrities, world leaders, inventors, philanthropists and entrepreneurs. She also owns Atlantic United Films that produces and finances true stories made for theatrical release or the silver screen. Spotlight News Magazine is owned by Atlantic Publicity that just opened a new extension to it : PublicityLosAngeles. Adrienne Papp is a member of the International Press Academy.She is the Founder, CEO and President  of Youthful & Ageless ™, Bringing Information to Billions™, An Honorable Cause™  www.LatestAgeless.com. www.OurMediaVenuesAndCompanies.com, Atlantic Publicity Articles, Latest Ageless, Events Photo Collection, Linked In Profile, Movie Data Base  Profile, Twitter, Instagram, Youthful and Ageless Google+, Atlantic Publicity Google+, Atlantic Publisher Google+, Adrienne Papp Google+, Adrienne Papp Personal Google+, Spotlight News Magazine, Atlantic Publicity Productions, Atlantic Altitude, Altitude Pacific, Atlantic Publicity Photography and Filming, About Adrienne Papp   What Others Say  AtlanticPublicitySEO, BrilliantMarketing365, An Honorable Cause, Academic Research, Knighthood Today,    Youthful and Ageless™. She was knighted and became a Dame in 2010. Her official name is Lady Adrienne Papp and Dame Adrienne Papp. Voting Member of The International Press Academy and The Oscars: Academy of Motion Picture Arts and Sciences. She is the Managing Editorial Director of The Beverly Hills Times Magazine, and Hollywood Weekly. She has a Master of Science in Economics majoring Logistics; an MBA Degree; An International Law, Trade and Finance Postgraduate: Marketing and Advertising Postgraduate from NYU and UCLA. Guest Professor at Oxford University; Director and Producer of TV and Airline On Camera Editorials; Adrienne Papp Enterprises