By Kymberly Williams-Evans and Alexandra Williams
Recently knighted Dame (aka Lady) Adrienne Papp is a highly recognized publicist and owner of Atlantic Publicity. Normally Lady Adrienne puts the focus on extraordinary people with extraordinary stories, bringing the unknown into the known, and establishing fame for those who are exceptional. In this interview we put the spotlight on her as she shares her own amazing health recovery story thattakes us through Europe to New York to California.
As this episode airs on a radio talk show that has recently been rated as the top 50 in America, listen to hear Lady Adrienne's thought-provoking and life-changing answers to the questions we posed her:
You had a debilitating car accident that nearly proved fatal. At the time that must have seemed one of the WORST things that could have happened. Yet, you claim the accident turned out to be one of the best. How so?
What changed after the accident?
How did you overcome the setbacks? What role did your thoughts and mind play in your recovery?
You have several degrees, including advanced work in Quantum Physics. How did quantum physics and your thinking patterns transform your body, health and happiness?
What practical advice do you have for our listeners who want to harness the power of quantum physics the way you have?
Click here to listen to the interview!
To learn more about Lady Adrienne, visit her website,AtlanticPublicity, find her on Facebook, or pick up almost any publication. She or her clients will be in there somewhere because not only is Dame Papp a publicist, but also a journalist, editor, economist, and adventure seeker who leads a healthy life coast to coast and country to country.
Take a quantum leap to our website,  FunandFit.org, subscribe to our YouTube Channel, and follow us on twitter: @KymberlyFunFit and @AlexandraFunFit.  Like photos?  instagram us: @KymberlyFunFit and @AlexandraFunFit.
Identical twins and fitness pros Kymberly Williams-Evans, MA andAlexandra Williams, MAhave been in the fitness industry since the first aerobics studio opened–with them–on the European continent back when leg warmers and thong leotards were the rage. Their fitness experience spans 3 decades on land, sea, and airwaves.Kymberly has taught fitness on 4 continents in 4 languages for 30 years to more than 10,000 exercisers. She is former faculty at University California Santa Barbara (UCSB) in the Department of Exercise & Sport Studies. IDEA, the International Association for Health and Fitness Professionals tapped her to serve as the inaugural editor forFitness Edge, a publication devoted solely to group exercise leaders. Finally she knew enough people in the exercise world that she became a three-time nominee and finalist for IDEA's Program Director of the Year award.Kymberly also worked the mind attaining a Master's Degree in English. Her true specialty was conducting business writing seminars and helping professionals communicate more effectively in the business world. From hosting an international fitness TV program to serving as grammar expert on a live show, Kymberly has led, moved and grooved with energy and good grammar for all.Alexandra has been teaching, presenting and writing about fitness for over 25 years (since she was 7 and 1/2)! Currently on staff in the Exercise Studies Department at UCSB, she is also a contributing editor and writer for IDEA Health and Fitness Association's many publications. As an international presenter, Alexandra enjoyed her honeymoon in Venezuela after judging their national fitness championships.Alexandra has her advanced degree in counseling, which qualifies her to ask nosy questions of her two teens. Combining her love of words and the microphone, she has also had a successful run as a radio presenter, emcee and comedian. She loves to work, so she also writes for her blog and is a frequent guest contributor to a variety of blogs about business and health.Kymberly and Alexandra are also the Hosts of Fun and Fit onWomensRadio. Fun and Fit offers answers to audiences' fitness questions, shares Fun Fit Facts, faces Freak Out Fit Facts head on and helps listeners cut through the hype and fat to reach their fitness goals. Learn, laugh and live it up on your road to health and fitness!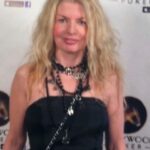 About the Author of This Article:  Adrienne Papp is a recognized journalist, economist and feature writer, who has written for many publications including Savoir; The Westside Today Publications ; such as Beverly Hills 90210; Malibu Beach; Santa Monica Sun; The Beverly Hills Times; Brentwood News; Bel-Air View ; Celebrity Society ; Celeb Staff ; It Magazine;  Chic Today;  LA2DAY;  West Side Today among many others. She is the President and CEO of Los Angeles / New York-based publicity company, Atlantic Publicity and publishing house, Atlantic Publisher. Adrienne writes about world trends, Quantum Physics, entertainment and interviews celebrities, world leaders, inventors, philanthropists and entrepreneurs. She also owns Atlantic United Films that produces and finances true stories made for theatrical release or the silver screen. Spotlight News Magazine is owned by Atlantic Publicity that just opened a new extension to it : PublicityLosAngeles. Adrienne Papp is a member of the International Press Academy.She is the Founder, CEO and President  of Youthful & Ageless ™, Bringing Information to Billions™, An Honorable Cause™  www.LatestAgeless.com. www.OurMediaVenuesAndCompanies.com, Atlantic Publicity Articles, Latest Ageless, Events Photo Collection, Linked In Profile, Movie Data Base  Profile, Twitter, Instagram, Youthful and Ageless Google+, Atlantic Publicity Google+, Atlantic Publisher Google+, Adrienne Papp Google+, Adrienne Papp Personal Google+, Spotlight News Magazine, Atlantic Publicity Productions, Atlantic Altitude, Altitude Pacific, Atlantic Publicity Photography and Filming, About Adrienne Papp   What Others Say  AtlanticPublicitySEO, BrilliantMarketing365, An Honorable Cause, Academic Research, Knighthood Today,    Youthful and Ageless™. She was knighted and became a Dame in 2010. Her official name is Lady Adrienne Papp and Dame Adrienne Papp. Voting Member of The International Press Academy and The Oscars: Academy of Motion Picture Arts and Sciences. She is the Managing Editorial Director of The Beverly Hills Times Magazine, and Hollywood Weekly. She has a Master of Science in Economics majoring Logistics; an MBA Degree; An International Law, Trade and Finance Postgraduate: Marketing and Advertising Postgraduate from NYU and UCLA. Guest Professor at Oxford University; Director and Producer of TV and Airline On Camera Editorials; Adrienne Papp Enterprises