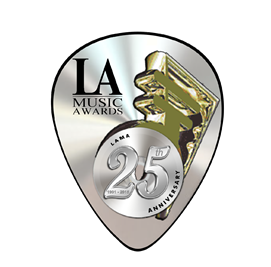 Industry professionals from around the world will join  the 25th Annual Los Angeles Music Awards (www.25lama.com ) on September 17, 2015 at the world-famous Whisky a Go-Go on the Sunset Strip in West Hollywood.
The event was founded in 1991 by entertainment industry entrepreneur Al Bowman after a fateful meeting with his good friend Bill Gazzarri, just 3 days prior to his passing. The event has continued on since that year in some of Los Angeles's most prestigious venues including The Beverly Hilton International Ballroom, The Hollywood Palladium, The Avalon and the Paramount Theater on the lot at Paramount Studios. In 2007, Susanna Griffie merged her talents with Al Bowman and became co-executive producer of the yearly event and showcase series.
During the past 25 years, the Los Angeles Music Awards has successfully launched over 100 entertainment industry artist's and has highlighted on its stage some of the music industry's most illustrious artists of today notably Slash, Joe Walsh, Jackson Browne, and Paula Abdul.
There will be 50 awards presented as part of this event. In addition this year, to mark this special milestone, the Los Angeles Music Awards will be recognizing 25 celebrities for their special entertainment industry achievements.
Just some of the recipients confirmed to attend include; Alki David: Career Achievement in Film, Television & Media, Sir Harry Cowell: Lifetime Achievement Rock Revival Show, Allan Rich: Career Achievement Songwriter,
Sally Kirkland: Lifetime Achievement On Screen Musical Portrayals, Ken Davitian: Los Angeles Character Actor, Susan Pinsky: (wife of Dr. Drew) Podcast of the Year, Andy Dick: Career Achievement for Comedic Performances, Rayvon Owen: Rising Star Award, David Osborne: The Presidential Lifetime Achievement Award, Mitch Perry: Career Achievement Rock Guitarist and Alan Niven: Lifetime Achievement Music Management & Producer.
About Adrienne Papp:  Adrienne Papp is a recognized journalist, economist and feature writer, who has written for many publications including Savoir; The Westside Today Publications ; such as Beverly Hills 90210; Malibu Beach; Santa Monica Sun; The Beverly Hills Times; Brentwood News; Bel-Air View ; Celebrity Society ; Celeb Staff ; It Magazine;  Chic Today;  LA2DAY;  West Side Today among many others. She is the President and CEO of Los Angeles / New York-based publicity company, Atlantic Publicity and publishing house, Atlantic Publisher. Adrienne writes about world trends, Quantum Physics, entertainment and interviews celebrities, world leaders, inventors, philanthropists and entrepreneurs. She also owns Atlantic United Films that produces and finances true stories made for theatrical release or the silver screen. Spotlight News Magazine is owned by Atlantic United, Inc. Atlantic Publicity just opened a new extension to it : PublicityLosAngeles. Adrienne Papp is a member of the International Press Academy.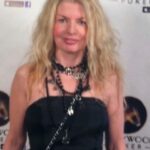 About the Author of This Article:  Adrienne Papp is a recognized journalist, economist and feature writer, who has written for many publications including Savoir; The Westside Today Publications ; such as Beverly Hills 90210; Malibu Beach; Santa Monica Sun; The Beverly Hills Times; Brentwood News; Bel-Air View ; Celebrity Society ; Celeb Staff ; It Magazine;  Chic Today;  LA2DAY;  West Side Today among many others. She is the President and CEO of Los Angeles / New York-based publicity company, Atlantic Publicity and publishing house, Atlantic Publisher. Adrienne writes about world trends, Quantum Physics, entertainment and interviews celebrities, world leaders, inventors, philanthropists and entrepreneurs. She also owns Atlantic United Films that produces and finances true stories made for theatrical release or the silver screen. Spotlight News Magazine is owned by Atlantic Publicity that just opened a new extension to it : PublicityLosAngeles. Adrienne Papp is a member of the International Press Academy.She is the Founder, CEO and President  of Youthful & Ageless ™, Bringing Information to Billions™, An Honorable Cause™  www.LatestAgeless.com. www.OurMediaVenuesAndCompanies.com, Atlantic Publicity Articles, Latest Ageless, Events Photo Collection, Linked In Profile, Movie Data Base  Profile, Twitter, Instagram, Youthful and Ageless Google+, Atlantic Publicity Google+, Atlantic Publisher Google+, Adrienne Papp Google+, Adrienne Papp Personal Google+, Spotlight News Magazine, Atlantic Publicity Productions, Atlantic Altitude, Altitude Pacific, Atlantic Publicity Photography and Filming, About Adrienne Papp   What Others Say  AtlanticPublicitySEO, BrilliantMarketing365, An Honorable Cause, Academic Research, Knighthood Today,    Youthful and Ageless™. She was knighted and became a Dame in 2010. Her official name is Lady Adrienne Papp and Dame Adrienne Papp. Voting Member of The International Press Academy and The Oscars: Academy of Motion Picture Arts and Sciences. She is the Managing Editorial Director of The Beverly Hills Times Magazine, and Hollywood Weekly. She has a Master of Science in Economics majoring Logistics; an MBA Degree; An International Law, Trade and Finance Postgraduate: Marketing and Advertising Postgraduate from NYU and UCLA. Guest Professor at Oxford University; Director and Producer of TV and Airline On Camera Editorials; Adrienne Papp Enterprises