By Adrienne Papp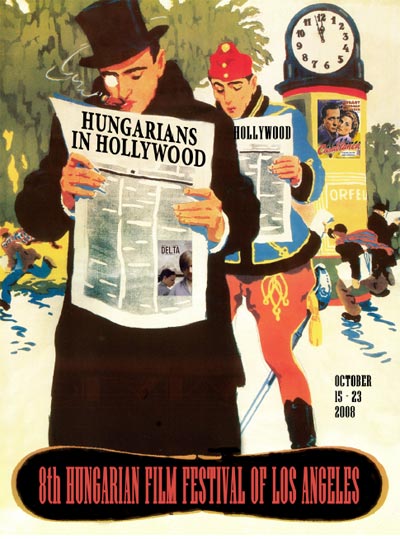 The 8th annual Hungarian Film Festival was held Oct. 16-23 in Los Angeles at the Fine Arts Theater in Beverly Hills and Sunset 5 in West Hollywood. Presented by Bunyik Entertainment, this one-week showcase of Hungarian films is an exciting new event in the Hollywood sky, and included several U.S. film premieres and honorees from other international film festivals.
With this year's theme celebrating Hungarians in Hollywood, the festival's slate of sixteen films included several premieres of Hungary's most talented filmmakers, as well as a compilation of U.S. films that were made with the talents of Hungarians like Michael Curtiz, Laszlo Kovacs, Andy Vajna, Miklós Rózsa and Vilmos Zsigmond. This event gave great exposure to the wealth of talent that Hungarians have contributed to the U.S. film industry.
The festival opened with József Sipos film Eszter's Inheritance (an entrant in the Montreal Film Festival) in its U.S. premiere. Based on Sándor Márai's classic of the same title, this lush, atmospheric film takes place in pre-World War II Hungary. Starring legendary Hungarian actress Mari Töröcsik, the film follows a dowager whose comfortable life on her family's estate is dramatically changed by the receipt of a telegram from the only man she has loved. Ms Töröcsik, an honored guest at the festival, now in her sixth decade of filmmaking, attended the screening at the Fine Arts Theatre.
Other noteworthy films were Delta, the festival's Best Film award winner (and winner of the film critics' award at Cannes). Delta is a deeply felt fable about a young man (played by Félix Lajkó) returning home from the wild to the Danube delta and discovering a sister he never knew existed. A relationship develops between the two, who invoke disapproval from the local villagers. Csaba Bollók's Iska's Journey, the official Hungarian Academy Award entrant for Best Foreign Language Film in 2008, was originally shown at the annual Hungarian Film Week in Budapest and was also a favorite at the festival. The film traces the descent of young Iska (Mária Varga) from slaving for her family in coal fields to being kidnapped into servitude, and expresses a sense of humanity maintained in the face of hardship.
The theme of Hungarians in Hollywood put a spotlight on the many talents of Hungarians and Hungarian-Americans who have made major contributions to the U.S. film industry. Among the most prominent are Michael Curtiz, the Oscar-winning director of Casablanca, Yankee Doodle Dandy and White Christmas, Adolf Zukor, studio mogul at Paramount Pictures, William Fox, founder of Fox Studios, actors Tony Curtis, Bela Lugosi and Peter Lorre, Andy Vajna (producer an co-founder of Carolco Pictures), Frank Darabont (director of The Shawshank Redemption and The Green Mile), George Cukor (Oscar-winning director for My Fair Lady), legendary screenwriter Joe Eszterhas, Laszlo Kovacs (award-winning cinematographer), producer Joe Pasternak, and the sensational and ageless Zsa Zsa Gabor.
An event honoring Hungary's greatest living filmmaker, Miklos Jancso, was held at the LA County Museum of Art Oct. 17-24 as an extension of the festival. Included in the showing were Jancso's films The Round Up, Silence and Cry, The Red and White, and The Red Psalm.
For more information on Hungarians in Hollywood and the Hungarian Festival please visit www.hffla.org
______________
About the Writer:  
Adrienne Papp
is a recognized journalist who has written for many publications including Savoir, Beverly Hills 90210, Malibu Beach, Santa Monica Sun, The Beverly Hills Times, Brentwood News, Bel-Air View and Celebrity Society, among many others. She is the President and CEO of Los Angeles/New York-based publicity companies,
Atlantic Publicity
and
Atlantic Publisher
. Adrienne writes about world trends, Quantum Physics, entertainment and interviews celebrities and world leaders.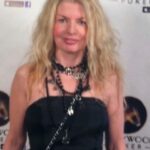 About the Author of This Article:  Adrienne Papp is a recognized journalist, economist and feature writer, who has written for many publications including Savoir; The Westside Today Publications ; such as Beverly Hills 90210; Malibu Beach; Santa Monica Sun; The Beverly Hills Times; Brentwood News; Bel-Air View ; Celebrity Society ; Celeb Staff ; It Magazine;  Chic Today;  LA2DAY;  West Side Today among many others. She is the President and CEO of Los Angeles / New York-based publicity company, Atlantic Publicity and publishing house, Atlantic Publisher. Adrienne writes about world trends, Quantum Physics, entertainment and interviews celebrities, world leaders, inventors, philanthropists and entrepreneurs. She also owns Atlantic United Films that produces and finances true stories made for theatrical release or the silver screen. Spotlight News Magazine is owned by Atlantic Publicity that just opened a new extension to it : PublicityLosAngeles. Adrienne Papp is a member of the International Press Academy.She is the Founder, CEO and President  of Youthful & Ageless ™, Bringing Information to Billions™, An Honorable Cause™  www.LatestAgeless.com. www.OurMediaVenuesAndCompanies.com, Atlantic Publicity Articles, Latest Ageless, Events Photo Collection, Linked In Profile, Movie Data Base  Profile, Twitter, Instagram, Youthful and Ageless Google+, Atlantic Publicity Google+, Atlantic Publisher Google+, Adrienne Papp Google+, Adrienne Papp Personal Google+, Spotlight News Magazine, Atlantic Publicity Productions, Atlantic Altitude, Altitude Pacific, Atlantic Publicity Photography and Filming, About Adrienne Papp   What Others Say  AtlanticPublicitySEO, BrilliantMarketing365, An Honorable Cause, Academic Research, Knighthood Today,    Youthful and Ageless™. She was knighted and became a Dame in 2010. Her official name is Lady Adrienne Papp and Dame Adrienne Papp. Voting Member of The International Press Academy and The Oscars: Academy of Motion Picture Arts and Sciences. She is the Managing Editorial Director of The Beverly Hills Times Magazine, and Hollywood Weekly. She has a Master of Science in Economics majoring Logistics; an MBA Degree; An International Law, Trade and Finance Postgraduate: Marketing and Advertising Postgraduate from NYU and UCLA. Guest Professor at Oxford University; Director and Producer of TV and Airline On Camera Editorials; Adrienne Papp Enterprises