On Wednesday June 13, 2013, Hollywood got together to honor many of the supremely talented women who contribute to the entertainment industry, both in film and television.  In an industry that had been dominated by males for decades, it's inspiring to see that so many women gather together to acknowledge the creative talents who contribute by adding a nurturing and humanitarian message to our media.
The Crystal Award was established in 1977 to honor outstanding women who, through their endurance and the excellence of their work, have helped to expand the role of women within the film industry. The Lucy Award, for innovation in television, was established to pay tribute to the great star, comedienne, producer, director, studio owner and creator Lucille Ball. The award is given annually to talented individuals who exemplify the extraordinary accomplishments embodied in the life and work of Lucille Ball.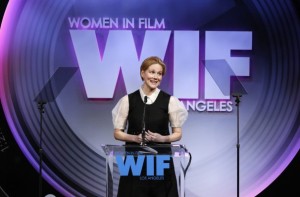 Gender parity hasn't yet been achieved in the entertainment industry, but the showcase of highly talented women who gathered at the Beverly Hilton Hotel on Wednesday night was evidence that there is no shortage of talented and, yes, glamorous women who favor us with their contributions in film and television.  This year's Crystal + Lucy Awards, honoring achievement in film and television, is Women In Film's signature, annual fundraising event and includes many of Hollywood's biggest A-list celebrities and brightest talents, as well as representatives from major fashion brands and new talent.  It's all in support of Women in Film's not-for-profit and philanthropic programs nurturing many of the up-and-coming talents in the entertainment industry.
This year the theme of the event was "Close Up," a way of celebrating the Women In Film's 40th Anniversary on the west side of Los Angeles, and offered an in-depth look at the organization's history and accomplishments, focusing on the current state of women in the media and projecting where WIF needs to direct its efforts and energies in the industry, especially where gender parity is concerned.  The evening's festivities were hosted by Jenna Elfman, with American Idol's Season 12 winner Candice Glover and finalist Angie Miller performing live.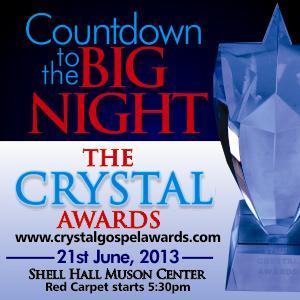 Previous Crystal + Lucy Award honorees and other guests who attended the event included Diahann Carroll, Francesca Eastwood, Kate Flannery, Lucy Fisher, Anne Heche, Amy Heckerling, Holly Hunter, Gale Anne Hurd, Nina Jacobson, Kathy Jones, Garry Marshall, Donna Langley, Cloris Leachman, Jen Lilley, Rose McGowan, Debra Messing, Sharon Stone, Jennifer Todd, Suzanne Todd, Renée Valente, Krista Vernoff, Diane Warren, Matthew Weiner, Bud Yorkin and many others.
The list of individual honorees who exemplify the efforts of Women in Film this year included Laura Linney for Excellence in Film, an award which was presented by director/producer Alan Poul.  An accomplished actress of film, television and theatre, Linney recently wrapped filming on "The Fifth Estate" scheduled to be released in November of 2013, and has been nominated three times for an Academy Award: for her performance in Kenneth Lonergan's "You Can Count on Me," in Bill Condon's "Kinsey," and in Tamara Jenkins' "The Savages."
The 2013 Lucy Award for Excellence in Television was presented by actress Holly Hunter to The Women of AMC TV's "Mad Men" as an ensemble cast: Elisabeth Moss, January Jones, Christina Hendricks, Jessica Paré and Kiernan Shipka.
Sophia Coppola was honored with the 2013 Dorothy Arzner Directors Award, presented by the multi-talented writer/director/producer Nancy Meyers, and industry icon George Lucas was presented with the 2013 Norma Zarky Humanitarian Award by Kathleen Kennedy, President of Lucasfilm, Ltd.  Lucas's devotion to timeless storytelling and cutting-edge innovation has resulted in some of the most successful and beloved films of all time. Lucas has also taken a philanthropic leadership role in applying his technical and storytelling expertise to the classroom, engaging students through interactive multimedia environments.  In 1991, he founded the George Lucas Educational Foundation and Edutopia to pursue and promote innovative practices in education.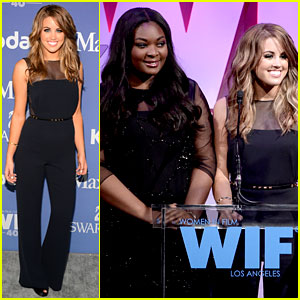 In other key awards, The Women in Film Max Mara Face of the Future Award for 2013 was given to Hailee Steinfeld by Nicola Maramotti, Global Brand Ambassador for Max Mara. The 2013 Kodak Vision Award was given to Rachel Morris by Michael B. Jordan, Star of Fruitvale Station, for Cannes' Best First Film winner "Un Certain Regard."
In summing up the festivities, Cathy Schulman, President of Women in Film, Los Angeles, said "It's a landmark year for Women in Film, celebrating our forty year history.  This year's honorees illustrate the wide spectrum of creative innovation coming from both women and men in the entertainment industry, and it's a privilege to be commemorating all of their successes."
Iris Grossman, President Emeritus of Women in Film, Los Angeles, returned this year as Chair of the Awards and said, "The remarkable honorees have enriched our lives over the years and it is especially exciting to honor them during our 40th Anniversary."
About the Author of This Article:  Lady Adrienne Papp is a recognized journalist, economist and feature writer who has written for many publications including Savoir, Beverly Hills 90210, Malibu Beach, Santa Monica Sun, The Beverly Hills Times, Brentwood News, Bel-Air View,Celebrity Society,Celeb Staff, It Magazine, Chic Today, LA2DAY, West Side Todayamong many others. She is the President and CEO of Los Angeles / New York-based publicity company, Atlantic Publicity and publishing house, Atlantic Publisher. Adrienne writes about world trends, Quantum Physics, entertainment and interviews celebrities, world leaders, inventors, philanthropists and entrepreneurs. She also owns Atlantic United Films that produces and finances true stories made for theatrical release or the silver screen. Spotlight News Magazine is owned by Atlantic United, Inc. Dame Adrienne Papp is a member of the International Press Academy.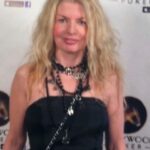 About the Author of This Article:  Adrienne Papp is a recognized journalist, economist and feature writer, who has written for many publications including Savoir; The Westside Today Publications ; such as Beverly Hills 90210; Malibu Beach; Santa Monica Sun; The Beverly Hills Times; Brentwood News; Bel-Air View ; Celebrity Society ; Celeb Staff ; It Magazine;  Chic Today;  LA2DAY;  West Side Today among many others. She is the President and CEO of Los Angeles / New York-based publicity company, Atlantic Publicity and publishing house, Atlantic Publisher. Adrienne writes about world trends, Quantum Physics, entertainment and interviews celebrities, world leaders, inventors, philanthropists and entrepreneurs. She also owns Atlantic United Films that produces and finances true stories made for theatrical release or the silver screen. Spotlight News Magazine is owned by Atlantic Publicity that just opened a new extension to it : PublicityLosAngeles. Adrienne Papp is a member of the International Press Academy.She is the Founder, CEO and President  of Youthful & Ageless ™, Bringing Information to Billions™, An Honorable Cause™  www.LatestAgeless.com. www.OurMediaVenuesAndCompanies.com, Atlantic Publicity Articles, Latest Ageless, Events Photo Collection, Linked In Profile, Movie Data Base  Profile, Twitter, Instagram, Youthful and Ageless Google+, Atlantic Publicity Google+, Atlantic Publisher Google+, Adrienne Papp Google+, Adrienne Papp Personal Google+, Spotlight News Magazine, Atlantic Publicity Productions, Atlantic Altitude, Altitude Pacific, Atlantic Publicity Photography and Filming, About Adrienne Papp   What Others Say  AtlanticPublicitySEO, BrilliantMarketing365, An Honorable Cause, Academic Research, Knighthood Today,    Youthful and Ageless™. She was knighted and became a Dame in 2010. Her official name is Lady Adrienne Papp and Dame Adrienne Papp. Voting Member of The International Press Academy and The Oscars: Academy of Motion Picture Arts and Sciences. She is the Managing Editorial Director of The Beverly Hills Times Magazine, and Hollywood Weekly. She has a Master of Science in Economics majoring Logistics; an MBA Degree; An International Law, Trade and Finance Postgraduate: Marketing and Advertising Postgraduate from NYU and UCLA. Guest Professor at Oxford University; Director and Producer of TV and Airline On Camera Editorials; Adrienne Papp Enterprises