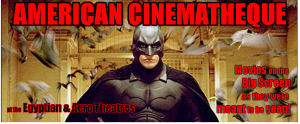 By Adrienne Papp
---
Reminder: This Weekend

December 5 – 7, 2014
Dick Miller, Roger Corman, Ernest Dickerson, Rick Baker In Person!

 




Dick Miller Tribute

 

The name may not ring a bell, but the face surely will – Dick Miller is one of Hollywood's favorite character actors. One of the busiest members of Roger Corman's stock company, Joe Dante has made it a point to use the actor in nearly all of his films. Corman and Dante are just a few of the screen luminaries who sing the actor's praises. Roger Corman, special effects guru Rick Baker, director Ernest Dickerson and Dick Miller himself, will appear in person after GREMLINS I & II, TALES FROM THE CRYPT, A BUCKET OF BLOOD and WAR OF THE SATELLITES.
Christopher Nolan In Person!

 




Reaching for the Stars: The Films of Christopher Nolan

December 11 – 13, 2014 – 7:30 PM
Christopher Nolan has the rare ability to attract and challenge audiences at the same time. Join us for a retrospective of his films, including MEMENTO, INSOMNIA and THE DARK NIGHT trilogy, plus a 70mm screening of INTERSTELLAR with Christopher Nolan in person! The 12/12 screening of INTERSTELLAR is sold out, but there will be a stand by line and people are starting to advertise tickets for sale on the Facebook event on the Egyptian Theatre Facebook page.
Visit the Egyptian's Projection Booth & Dressing Rooms!

 




Behind-the-Scenes Tours of the Historic Egyptian

Saturday, Dec. 13, 2014 – 10:30 AM 
Enjoy a day in historic Hollywood at the home of Hollywood's first movie premiere! Take a docent-led tour of the legendary 1922 Egyptian Theatre followed by a screening of the history film FOREVER HOLLYWOOD (exclusively shown at the Egyptian Theatre and featuring interviews with over 20 actors and filmmakers with narration by Sharon Stone). See what it would have been like to be in a Grauman stage show with a visit to the dressing rooms and singers' boxes. Check out our state-of-the-art projection booth and more at this adaptively re-used historic landmark!

Terry Jones in person!




A Funny Sense of Direction: The Wild Ride of Terry Jones

December 13 & 14, 2014
A day after his appearance at the Aero, Terry Jones swings by the Egyptian for a Python double bill – Cannes Grand Prix winner MONTY PYTHON'S THE MEANING OF LIFE and the beloved cult classic MONTY PYTHON AND THE HOLY GRAIL, both directed by Jones! Comedy fans may know him best for TV appearances as lower-class British housewives, Spanish Inquisitors or naked organists. But Terry Jones' work behind the camera is just as memorable as his Monty Python characters. He joins us in person for screenings of MONTY PYTHON AND THE HOLY GRAIL, MONTY PYTHON'S THE MEANING OF LIFE, LIFE OF BRIAN and ERIK THE VIKING.
Co-Presented with Outfest

 




AUNTIE MAME

Wednesday, Dec. 17, 2014 – 7:30 PM 
Our annual co-presentation of AUNTIE MAME with Outfest sells out! Yep, 616 rabid Mame fans make it a holiday tradition to spend some time with Rosalind Russell who stars in the story of a Bohemian Aunt left to raise her young nephew as a free spirit – despite the conservative demands outlined in her late brother's will. Tickets are going fast, so get yours today. The film is preceded by a 6:00 PM reception sponsored by Absolut Vodka! And remember, "Life is a banquet, but most poor suckers are starving to death!"
Trailer Contest
CONTEST: Make a Trailer + Be Part of The American Cinematheque's Focus on Female Directors!It's been ten years since the American Cinematheque first hosted an evening celebrating the achievements of women filmmakers including Sofia Coppola. As part of the 10th anniversary celebration of its annual Focus on Female Directors short film screening, the American Cinematheque is issuing a "Make a Trailer" challenge.Trailer-makers are tasked with creating a 1-minute long film/teaser/trailer on the general theme of female directors. What does putting the focus on female directors mean to you? Take Madonna's advice and express yourself – in a minute or less.All submitted trailers will be spotlighted on this page and acknowledged at the January 14, 2015 screening. One trailer will be chosen by the event's programmers to play on the historic Egyptian Theater silver screen for weeks leading up to the very special 10th Anniversary event on January 14, 2015.Deadline for submission: December 31, 2014Each trailer must be one minute long (or less), be on the general theme of female directors, and contain the following information on screen long enough/big enough to be easily read:10th Annual Focus on Female Directors
Short Film Screening
American Cinematheque at the
Egyptian Theatre, Hollywood
January 14, 2015

We Would Like to Remind You

Sound recording and still or motion photography of any kind during discussions with guests at the Aero and Egyptian Theatres is strictly prohibited without specific advance permission of talent and of the American Cinematheque. Thank you for your understanding.

< Where to Park >

THEATRES FOR RENT

Rent the Egyptian or Aero Theatre for Press Screenings, Award Season Screenings, Cast & Crew Events and more.

Tours of the Historic Egyptian Theatre Our behind-the-scenes tours of the historic Egyptian Theatre are now only one day per month. Generally they will be on Saturdays.

---

Would You Like it if We Turned the Lights on While the Movie is Running?When you text and e-mail during a film you are "turning the lights on" in the theatre and bothering your fellow film lovers. We have had a number of complaints lately that the light from phone screens and other device screens have been disturbing the movie viewing experience in our theaters. Don't ruin it for everyone. If you have something urgent to text or e-mail, go out in the lobby. We don't want to create more of a disturbance by asking you to leave in the middle of a show. 

ble nowat the EgyptianAsk for yours todayat theconcession stand.

Egyptian Theatre
6712 Hollywood Blvd, Hollywood, CA 90028

About the Author of This Article: Dame Adrienne Papp is a recognized journalist, economist and feature writer who has written for many publications including Savoir; The Westside Today Publications ; such as Beverly Hills 90210; Malibu Beach; Santa Monica Sun; The Beverly Hills Times; Brentwood News; Bel-Air View ; Celebrity Society ; Celeb Staff ; It Magazine;  Chic Today;  LA2DAY;  West Side Today among many others. She is the President and CEO of Los Angeles / New York-based publicity company, Atlantic Publicity and publishing house, Atlantic Publisher. Adrienne writes about world trends, Quantum Physics, entertainment and interviews celebrities, world leaders, inventors, philanthropists and entrepreneurs. She also owns Atlantic United Films that produces and finances true stories made for theatrical release or the silver screen. Spotlight News Magazine is owned by Atlantic United, Inc. Adrienne Papp is a member of the International Press Academy.

Adrienne Papp

AERO THEATRE

Reminder: This Weekend

Saturday, Dec. 6, 2014 – 6:00 PM

OPEN RANGE!




Kevin Costner In Person

Kevin Costner will appear in person for a members only screening of BLACK OR WHITE and then will introduce a public screening of OPEN RANGE at 6 PM. Retired gunslinger Charley Waite (Kevin Costner) is forced to return to violence when the cattle crew he has formed with old friend Boss Spearman (Robert Duvall) is threatened by enemies who endanger not only Waite's way of life but his new romance with Sue Barlow (Annette Bening). A screening of the 2003 film is introduced by Kevin Costner!

December 7, 2014 – January 3, 2015

Screwball Comedies, Social Satires:


The American Dreams of Frank Capra
Frank Capra's 1934 screwball classic IT HAPPENED ONE NIGHTwas the first to sweep the top Oscar categories, and though Capra never abandoned comedy – he helmed such hilarious features as YOU CAN'T TAKE IT WITH YOU and ARSENIC AND OLD LACE- he increasingly used his cachet to explore more serious themes, including politics (MR. SMITH GOES TO WASHINGTON) and business (IT'S A WONDERFUL LIFE). Join us for a retrospective saluting the American director. 
December 13 & 14, 2014

Terry Jones in person!


A Funny Sense of Direction: The Wild Ride of Terry Jones
Comedy fans may know him best for TV appearances as lower-class British housewives, Spanish Inquisitors or naked organists. But Terry Jones' work behind the camera is just as memorable as his Monty Python characters. He joins us in person for screenings of MONTY PYTHON AND THE HOLY GRAIL, MONTY PYTHON'S THE MEANING OF LIFE at the Egyptian Theatre and LIFE OF BRIAN and ERIK THE VIKING at the Aero Theatre.
Sunday, Dec. 14, 2014 – 7:30 PM

Producers In Person!




THE IMITATION GAME

Benedict Cumberbatch is mesmerizing as Alan Turing, the brilliant British mathematician whose work breaking German codes during WWII helped lay the groundwork for modern computers but faced a conviction for indecency because of his homosexuality. A discussion follows the new film with producers Nora Grossman and Ido Ostrowsky. 

Wednesday, Dec. 17, 2014 – 7:30 PM

Belgian Premiere!
ALLELUIA
A single mother (Lola Dueñas) connects with a petty crook (Laurent Lucas) on a dating site, and their growing passion eventually spirals into bloodshed. The torrid thriller is followed by a discussion with director Fabrice Du Welz and a Belgian beer reception. Presented by the Consulate General of Belgium in Los Angeles, in cooperation with Flanders Image and Wallonie Bruxelles Images, and with the support of Costco.
Coming January 23 – 29, 2015!
Jean-Luc Godard's Latest Film in 3D
Exclusive Los Angeles Engagement! Tickets On Sale Now!
GOODBYE TO LANGUAGE
At last, Jean-Luc Godard's highly anticipated Cannes Film Festival Jury prize winner hits the big screen! The protean French director's latest is a vibrant visual essay as well as a narrative – a married woman's relationship with a single man (and Godard's dog, Roxy) is just the jumping-off point. Both beautiful and mischievous, this Godard masterpiece is bold in its disregard for the conventions of 3-D filmmaking, challenging the audience to discover hidden layers of imagery, and making this a unique film that can only be savored in a theater. "A thrilling cinematic experience." – Manohla Dargis, The New York Times. "An adrenaline shot to the brain." – Scott Foundas, Variety. "Packed with dazzling images, the film makes 3-D feel like something brand-new to the medium." – Joe McGovern, Entertainment Weekly. In French with English subtitles.
January 30 & 31, 2015
75/10 Celebration!


The 75th Anniversary of the Aero Theatre / The 10th Anniversary of the American Cinematheque at the Aero Theatre

Join us for a kick off weekend of special events celebrating these two important anniversaries. Details coming soon!

Matthew McConaughey 2014 American Cinematheque Award Recipient
Matthew McConaughey was the  2014 American Cinematheque Award Recipient. The award presentation was October 21, 2014. This is the Cinematheque's major annual fundraiser. Guests included Anne Hathaway, Christopher Nolan, Kate Hudson, Jennifer Garner and other celebrities!American Cinematheque members at the Sustaining level and above receive two tickets to this event as part of their membership benefit package. 

COMING SOON  The Films of Frank Capra, The Aero Theatre's 75th Anniversary, Seminars for Filmmakers, New Films from Belgium, VERTIGO, LAWRENCE OF ARABIA, THE POSEIDON ADVENTURE, SILENT NIGHT, DEADLY NIGHT & CHRISTMAS EVIL, Marx Bros New Years Day, Films with Holiday Spirit and always much, much more! 

Tell the World that the Cinematheque is a 'Great Non-Profit'

---

---

---

Signed Movie Posters

---

Aero Theatre
1328 Montana Avenue, Santa Monica, CA90403
RENT THE EGYPTIAN OR AERO THEATRE   

The Egyptian (both the 616 seat and the 80 seat) and Aero Theatres (425 seats) can be rented for press screenings, private events, premieres, etc. We have digital projection as well as film.
Egyptian Theatre Historic Tours:

Saturday, December 13, 2014
10:30 AM – Meet at the Egyptian Box Office

Next Tours are January 17, February 14, March 14.,, Feb.

Behind-the-Scenes Tours of the historic Egyptian Theatre and a screening of FOREVER HOLLYWOOD

Experience the Legendary 92-year old Egyptian Theatre with the lights on! Bring your out of town guests to enjoy an authentic slice of Hollywood History! 

and a screening of FOREVER HOLLYWOOD 
Sid Grauman 

loves to tweet about everything that goes on at the Cinematheque. We just can't stop him, this 135-year old theatre impresario (and founder of the Egyptian & Chinese Theatres in Hollywood in the 1920s), 

LOVES to tweet all day long 

about goings on at the Aero & Egyptian Theatres! Tune into what he has to say and for important updates, on Twitter SidGrauman

The Egyptian Theatre's 24-frame digital projection provided by:

DMX Cinema Technology, Inc.

The Aero Theatre's Digital System: Special thanks to NEC Display Solutions, Dolby and Moving Image Technologies for generous support.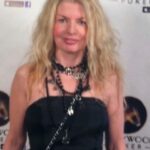 About the Author of This Article:  Adrienne Papp is a recognized journalist, economist and feature writer, who has written for many publications including Savoir; The Westside Today Publications ; such as Beverly Hills 90210; Malibu Beach; Santa Monica Sun; The Beverly Hills Times; Brentwood News; Bel-Air View ; Celebrity Society ; Celeb Staff ; It Magazine;  Chic Today;  LA2DAY;  West Side Today among many others. She is the President and CEO of Los Angeles / New York-based publicity company, Atlantic Publicity and publishing house, Atlantic Publisher. Adrienne writes about world trends, Quantum Physics, entertainment and interviews celebrities, world leaders, inventors, philanthropists and entrepreneurs. She also owns Atlantic United Films that produces and finances true stories made for theatrical release or the silver screen. Spotlight News Magazine is owned by Atlantic Publicity that just opened a new extension to it : PublicityLosAngeles. Adrienne Papp is a member of the International Press Academy.She is the Founder, CEO and President  of Youthful & Ageless ™, Bringing Information to Billions™, An Honorable Cause™  www.LatestAgeless.com. www.OurMediaVenuesAndCompanies.com, Atlantic Publicity Articles, Latest Ageless, Events Photo Collection, Linked In Profile, Movie Data Base  Profile, Twitter, Instagram, Youthful and Ageless Google+, Atlantic Publicity Google+, Atlantic Publisher Google+, Adrienne Papp Google+, Adrienne Papp Personal Google+, Spotlight News Magazine, Atlantic Publicity Productions, Atlantic Altitude, Altitude Pacific, Atlantic Publicity Photography and Filming, About Adrienne Papp   What Others Say  AtlanticPublicitySEO, BrilliantMarketing365, An Honorable Cause, Academic Research, Knighthood Today,    Youthful and Ageless™. She was knighted and became a Dame in 2010. Her official name is Lady Adrienne Papp and Dame Adrienne Papp. Voting Member of The International Press Academy and The Oscars: Academy of Motion Picture Arts and Sciences. She is the Managing Editorial Director of The Beverly Hills Times Magazine, and Hollywood Weekly. She has a Master of Science in Economics majoring Logistics; an MBA Degree; An International Law, Trade and Finance Postgraduate: Marketing and Advertising Postgraduate from NYU and UCLA. Guest Professor at Oxford University; Director and Producer of TV and Airline On Camera Editorials; Adrienne Papp Enterprises