By Adrienne Papp
Many stars came out to support the 40th Anniversary Presentation of The Vision Awards™ in an elegant black tie setting in the Beverly Hilton Hotel in Beverly Hills that is famous for its high profile guests and events. The 2010 Awards recognized a number of pioneering visionaries across the fields of film, television, music, research, technology, sports, and leadership. The evening was produced by Helen Harris, founder of both The Vision Awards™ and Retinitis Pigmentosa International, the presenting organization behind The Vision Awards™
The 2010 Awards were given to legendary TV news journalist Dan Rather; renowned music producer Quincy Jones; Apollo 11 Moon walking astronaut,Buzz Aldrin; humanitarian/businessman Dr. Patrick Soon-Shiong; longtime entertainment industry figures Stanley Jaffe (producer of Kramer Vs. Kramer and Fatal Attraction);  George Schlatter (creator of Laugh-In); Steve Jobs & Apple, Inc.; Precious director Lee Daniels; The Blind Side producer Molly Smith; Showtime executive Melinda Benedek;  World renowned inventor Ray Kurzweil; comedian Norm Crosby; U.S. Gold Medal winning athlete Steve Holcomb; and Dr. Brian Boxer Wachler, the Beverly Hills-based doctor who had restored Holcomb's vision from near blindness.
Celebrity Presenters for the 2010 Vision Awards™ included Billy Bob Thornton; Lily Tomlin; actor John Cho;  director/producer Jerry Zucker; Sherry Lansing, former CEO of Paramount Pictures; writer/producer Clyde Phillips; director Luke Greenfield; Sideways director Alexander Payne; athlete Tristan Gale; and Extreme Makeover dentist Dr. Bill Dorfman, among others.
Mrs. Harris, being blind herself, launched both RP International and The Vision Awards™ in 1970 as high profile vehicles by which to raise awareness of the millions of people who fight against the gradual loss of their vision from both RP and Macular Degeneration. The Vision Awards™ also raise funds for medical research.
Past recipients of The Vision Awards™ include Bob Hope, Aaron Spelling, Bill Cosby, James Cameron, Steven Spielberg, Robert Zemeckis, Joel Schumacher, Oliver Stone, Richard and Lauren Shuler-Donner, Lawrence Bender, William Friedkin, Tim Burton, John Frankenheimer, Roone Arledge, Sherry Lansing, Robert Towne, Tom Cruise, Bill Mechanic, Phil Collins, and Jon Landau, among many others.
Helen Harris has been a tireless advocate on behalf of people with visual impairments for the past 40 years. Herself a victim and legally blind for more than three decades (the disease attacked her when she was a young mother, and two of her three sons, ages 2 and 5, were also afflicted by the disease,) Mrs. Harris personally knows all too well the helpless and hopeless feeling of having a disease that is hardly known at all. She established both organizations for the "preservation and restoration of sight."
Harris is also an author of the book, How to Survive Losing Vision, as well as a poet, a painter, and a member of the Producers Guild of America. She has testified before Congress about major issues facing the blind, and has also enlisted the aid of hundreds of major Hollywood directors, producers, and stars — as well as that of former President George H. W. Bush — in the creation of TheatreVision™ presentations, in which blind audiences can experience a major motion picture in a theatre that offers them a special audio soundtrack.
From its modest beginnings 40 years ago, RPI (Retinitis Pigmentosa International) has grown into a global organization and with the support of dedicated volunteers of all walks of life has raised over $ 5-million to date for eye research and education.
In addition, RPI has also enlisted other donors into contributing more than THREE HUNDRED MILLION DOLLARS directly to medical research for eye health.
What was impossible just to imagine five years ago will almost certainly become a reality within the next decade due to the contribution of Helen Harris, who is one of those people who walk the walk by making a difference in the World, and not just talking the talk.  Due to her dedication to a serious cause new technologies and medical techniques have brought us to the threshold of hope, and to the day when Retinitis Pigmentosa or Macular Degeneration will no longer carry a lifetime of darkness.
About the Author of This Article:  Adrienne Papp is a recognized journalist who has written for many publications including Savoir, Beverly Hills 90210, Malibu Beach, Santa Monica Sun, The Beverly Hills Times, Brentwood News, Bel-Air View, Celebrity Society, Celeb Staff, It Magazine, Chic Today, LA2DAY, West Side Today among many others. She is the President and CEO of Los Angeles / New York-based publicity company, Atlantic Publicity and publishing house, Atlantic Publisher. Adrienne writes about world trends, Quantum Physics, entertainment and interviews celebrities, world leaders, inventors, philanthropists and entrepreneurs. She also owns Atlantic United Films that produces and finances true stories made for theatrical release or the silver screen. Spotlight News Magazine is owned by Atlantic United, Inc with Adrienne Papp being the majority shareholder.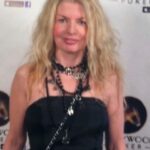 About the Author of This Article:  Adrienne Papp is a recognized journalist, economist and feature writer, who has written for many publications including Savoir; The Westside Today Publications ; such as Beverly Hills 90210; Malibu Beach; Santa Monica Sun; The Beverly Hills Times; Brentwood News; Bel-Air View ; Celebrity Society ; Celeb Staff ; It Magazine;  Chic Today;  LA2DAY;  West Side Today among many others. She is the President and CEO of Los Angeles / New York-based publicity company, Atlantic Publicity and publishing house, Atlantic Publisher. Adrienne writes about world trends, Quantum Physics, entertainment and interviews celebrities, world leaders, inventors, philanthropists and entrepreneurs. She also owns Atlantic United Films that produces and finances true stories made for theatrical release or the silver screen. Spotlight News Magazine is owned by Atlantic Publicity that just opened a new extension to it : PublicityLosAngeles. Adrienne Papp is a member of the International Press Academy.She is the Founder, CEO and President  of Youthful & Ageless ™, Bringing Information to Billions™, An Honorable Cause™  www.LatestAgeless.com. www.OurMediaVenuesAndCompanies.com, Atlantic Publicity Articles, Latest Ageless, Events Photo Collection, Linked In Profile, Movie Data Base  Profile, Twitter, Instagram, Youthful and Ageless Google+, Atlantic Publicity Google+, Atlantic Publisher Google+, Adrienne Papp Google+, Adrienne Papp Personal Google+, Spotlight News Magazine, Atlantic Publicity Productions, Atlantic Altitude, Altitude Pacific, Atlantic Publicity Photography and Filming, About Adrienne Papp   What Others Say  AtlanticPublicitySEO, BrilliantMarketing365, An Honorable Cause, Academic Research, Knighthood Today,    Youthful and Ageless™. She was knighted and became a Dame in 2010. Her official name is Lady Adrienne Papp and Dame Adrienne Papp. Voting Member of The International Press Academy and The Oscars: Academy of Motion Picture Arts and Sciences. She is the Managing Editorial Director of The Beverly Hills Times Magazine, and Hollywood Weekly. She has a Master of Science in Economics majoring Logistics; an MBA Degree; An International Law, Trade and Finance Postgraduate: Marketing and Advertising Postgraduate from NYU and UCLA. Guest Professor at Oxford University; Director and Producer of TV and Airline On Camera Editorials; Adrienne Papp Enterprises