By Adrienne Papp
Vogue, Elle, W and Glamour, the hippest of fashion magazines, feature the most exquisite clothes, jewelry and accessories, some of which cost a mere fortune. Most of us never dare to look any closer, or God forbid, buy anything. We're content with turning the pages in awe, fixated on the exquisite presentation that takes us into a world of perfection, glamour and fairy-tales. Does the beauty, whether that of the model or the pieces she is wearing, really exist?
Whether computer enhanced or not, some of us lesser mortals would hardly ever imagine walking down Fifth Avenue wearing a catwalk piece ourselves. After all, we really bought the magazine just to keep up with the trends of time.
But, this very down to Earth approach won't last very much longer. There can be Fashion Heaven on Earth for everyone, and it can be real. Its creator, Talullah Tu takes the business of beauty very seriously, creating breathtakingly gorgeous pieces that are affordable. And that is priceless. Tu produces a fantastic selection of catwalk style creations from chic necklaces, bracelets, cuffs, cocktail rings, and ear rings, to just about anything you need to look hip and stylish and a million dollars in a minute. And it can be all yours for $50 or less.
With Talullah Tu, you can make a super stylish statement and collect complements in the streets, in the office, at a cocktail party or even on the red carpet. Whether you go for the rock girl, flower finesse, or a Voguish high-fashion killer look, you will feel like you own the world, or at the very least a very large bank account.
If it all sounds too good to be true, it is. And, just like with all good things, nothing is ever quite enough as the new pieces come in each season making it impossible to choose a favorite. You just go with the flow. Which, by the way is quite all right. After all, feeling good comes from looking good and if we can make that happen on lunch money, hey, we have it made.
This boutique company keeps you ahead of the latest trends with looks straight from the runway. I am wearing their fabulous masterpieces at the Emmys, the Oscars and everywhere I go. Let's admit, who does not enjoy the attention, and the transformation these mesmerizing pieces make you feel inside and out? Living your very own fairy-tale, and not just looking at it in a magazine, is really more than a dream come true. It is fashion, glamour and beauty lived by you.
______________
About the Writer:  
Adrienne Papp
is a recognized journalist who has written for many publications including Savoir, Beverly Hills 90210, Malibu Beach, Santa Monica Sun, The Beverly Hills Times, Brentwood News, Bel-Air View and Celebrity Society, among many others. She is the President and CEO of Los Angeles/New York-based publicity companies,
Atlantic Publicity
and
Atlantic Publisher
. Adrienne writes about world trends, Quantum Physics, entertainment and interviews celebrities and world leaders.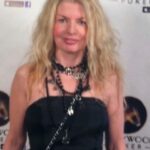 About the Author of This Article:  Adrienne Papp is a recognized journalist, economist and feature writer, who has written for many publications including Savoir; The Westside Today Publications ; such as Beverly Hills 90210; Malibu Beach; Santa Monica Sun; The Beverly Hills Times; Brentwood News; Bel-Air View ; Celebrity Society ; Celeb Staff ; It Magazine;  Chic Today;  LA2DAY;  West Side Today among many others. She is the President and CEO of Los Angeles / New York-based publicity company, Atlantic Publicity and publishing house, Atlantic Publisher. Adrienne writes about world trends, Quantum Physics, entertainment and interviews celebrities, world leaders, inventors, philanthropists and entrepreneurs. She also owns Atlantic United Films that produces and finances true stories made for theatrical release or the silver screen. Spotlight News Magazine is owned by Atlantic Publicity that just opened a new extension to it : PublicityLosAngeles. Adrienne Papp is a member of the International Press Academy.She is the Founder, CEO and President  of Youthful & Ageless ™, Bringing Information to Billions™, An Honorable Cause™  www.LatestAgeless.com. www.OurMediaVenuesAndCompanies.com, Atlantic Publicity Articles, Latest Ageless, Events Photo Collection, Linked In Profile, Movie Data Base  Profile, Twitter, Instagram, Youthful and Ageless Google+, Atlantic Publicity Google+, Atlantic Publisher Google+, Adrienne Papp Google+, Adrienne Papp Personal Google+, Spotlight News Magazine, Atlantic Publicity Productions, Atlantic Altitude, Altitude Pacific, Atlantic Publicity Photography and Filming, About Adrienne Papp   What Others Say  AtlanticPublicitySEO, BrilliantMarketing365, An Honorable Cause, Academic Research, Knighthood Today,    Youthful and Ageless™. She was knighted and became a Dame in 2010. Her official name is Lady Adrienne Papp and Dame Adrienne Papp. Voting Member of The International Press Academy and The Oscars: Academy of Motion Picture Arts and Sciences. She is the Managing Editorial Director of The Beverly Hills Times Magazine, and Hollywood Weekly. She has a Master of Science in Economics majoring Logistics; an MBA Degree; An International Law, Trade and Finance Postgraduate: Marketing and Advertising Postgraduate from NYU and UCLA. Guest Professor at Oxford University; Director and Producer of TV and Airline On Camera Editorials; Adrienne Papp Enterprises