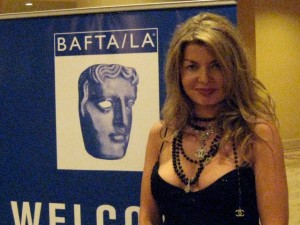 By Adrienne Papp
Since the Academy's inception in 1987, BAFTA / LA (British Academy of Film and Television Arts) has consistently presented a varied and innovative program that inspires and advances creative works, and embraces, supports and honors the wealth of creative talent in the US and California communities. The past twelve months has seen BAFTA / LA present another successful year of programming, all of which begins with the dedication and hard work of the BAFTA / LA Members serving on the Board and Committees.
The year started with the Annual Awards Season Tea Party held in the luxurious surroundings of the Beverly Hills Hotel. A staple fixture in the industry calendar, the party honors nominees from around the world, and provides a unique afternoon of British themed food and drink for those seeking a respite from the hectic Awards' season. Once again the turnout was laden with filmmakers from all areas of the industry, and amongst those sipping tea and eating fish & chips were Clint Eastwood, Leonardo Di Caprio, Danny Boyle, Ron Howard, Stephen Daldry, Tom Wilkinson, Marisa Tomei, Alexandre Desplat, Viola Davis, Freida Pinto, Paul Bettany, Saffron Burrows, and Josh Brolin.
Later in the year, BAFTA / LA hosted a second Tea Party to celebrate the year's achievements in television and to honor those Commonwealth and British-born individuals nominated in the Emmy Awards. Both Tea Parties shine a spotlight on the success and creative accomplishments of the peers, rewarding their film and television work while inspiring their colleagues and members to continually expand their own creative visions.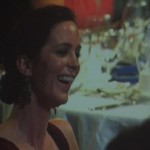 Much of the proceeds raised from the events' silent auctions are invested into BAFTA / LA's Education and Outreach program, which continues to flourish. BAFTA / LA awarded British film students at UCLA, and in June they presented emerging filmmakers with the BAFTA / LA student awards.
To inspire and celebrate scholars and students, BAFTA / LA held a special screening of Anvil! The Story of Anvil, directed by the former UCLA scholar, Sacha Gervasi and all was thrilled to note that the evening energized and inspired many Members to offer their time and support to further expand the organization's work.
In an exquisite dinner setting, on November 5, this year's honorees were, Kirk Douglas for Worldwide Contribution to Filmed Entertainment; Danny Boyle for Artistic Excellence in Directing; Emily Blunt for British Artist of the Year; Robert De Niro for Excellence in Film and Colin Firth received the BAFTA / LA Humanitarian Award.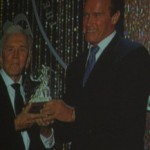 The Host for the evening was Stephen Fry and the events was sponsored by British Airways, Volvo, American Airlines, Asprey, Beefeater 24, and Stefan Johansson Vaxjo.
Among the presenters were Ben Stiller, Claire Danes, Amy Adams, Benicio Del Toro, Ewan McGregor and Tom Ford.
About the Writer: Adrienne Papp is a recognized journalist who has written for many publications including Savoir, Beverly Hills 90210, Malibu Beach, Santa Monica Sun, The Beverly Hills Times, Brentwood News, Bel-Air View, Celebrity Society, Celeb Staff, It Magazine, Chic Today, LA2DAY, among many others. She is the President and CEO of Los Angeles/New York-based publicity companies, Atlantic Publicity andAtlantic Publisher. Adrienne writes about world trends, Quantum Physics, entertainment and interviews celebrities and world leaders. She also owns Spotlight News Magazine.