By Adrienne Papp
2013 is off to great start.  On Sunday night the Golden Globes kicked off Hollywood's glamorous awards season, and there was something in the 3-hour broadcast for everyone.  The first big departure for this year's show was that Tina Fey and Amy Poehler replaced Ricky Gervais, who, they claimed, "is no longer technically in show business," and who may have worn out his welcome by offending too many celebrities in the past few years with his remarks.
It turned out be a stroke of genius. Tina and Amy opened the show, after the glamorous red carpet entrance ceremonies, and hit all the right notes in the telecast sponsored by the Hollywood Foreign Press Association at the Beverly Hilton Hotel. Attractive, funny and absolutely undaunted, they put on a display of three hours of occasionally hilarious, sometimes emotional and surprisingly enjoyable TV.
And it took them only minutes at the start of the show to establish a light-handed but sharp-witted delivery that served them well throughout the night.  Fey and Poehler offered plenty of edgy jokes delivered with sarcasm and smiles. One of Poehler's most pointed barbs was directed at Oscar-winning director James Cameron, whose ex, Kathryn Bigelow, directed the film about the hunt for Osama Bin Laden." I haven't really been following the controversy over 'Zero Dark Thirty,' but when it comes to torture, I trust the lady who spent three years married to James Cameron," she cracked.
Not to be outdone, Tina Fey addressed Anne Hathaway directly on her "Les Misérables" performance: "I have not seen someone so totally alone and abandoned like that since you were on stage with James Franco at the Oscars," she quipped. Poehler and Fey, both nominated for actress in a comedy or musical series, kept the comedy coming, even as they confused the acronym for the Hollywood Foreign Press Assn. with a disease.
Poehler is known for some of the best deadpan comedy in the business, while Fey managed to project her keen wit with the same dry delivery.  Fey singled out  "Jennifer Lawrence, star of 'Silver Linings Playbook,' and Quentin Tarantino, the star of all my sexual nightmares," while Poehler announced that Meryl Streep, though nominated, was not present because "she has the flu. And I hear she's just fabulous in it."  It was all great stuff, and set the tone for what was to be a surprising and eventful night. Poehler and Fey proved that the right choice of hosts really does matter and can spice up the sometimes mundane and rote series of presentations throughout the evening.
On a personal note I was very excited for Jay Roach, whom I recently had the honor to interview at The Caucus for Producers, Writers and Directors Awards Dinner. Jay Roach is one of the most talented writer, director and producer in Hollywood with an amazing sense of humor. Although he humbly says: " I just create a funny environment for the actors."  He has been responsible for some of the biggest recent successes in both film and TV, including "Meet the Fockers," "Meet the Parents," "Recount," "The Campaign," and his award winning cable show "Game Change," based on Sarah Palin's campaign, which has 22 industry nominations and 8 wins, including 3 Golden Globes this year. Way to go Jay!
Other highlights of the evening included President Clinton's surprising appearance to introduce the clips of "Lincoln," a win by Adele for Best Original Song, her James Bond theme "Skyfall," the triumph of HBO's "Girls," the rise of Ben Affleck's "Argo," and Robert Downey Jr.'s introduction of Jody Foster and the emotional and baffling speech that followed in accepting her Cecil B. DeMille statuette for her lifetime of work.
Acknowledging the underdog success of Lena Dunham's "Girls" Fey hoisted her cocktail and said: "Congratulations, Lena Dunham, I'm so glad we were able to get you through middle school," referring to Dunham's remarks about her admiration for the hosts. Ben Affleck, whose directorial efforts on "Argo" were snubbed by the Academy of Motion Picture Arts and Sciences, got some love at the Globes and a double measure of vindication when he and the film scored huge Golden Globe victories for Best Director and Best Picture, Drama.
"Les Misérables" won the Golden Globe for Best Motion Picture, Musical or Comedy over "Silver Linings Playbook," its strongest competitor in the category
Daniel-Day Lewis, the odds-on favorite to win Best Actor at next month's Academy Awards, won the Golden Globe for Best Actor in a Drama for his brilliant performance in Steven Spielberg's "Lincoln."
In another possible Oscar precursor, Jennifer Lawrence won for Best Actress, Comedy or Musical, for her portrayal of an eccentric young widow in "Silver Linings Playbook." After several humorous remarks, she thanked her supporters and including Harvey Weinstein. "Harvey," she said, "thank you for killing whoever you had to kill to get me up here today."
Lawrence's strongest competitor in the race for Best Actress at next month's Oscars, Jessica Chastain, won the Golden Globe for Best Actress, Drama. Chastain said of director Kathryn Bigelow "When you make a film that allows a character to disobey the conventions of Hollywood, you've done more for women than anyone gives you credit for."
Lawrence's co-star Bradley Cooper lost to Hugh Jackman in the Best Actor, Comedy or Musical for Jackman's role as Jean Valjean in "Les Misérables."  Jackman credited his wife, Deborra-Lee Furness, with encouraging him to stick with the project when he lost faith in himself. "I really felt I had bitten off more than I could chew. My wife talked me off that cliff, like she talks me off most days," he said.
Favorite Anne Hathaway won Best Supporting Actress for her portrayal of Fantine in "Les Misérables." "Thank you for this lovely blunt object that I will forever more use as a weapon against self-doubt," she said to the Hollywood Foreign Press Association, which administers the Golden Globe awards.
Quentin Tarantino was an upset winner for Best Screenplay, a category many thought would go to "Lincoln" screenwriter Tony Kushner. "This is a damn surprise, and I'm happy to be surprised!" Tarantino exclaimed as he claimed his trophy. Michael Haneke accepted the award for Best Foreign Language film for "Amour," which scored Oscar nominations last week for Best Picture, Best Director and Best Actress.
In the TV categories, "Homeland" won Best TV Series, Drama, for the second year in a row, beating out "Breaking Bad," "Boardwalk Empire," Downton Abbey" and "The Newsroom." "Homeland" star Damian Lewis won the award for Best Actor, TV Series, Drama, and Claire Danes won Best Actress for the second straight year. "I'm very proud to be working in this medium, in this moment, in this company," she said.
"Game Change," starring Julianne Moore as vice-presidential hopeful Sarah Palin, racked up a string of awards, received the Golden Globe for Best Miniseries or TV Movie, as well as Best Actress in a TV Movie or Miniseries for Moore and Best Supporting Actor for Ed Harris. "This was one of my favorite jobs, ever," Moore said of portraying Palin in the often scathing TV movie.
Christoph Waltz was the evening's first announced winner, taking home Best Supporting Actor in a Motion Picture for his portrayal of a bounty hunter in Tarantino's "Django Unchained." Dame Maggie Smith won Best Supporting Actress in a Series, Mini-Series or Motion Picture Made for Television for her role as the Dowager Countess in "Downton Abbey." Don Cheadle was a surprise winner in the Best Actor, Comedy or Musical category, beating out Alec Baldwin, Louis C.K. and Jim Parsons for his role in Showtime's low profile "House of Lies."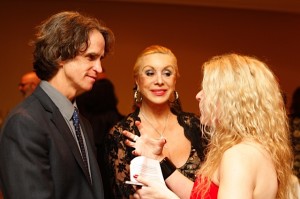 In the riveting centerpiece of the evening, Robert Downey Jr. presented Jodie Foster with the honorary Cecil B. DeMille Award, which recognizes "talented individuals who have made an incredible impact on the world of entertainment." In her acceptance remarks, she acknowledged that she is "single," a euphemism for her homosexuality, and offered a passionate defense of privacy and deep love for her mother.
As the show wrapped, Poehler closed the festivities by saying, "Thank you, good night and we're going home with Jodie Foster."
Golden Globe Awards
Film
Best Motion Picture, Drama: "Argo"
Best Motion Picture, Comedy or Musical: "Les Misérables"
Best Actress, Drama: Jessica Chastain, "Zero Dark Thirty"
Best Actor, Daniel Day-Lewis, "Lincoln"
Best Actress, Comedy or Musical: Jennifer Lawrence, "Silver Linings Playbook"
Best Actor, Comedy or Musical: Hugh Jackman, "Les Misérables"
Best Director: Ben Affleck, "Argo"
Best Supporting Actress: Anne Hathaway, "Les Misérables"
Best Supporting Actor: Christoph Waltz, "Django Unchained"
Best Foreign Language Film: "Amour"
Best Animated Film: "Brave"
Best Screenplay: Quentin Tarantino, "Django Unchained"
Best Original Score: Mychael Danna, "Life of Pi"
Best Original Song: "Skyfall" (music and lyrics by Adele and Paul Epworth), "Skyfall"
Television
Best Series, Drama: "Homeland," Showtime
Best Series, Musical or Comedy: "Girls," HBO
Best Actress, Drama: Claire Danes, "Homeland"
Best Actor, Drama: Damian Lewis, "Homeland"
Best Actress, Comedy or Musical: Lena Dunham, "Girls"
Best Actor, Comedy or Musical: Don Cheadle, "House of Lies"
Best Miniseries or Movie: "Game Change"
Best Actress, Miniseries or Movie: Julianne Moore, "Game Change"
Best Actor, Miniseries or Movie: Kevin Costner, "Hatfields & McCoys"
Best Supporting Actress: Maggie Smith, "Downton Abbey"
Best Supporting Actor: Ed Harris, "Game Change"
About the Author of This Article:  Lady Adrienne Papp is a recognized journalist who has written for many publications including Savoir, Beverly Hills 90210, Malibu Beach, Santa Monica Sun, The Beverly Hills Times, Brentwood News, Bel-Air View,Celebrity Society,Celeb Staff, It Magazine, Chic Today, LA2DAY, West Side Todayamong many others. She is the President and CEO of Los Angeles / New York-based publicity company, Atlantic Publicityand publishing house, Atlantic Publisher. Adrienne writes about world trends, Quantum Physics, entertainment and interviews celebrities, world leaders, inventors, philanthropists and entrepreneurs. She also owns Atlantic United Films that produces and finances true stories made for theatrical release or the silver screen. Spotlight News Magazineis owned by Atlantic United, Incwith Adrienne Pappbeing the majority shareholder. Dame Adrienne Papp is a member of the International Press Academy.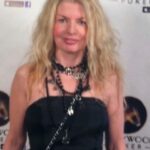 About the Author of This Article:  Adrienne Papp is a recognized journalist, economist and feature writer, who has written for many publications including Savoir; The Westside Today Publications ; such as Beverly Hills 90210; Malibu Beach; Santa Monica Sun; The Beverly Hills Times; Brentwood News; Bel-Air View ; Celebrity Society ; Celeb Staff ; It Magazine;  Chic Today;  LA2DAY;  West Side Today among many others. She is the President and CEO of Los Angeles / New York-based publicity company, Atlantic Publicity and publishing house, Atlantic Publisher. Adrienne writes about world trends, Quantum Physics, entertainment and interviews celebrities, world leaders, inventors, philanthropists and entrepreneurs. She also owns Atlantic United Films that produces and finances true stories made for theatrical release or the silver screen. Spotlight News Magazine is owned by Atlantic Publicity that just opened a new extension to it : PublicityLosAngeles. Adrienne Papp is a member of the International Press Academy.She is the Founder, CEO and President  of Youthful & Ageless ™, Bringing Information to Billions™, An Honorable Cause™  www.LatestAgeless.com. www.OurMediaVenuesAndCompanies.com, Atlantic Publicity Articles, Latest Ageless, Events Photo Collection, Linked In Profile, Movie Data Base  Profile, Twitter, Instagram, Youthful and Ageless Google+, Atlantic Publicity Google+, Atlantic Publisher Google+, Adrienne Papp Google+, Adrienne Papp Personal Google+, Spotlight News Magazine, Atlantic Publicity Productions, Atlantic Altitude, Altitude Pacific, Atlantic Publicity Photography and Filming, About Adrienne Papp   What Others Say  AtlanticPublicitySEO, BrilliantMarketing365, An Honorable Cause, Academic Research, Knighthood Today,    Youthful and Ageless™. She was knighted and became a Dame in 2010. Her official name is Lady Adrienne Papp and Dame Adrienne Papp. Voting Member of The International Press Academy and The Oscars: Academy of Motion Picture Arts and Sciences. She is the Managing Editorial Director of The Beverly Hills Times Magazine, and Hollywood Weekly. She has a Master of Science in Economics majoring Logistics; an MBA Degree; An International Law, Trade and Finance Postgraduate: Marketing and Advertising Postgraduate from NYU and UCLA. Guest Professor at Oxford University; Director and Producer of TV and Airline On Camera Editorials; Adrienne Papp Enterprises