By Adrienne Papp
At the 57th Grammy Awards held on Sunday night, Sam Smith, a virtual unknown a year ago, took the most coveted prizes in three top categories: record, song and new artist. It was an evening that seemed like a coronation for the 22-year old soul singer from the UK, but the broadcast had plenty of other surprises and delights.
In a three-and-a-half-hour broadcast that had its share of emotional ups and downs, there were some moments that made the evening memorable, including AC/DC's powerful opening set, a very serious and sober message from President Obama about domestic violence and even historic moments, with Sir Paul McCartney taking the stage with contemporary giants Kanye West and Rihanna. Sir Paul showed some moves onstage with Kanye and Rihanna, but his best dancing actually occurred earlier in the evening, when he took to his feet during Jeff Lynne's terrific rendition of Electric Light Orchestra's "Evil Woman."

Over the course of the evening, legends like Annie Lennox stepped in to add vocal dramatics to the performance of emerging Irish newcomer Hozier for an inspiring medley of his breakthrough hit "Take Me to Church" combined with the Screamin' Jay Hawkins' classic "I Put a Spell on You" (covered by Lennox on her latest album, Nostalgia). It was Lennox who showed the crowd that she still has the pipes to sing with anyone. She sounded as powerful and fierce in her delivery as ever and danced with the seductive hips of a woman who still gets the sensuality and emotion of the music. Lennox also accompanied Hozier with an air harmonica, using just her hands to generate and ended the performance clearly empowered by her performance and the response of the crowd.
"Albums — remember those?" awards presenter Prince said before announcing the Album of the Year award, then injected a pithy bit of social commentary that had been repeated in various ways throughout the night when he added, "Like books, and black lives, albums still matter."
When Los Angeles-based singer/songwriter Beck was announced as winner in the Album of the Year category, in a less inspiring moment, Kanye West threatened to step onstage and cause a scene and later proceeded to rant about the Beck's lack of respect after the show. Beck appeared a little amused by Kanye's stage presence, and his "Morning Phase" was clearly an upset winner over the big favorite Beyonce. It was also the one loss in Sam Smith's big night, as he missed out on a full sweep of the four top Grammy categories in which he was nominated — record, album, song and new artist.
Last year Madonna popped up during Macklemore and Ryan Lewis' gay-marriage-themed moment on the Grammy stage, but the pop diva is always captivating when she is allowed her own space. Her performance of "Living for Love" was the debut of her new single live, and she performed in a matador's outfit by Givenchy, while masked, horned minotaurs gyrated on stage, lifting, tossing and spinning her on their shoulders before she was hoisted up and out of sight as the number closed. Dramatic stuff.
After some three and a half hours the show ended on a high note, with Beyonce, John Legend and Common delivering soulful versions of "Precious Lord, Take My Hand" and "Glory." Before the show was over Beyonce won three awards, Miranda Lambert got bleeped and all in all it was another exciting and sometimes even theatrical display of the music industry's talent.
About the Author of This Article: Dame Adrienne Papp is a recognized journalist, economist and feature writer who has written for many publications including Savoir; The Westside Today Publications ; such as Beverly Hills 90210; Malibu Beach; Santa Monica Sun; The Beverly Hills Times; Brentwood News; Bel-Air View ; Celebrity Society ; Celeb Staff ; It Magazine; Chic Today; LA2DAY; West Side Today among many others. She is the President and CEO of Los Angeles / New York-based publicity company, Atlantic Publicity and publishing house, Atlantic Publisher. Adrienne writes about world trends, Quantum Physics, entertainment and interviews celebrities, world leaders, inventors, philanthropists and entrepreneurs. She also owns Atlantic United Films that produces and finances true stories made for theatrical release or the silver screen. Spotlight News Magazine is owned by Atlantic United, Inc. Adrienne Papp is a member of the International Press Academy.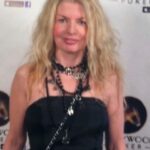 About the Author of This Article:  Adrienne Papp is a recognized journalist, economist and feature writer, who has written for many publications including Savoir; The Westside Today Publications ; such as Beverly Hills 90210; Malibu Beach; Santa Monica Sun; The Beverly Hills Times; Brentwood News; Bel-Air View ; Celebrity Society ; Celeb Staff ; It Magazine;  Chic Today;  LA2DAY;  West Side Today among many others. She is the President and CEO of Los Angeles / New York-based publicity company, Atlantic Publicity and publishing house, Atlantic Publisher. Adrienne writes about world trends, Quantum Physics, entertainment and interviews celebrities, world leaders, inventors, philanthropists and entrepreneurs. She also owns Atlantic United Films that produces and finances true stories made for theatrical release or the silver screen. Spotlight News Magazine is owned by Atlantic Publicity that just opened a new extension to it : PublicityLosAngeles. Adrienne Papp is a member of the International Press Academy.She is the Founder, CEO and President  of Youthful & Ageless ™, Bringing Information to Billions™, An Honorable Cause™  www.LatestAgeless.com. www.OurMediaVenuesAndCompanies.com, Atlantic Publicity Articles, Latest Ageless, Events Photo Collection, Linked In Profile, Movie Data Base  Profile, Twitter, Instagram, Youthful and Ageless Google+, Atlantic Publicity Google+, Atlantic Publisher Google+, Adrienne Papp Google+, Adrienne Papp Personal Google+, Spotlight News Magazine, Atlantic Publicity Productions, Atlantic Altitude, Altitude Pacific, Atlantic Publicity Photography and Filming, About Adrienne Papp   What Others Say  AtlanticPublicitySEO, BrilliantMarketing365, An Honorable Cause, Academic Research, Knighthood Today,    Youthful and Ageless™. She was knighted and became a Dame in 2010. Her official name is Lady Adrienne Papp and Dame Adrienne Papp. Voting Member of The International Press Academy and The Oscars: Academy of Motion Picture Arts and Sciences. She is the Managing Editorial Director of The Beverly Hills Times Magazine, and Hollywood Weekly. She has a Master of Science in Economics majoring Logistics; an MBA Degree; An International Law, Trade and Finance Postgraduate: Marketing and Advertising Postgraduate from NYU and UCLA. Guest Professor at Oxford University; Director and Producer of TV and Airline On Camera Editorials; Adrienne Papp Enterprises