he American Cinematheque Presents… 
Horror, Thrills & Chills On The Big Screen 
Film Series "Night of the Living '80s: A New Wave of Horror" 
Starts Thursday!
3-Night Engagement of New Thriller THE BOY – Elijah Wood In Person
In-Person Tribute to Filmmaker Bernard Rose
Plus, DOOMED: THE UNTOLD STORY OF ROGER CORMAN'S THE FANTASTIC FOUR
and Coming Soon… Beyond Fest
Thursday, July 30 – Sunday, August 16

EGYPTIAN THEATRE – HOLLYWOOD

11-Night Film Series! 21 Films! Guests In Person!

Night of the Living '80s: A New Wave of Horror

If the 1930s and '40s were the golden age of classical Hollywood cinema, and the 1970s the age of the American New Wave, the 1980s were a golden age of horror. The decade gave us some of the most terrifying (and hard-to-kill) bad guys in cinema history, including Jason Voorhees, Freddy Krueger and the titular demon of 

PUMPKINHEAD

 – the rise of the villain-as-hero is one reason '80s horror films remain such bloody fun. Behind the camera, a new breed of filmmakers steeped in the old traditions but firmly in touch with their cultural moment reinvented the genre with a series of confrontational, often satiric responses to their era. George A. Romero, John Carpenter, Clive Barker and Sam Raimi created movies as sharp and distinctive as the most prestigious mainstream fare, often on much smaller budgets.

We are pleased to have 

Creepshow Cabaret

 performing their burlesque routine before 

RETURN OF THE LIVING DEAD

 on August 1st at 7:00 PM, before the screening begins at 7:30 PM! The show is produced by Mia Morte, a Los Angeles based horror burlesque and sideshow performer. She has been featured at Rob Zombie's Great American Nightmare, MYTH: Legends of Burlesque and Magic at the Anime Expo, Monday Night Tease, and many places in California

Also, PAPERHOUSE, CANDYMAN and a sneak preview ofFRANKENSTEIN with Bernard Rose and Tony Todd in person at the Aero Theatre (details below).

 

Thursday, August 13 – 7:30 PM

AERO THEATRE – SANTA MONICA

DOOMED: THE UNTOLD STORY OF ROGER CORMAN'S THE FANTASTIC FOUR

Recently Cinematheque audiences were treated to the behind-the-scenes tale of Tim Burton's ill-fated Superman movie, now we've got the skinny on THE FANTASTIC FOUR! How many movies did Roger Corman make that never got released? One – a 1994 film featuring Marvel Comics superheroes The Fantastic Four. This new doc explores the secrets, stories and legal shenanigans that have kept the Four's first big screen adventure on the shelf.

Discussion following with actors Joseph Culp, Alex Hyde-White, Rebecca Staab, Carl Ciarfalio, special effects makeup artist John Vulich and executive producer Mark Sikes.

Friday, August 14 – Sunday, August 16

EGYPTIAN THEATRE – HOLLYWOOD

3-Night Engagement – Cast & Crew In Person, Including Elijah Wood!

THE BOY

Ted Henley (Jared Breeze) lives with his depressed dad (David Morse) in an isolated desert motel, with little to occupy his time other than removing roadkill from the nearby highway. When a mysterious drifter (Rainn Wilson) checks in, the boy's fascination with death accelerates in this disturbing portrait of a 9-year-old sociopath.

"It's great, it's creepy, it's got a jet-black third act that'll have you squirming in your seat, and just about everything – from the cast and the script to the set design and the cinematography – works." – Scott Wampler, Badass Digest.

A discussion will follow the Friday, August 14th screening with actor Jared Breeze, producers Elijah Wood, Daniel Noah and Josh Waller and writer Clay Chapman.

5 Screenings! 

 

TICKETS & DE

Friday, August 14 – Sunday, August 16

Aero Theatre – SANTA  MONICA

3-Night Film Series – Writer-Director Bernard Rose In Person!

Beauty and Thorns: A Bernard Rose Tribute

Since his breakthrough feature 

PAPERHOUSE

 in 1988, British director 

Bernard Rose

 has proven himself to be one of the most visually stylish and narratively ambitious filmmakers in world cinema. That haunting fantasy film paved the way for Rose's horror masterpiece 

CANDYMAN

, a lyrical fairy tale for adults that was as thoughtful as it was terrifying.

In a career with as much breadth as depth, Rose followed 

CANDYMAN

 with the innovative Beethoven biopic 

IMMORTAL BELOVED

 and a series of remarkable Tolstoy adaptations, including the bitter and beautiful Hollywood satire 

TIVANS XTC, HE KREUTZER SONATA

 and

BOXING DAY

– this triple feature is 

free to members of the American Cinematheque 

with RSVP (members were sent an invitation, do not rsvp to this e-mail please). His latest film is a bold new version of 

FRANKENSTEIN

 starring Danny Huston and Carrie-Anne Moss and due for release in January by Alchemy.

We are thrilled to welcome Bernard Rose to the Aero Theatre! The writer-director will appear in person each night of this series, with CANDYMAN actor Tony Todd joining him for Saturday's triple feature and KREUTZER SONATA actress Elisabeth Rohm and BOXING DAY actor Matthew Jacobs joining him for Sunday's triple feature.

 

Tickets & Venue Information

'80s Horror series & THE BOY special engagement take place at:

Egyptian Theatre

6712 Hollywood Blvd

Los Angeles, CA 90028

Bernard Rose series & DOOMED take place at:

Aero Theatre

1328 Montana Ave at 14th St

Santa Monica, CA 90403

---

Coming soon….

Mark your calendars, lock up your children – Beyond Fest returns to the Egyptian Theatre.

LA's premier genre festival is back for the three-peat with another madcap run this October. Pulling the best new and repertory genre titles from across the world, Beyond Fest promises even more anarchy than has preceded.

Mayhem returns October 2 – 10. We apologize in advance.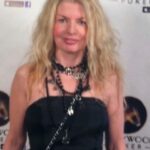 About the Author of This Article:  Adrienne Papp is a recognized journalist, economist and feature writer, who has written for many publications including Savoir; The Westside Today Publications ; such as Beverly Hills 90210; Malibu Beach; Santa Monica Sun; The Beverly Hills Times; Brentwood News; Bel-Air View ; Celebrity Society ; Celeb Staff ; It Magazine;  Chic Today;  LA2DAY;  West Side Today among many others. She is the President and CEO of Los Angeles / New York-based publicity company, Atlantic Publicity and publishing house, Atlantic Publisher. Adrienne writes about world trends, Quantum Physics, entertainment and interviews celebrities, world leaders, inventors, philanthropists and entrepreneurs. She also owns Atlantic United Films that produces and finances true stories made for theatrical release or the silver screen. Spotlight News Magazine is owned by Atlantic Publicity that just opened a new extension to it : PublicityLosAngeles. Adrienne Papp is a member of the International Press Academy.She is the Founder, CEO and President  of Youthful & Ageless ™, Bringing Information to Billions™, An Honorable Cause™  www.LatestAgeless.com. www.OurMediaVenuesAndCompanies.com, Atlantic Publicity Articles, Latest Ageless, Events Photo Collection, Linked In Profile, Movie Data Base  Profile, Twitter, Instagram, Youthful and Ageless Google+, Atlantic Publicity Google+, Atlantic Publisher Google+, Adrienne Papp Google+, Adrienne Papp Personal Google+, Spotlight News Magazine, Atlantic Publicity Productions, Atlantic Altitude, Altitude Pacific, Atlantic Publicity Photography and Filming, About Adrienne Papp   What Others Say  AtlanticPublicitySEO, BrilliantMarketing365, An Honorable Cause, Academic Research, Knighthood Today,    Youthful and Ageless™. She was knighted and became a Dame in 2010. Her official name is Lady Adrienne Papp and Dame Adrienne Papp. Voting Member of The International Press Academy and The Oscars: Academy of Motion Picture Arts and Sciences. She is the Managing Editorial Director of The Beverly Hills Times Magazine, and Hollywood Weekly. She has a Master of Science in Economics majoring Logistics; an MBA Degree; An International Law, Trade and Finance Postgraduate: Marketing and Advertising Postgraduate from NYU and UCLA. Guest Professor at Oxford University; Director and Producer of TV and Airline On Camera Editorials; Adrienne Papp Enterprises