On Oscar® Sunday February 24th, the Beverly Hills Hotel's Crystal Ballroom has again provided the venue for the arrival of approximately 150-200  film and TV stars who attended the hottest celebrity Awards party in town with even bigger names than last year.
Norby Walters, veteran music agent, reprises his role as Producer and Dinner Chairman again as for the past few decades.
The formal sit-down dinner viewing party has always included past Oscar winners and nominees who will return to pay tribute to this year's favorite Award nominees. Stars and their guests were dressed in a formal attire, and represented by the nations finest design houses.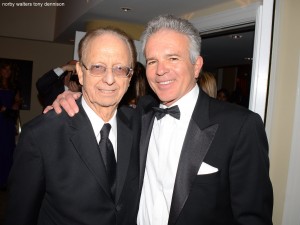 The media has always rated the Night of 100 Stars as one of the top Award parties. The Daily News rated this party as "…the number one Oscar party, just for the sheer number of celebrities attending…". ABC's Good Morning America covered this party from inside and said. " Voting Academy members flock to the Night of 100 Stars and we are here tonight with many former Oscar and Golden Globe winners. Is this an Oscar party or the Golden Globes"? The Jimmy Kimmel Show taped segments for the show and said, " ...a wild party with mostly celebrities and they are everywhere you look..and they have the most beautiful girls". The Hollywood Reporter says, " Numerous former Academy Award winners and nominees turned out Sunday during the Night of 100 Stars Oscar Gala..including (150 stars) Richard Dreyfuss, Martin Landau, Chevy Chase, Fred Willard, James Cromwell, Ron Perlman, Renee Taylor, Jason Ritter, and so many more."
Last year over 200 + media outlets from the U.S. and nearly 50 International news outlets covered the Night of 100 Stars. 

The Night of 100 Stars Oscar Party is the  first  to ever stream a live show worldwide starting 8 years ago when announced by the Hollywood Reporter's Paul Bond in a special Oscar party edition. Last years live streaming show was produced by Beverly Hills Courier TV®, and worldwide broadcast streamed on FoxNews.com.
Other celebrities included Cloris Leachman, Ryan O'Neil, Lee Majors, Mark Steines(ET), Laura Dern, Chris Kattan(SNL), Steve Collins, Shirley Jones, Jack McGee(Gangster Squad), Tom Sizemore, Piers Morgan,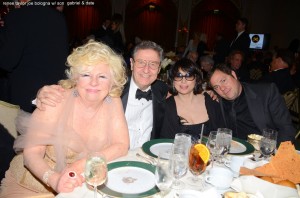 Morgan Saylor(Homeland), Anne Heche, Nadine Valazquez(FLIGHT), Meghan Markle(SUITS), Ron Perlman, Fred Willard, John Heard, Vincent Pastore, Nick Turturo(Blue Blood), Billy Burke(Twilight),  Peter Facinelli(Twilight),
Arielle Kebbel("90210" -2012), Louis Gossett Jr.(Oscar winner), LeeAnn Rimes, Kevin McKidd (Grey's Anatomy), Kenny (Babyface)Edmonds, Ed Lauter(The Artist), Joshua Molina(West Wing), Maggie Lawson (Psych), James Tupper, Lukas Haas, Jennie Garth,  Garry Marshall, Marisol Nichols, 
Richard Dreyfuss, James Pickens,  Michael Nouri, Bruce Boxleitner,Mariette Hartley (Law & Order), Armand Assante, Sean Patrick Flannery, Bo Derek, Estella Warren, Lena Headey, Kristanna Loken, John Corbett, Joe Pantoliano, Dolph Lundgren, Tia Carrere, Robert Carradine, Annie Wersching(star of "24"), Richard Grieco,  Bryan Cranston, John Ratzenberger, Autumn Reeser, Missi Pyle (The Artist), James Pickens, Tom Nicholle , Adrian Paul, Patrick Warburton, Michelle Lee,  Diane Baker, and Gloria Allred , Jackie Johnson ( CBS on air personality and top 10 US weather girl),  Sean Astin, Krista Allen, Ed Asner, Jason Alexander, Marion Ross, Powers Boothe, Daniel Baldwin, Maggie-Q(Nikita), Jermaine Jackson, Neil McDonough, CCH Pounder, Timothy Busfield, Renee Taylor, Joe Bologna, Susan Blakely, Keith Carradine, David Hasselhoff, 
James Cromwell (The Artist), Michael Chiklis, Joanna Cassidy, Kevin Dillon, Lolita Davidovich,
Robert Davi, Bruce Davison, Lou & Carla Ferrigno, Frances Fisher,Lorraine Toussaint, Dave Foley, Jon Favreau, Joely Fisher, Robert Forster, Jeff Garlin, Marty Ingels, Judd Nelson, Barry Newman, James Darren, Carla Gugino, Dominick Dunne(in memorium), Dennis Haysbert, Dule Hill,Cheryl Hines, Monty Hall, Harry Hamlin, Lisa Rinnna, Marilu Henner, Ken Howard, Traci Lords, Richard Karn, 
Martin Landau, Vincent Spano, Ron Livingston, Hal Linden, Richard Lewis, Sharon Lawrence, Michael Lerner, Matthew Modine, Chris McDonald, Camryn Manheim, Dylan McDermott, Jesse Metcalfe, Monica Keena(40Days&Nights), Ming-Na,  Christine Divine (FoxNews anchor), Kevin Nealon, Danielle Panabaker, Kevin Pollak, Stefanie Powers,  Lou Diamond Phillips, Freddie Rodriguez, Steve Weber(Wings)Jason Ritter,  Brande Roderick, Adam Rodriguez,Jenna Jameson, Pat Richardson, George Segal, Fred Savage,  Khandi Alexander (CSI-Miami), John Schneider,Bai Ling, Tony Shaloub(Monk), Kevin Sorbo, Rob Schneider, Amber Tamblyn, Mimi Rogers, Jennifer Tilly, Tanna Frederick, Regina Taylor(The UNIT),
Sharon Gless(Burn Notice), the GEICO Caveman,
 Lorraine Toussaint(Body of Proof), Andrew Dice Clay, Thomas Decker, Matt Barenes(LA Clippers)
Jimmy Kimmel said, " The Night of 100 Stars has the most beautiful girls."

Along with the above mentioned stars  approximately 50 Academy Award Winners and Nominees attend every year including: Jamie Foxx, Peter Fonda,  Danny Aiello, Jennifer Tilly, Linda Blair, Michael Lerner, Sally Kirkland, Gary Busey, Bruce Davison,  Richard Dreyfuss, Cathy Moriarty, Kathleen Quinlan, Eric Roberts, Robert Forster,  Diane Ladd, Caroll Baker, Rip Torn, Dean Stockwell,  Theodore Bikel, Don Murray, William H. Macy, Samantha Eggar, Glynis Johns, Terry Moore,  Burt Young, Karen Black, George Chakiris, James Cromwell,
Shirley Jones, Elliott Gould, Martin Landau, David Paymer, Robert Loggia, Renee Taylor, Joe Bologna, Brenda Vaccaro, Shirley Knight, Stuart Whitman, Carrie Snodgrass, Seymour Cassel, Lesley Ann Warren, Russ Tamblyn, Maximilian Schell, Sally Kellerman and Mickey Rooney and International Celebrity Interior and Complex Architecture Designer, Lady Sandra Costa.
The menu included  the Gourmet 5 Star Cuisine prepared for the stars
including the famed Beverly Hills Hotel's mixologist pouring custom made cocktails named after the Oscar nominees. An open bar throughout the entire party included the annual Oscar Best Picture Nominee Cocktails:AMOUR: The "Till Death Do Us Part", ARGO: The "Argo Have Another", BEASTS OF THE SOUTHERN WILD: The "Bathtub Brew", DJANGO UNCHAINED: The "Gunsmoke", LINCOLN: The "Honest Abe", LES MISERABLES: The "On Your Own", LIFE OF PI: The " 3.14 Ounces of Amazing", SILVER LININGS PLAYBOOK: The " 5150 on TWO".   Tickets to this lavish event cost $ 1,000 per seat.
To learn more about this unique event please visit their exquisite website:  www.nightof100stars.com
What distinguishes the event even more from any other one is that  this is a private viewing party of the Oscars. All 150-200 celebrities arrive before 6 PM and press was in place well ahead of time. The hotel truly looked like the Oscars itself with cameras and ball gowns everywhere.
This marvelous and elegant dinner viewing party was organized by Edward Lozzi & Associates PR, who is a recognized  American publicist, political consultant, former White House Press Advance staffer, and writer.  Norby Walters  at Walters Entertainment  is a veteran music agent but also a Producer and Dinner Chairman who has been behind The Night of 100 Stars for decades.

About the Author of This Article:  Lady Adrienne Papp is a recognized journalist, economist and feature writer who has written for many publications including Savoir, Beverly Hills 90210, Malibu Beach, Santa Monica Sun, The Beverly Hills Times, Brentwood News, Bel-Air View,Celebrity Society,Celeb Staff, It Magazine, Chic Today, LA2DAY, West Side Todayamong many others. She is the President and CEO of Los Angeles / New York-based publicity company, Atlantic Publicity and publishing house, Atlantic Publisher. Adrienne writes about world trends, Quantum Physics, entertainment and interviews celebrities, world leaders, inventors, philanthropists and entrepreneurs. She also owns Atlantic United Films that produces and finances true stories made for theatrical release or the silver screen. Spotlight News Magazine is owned by Atlantic United, Inc. Dame Adrienne Papp is a member of the International Press Academy.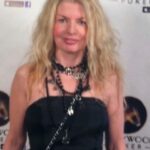 About the Author of This Article:  Adrienne Papp is a recognized journalist, economist and feature writer, who has written for many publications including Savoir; The Westside Today Publications ; such as Beverly Hills 90210; Malibu Beach; Santa Monica Sun; The Beverly Hills Times; Brentwood News; Bel-Air View ; Celebrity Society ; Celeb Staff ; It Magazine;  Chic Today;  LA2DAY;  West Side Today among many others. She is the President and CEO of Los Angeles / New York-based publicity company, Atlantic Publicity and publishing house, Atlantic Publisher. Adrienne writes about world trends, Quantum Physics, entertainment and interviews celebrities, world leaders, inventors, philanthropists and entrepreneurs. She also owns Atlantic United Films that produces and finances true stories made for theatrical release or the silver screen. Spotlight News Magazine is owned by Atlantic Publicity that just opened a new extension to it : PublicityLosAngeles. Adrienne Papp is a member of the International Press Academy.She is the Founder, CEO and President  of Youthful & Ageless ™, Bringing Information to Billions™, An Honorable Cause™  www.LatestAgeless.com. www.OurMediaVenuesAndCompanies.com, Atlantic Publicity Articles, Latest Ageless, Events Photo Collection, Linked In Profile, Movie Data Base  Profile, Twitter, Instagram, Youthful and Ageless Google+, Atlantic Publicity Google+, Atlantic Publisher Google+, Adrienne Papp Google+, Adrienne Papp Personal Google+, Spotlight News Magazine, Atlantic Publicity Productions, Atlantic Altitude, Altitude Pacific, Atlantic Publicity Photography and Filming, About Adrienne Papp   What Others Say  AtlanticPublicitySEO, BrilliantMarketing365, An Honorable Cause, Academic Research, Knighthood Today,    Youthful and Ageless™. She was knighted and became a Dame in 2010. Her official name is Lady Adrienne Papp and Dame Adrienne Papp. Voting Member of The International Press Academy and The Oscars: Academy of Motion Picture Arts and Sciences. She is the Managing Editorial Director of The Beverly Hills Times Magazine, and Hollywood Weekly. She has a Master of Science in Economics majoring Logistics; an MBA Degree; An International Law, Trade and Finance Postgraduate: Marketing and Advertising Postgraduate from NYU and UCLA. Guest Professor at Oxford University; Director and Producer of TV and Airline On Camera Editorials; Adrienne Papp Enterprises