By Adrienne Papp
Posted on 20 Jul 2008 at 6:59pm
For close to seventy years, this Hollywood hideaway has offered its A-list guests the ultimate in privacy. It is also a place to let loose and possibly get into a little trouble (or a lot) without the nuisance of the paparazzi. It is almost as if the staff is trained to keep quiet and only the walls of the historic 1927 building know the true secrets of the many famous faces and countless tales that it holds.
Despite the well-kept privacy of its guests, fairytales are rampant regarding the Chateau. A big one is that '70s rock band Led Zeppelin rode their motorcycles through the lobby (much to the amusement of hotel guests!). Another legend is that Jim Morrison of The Doors was said to have used up eight of his nine lives after he injured his back falling off one of the roof drain pipes to jump into his room through the window. Among these many stories, one can only speculate as to what truly happens at this hotel–that is, unless one stays there. I did. God Bless those times! Al Franklin, Hunter S. Thompson, Keanu Reeves, Kevin Spacey, Patricia Taylor, Val Kilmer, Mark Wahlberg, Charlize Theron and countless of other celebrities have all chosen the Chateau as their home.
The Chateau, as LA residents call it, has a rich history that goes beyond its guests, too. It opened its doors in February 1929 as a residence and was built by lawyer Fred Horowitz who named the building after the street that runs along the back of the property. However, by 1931, the Chateau changed into a hotel due to the high rent costs of the Depression. As stunning as the architecture is visually, it is also earthquake resilient as it has survived five major California earthquakes and maintained its structural integrity.
Thus, as the famed Grateful Dead song tributes the Chateau in "LA Fadeaway":
"I'm looking for a Chateau, 21 rooms, but 1 will do
I'm looking for a Chateau, 21 rooms, but 1 will do
I don't want to buy it, I just want to rent it for a minute or two
West LA, fade away, West LA, fade away"
Its memories will never fade and The Chateau's legend is here to stay with more memories left for its guests and tenants to create.
Adjacent to the hotel is Los Angeles' hippest hangout, Bar Marmont, where, once again, you can find trouble, sex and rock n' roll, all while sipping the best Lemon Drop in town. But loading up on booze and hanging till 2 am is a way of life for wanna bes, and, well, the stars.
Expect tremendous fun, a homey feeling, a French style living and the great unexpected!
For further details, click on www.chateaumarmont.com
______________
About the Writer:  
Adrienne Papp
 is a recognized journalist who has written for many publications including Savoir, Beverly Hills 90210, Malibu Beach, Santa Monica Sun, The Beverly Hills Times, Brentwood News, Bel-Air View and Celebrity Society, among many others. She is the President and CEO of Los Angeles/New York-based publicity companies,
Atlantic Publicity
and
Atlantic Publisher
. Adrienne writes about world trends, Quantum Physics, entertainment and interviews celebrities and world leaders.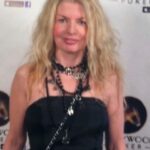 About the Author of This Article:  Adrienne Papp is a recognized journalist, economist and feature writer, who has written for many publications including Savoir; The Westside Today Publications ; such as Beverly Hills 90210; Malibu Beach; Santa Monica Sun; The Beverly Hills Times; Brentwood News; Bel-Air View ; Celebrity Society ; Celeb Staff ; It Magazine;  Chic Today;  LA2DAY;  West Side Today among many others. She is the President and CEO of Los Angeles / New York-based publicity company, Atlantic Publicity and publishing house, Atlantic Publisher. Adrienne writes about world trends, Quantum Physics, entertainment and interviews celebrities, world leaders, inventors, philanthropists and entrepreneurs. She also owns Atlantic United Films that produces and finances true stories made for theatrical release or the silver screen. Spotlight News Magazine is owned by Atlantic Publicity that just opened a new extension to it : PublicityLosAngeles. Adrienne Papp is a member of the International Press Academy.She is the Founder, CEO and President  of Youthful & Ageless ™, Bringing Information to Billions™, An Honorable Cause™  www.LatestAgeless.com. www.OurMediaVenuesAndCompanies.com, Atlantic Publicity Articles, Latest Ageless, Events Photo Collection, Linked In Profile, Movie Data Base  Profile, Twitter, Instagram, Youthful and Ageless Google+, Atlantic Publicity Google+, Atlantic Publisher Google+, Adrienne Papp Google+, Adrienne Papp Personal Google+, Spotlight News Magazine, Atlantic Publicity Productions, Atlantic Altitude, Altitude Pacific, Atlantic Publicity Photography and Filming, About Adrienne Papp   What Others Say  AtlanticPublicitySEO, BrilliantMarketing365, An Honorable Cause, Academic Research, Knighthood Today,    Youthful and Ageless™. She was knighted and became a Dame in 2010. Her official name is Lady Adrienne Papp and Dame Adrienne Papp. Voting Member of The International Press Academy and The Oscars: Academy of Motion Picture Arts and Sciences. She is the Managing Editorial Director of The Beverly Hills Times Magazine, and Hollywood Weekly. She has a Master of Science in Economics majoring Logistics; an MBA Degree; An International Law, Trade and Finance Postgraduate: Marketing and Advertising Postgraduate from NYU and UCLA. Guest Professor at Oxford University; Director and Producer of TV and Airline On Camera Editorials; Adrienne Papp Enterprises