By Lady Adrienne Papp
There's nothing quite like a royal wedding to captivate a worldwide audience numbering in the multi-billions.  Nothing – not a Super Bowl or the Olympics or the World Cup – seems to draw the collective attention of an audience entranced with the emotion and romance of a young prince and his new bride as they commit to each other in marriage.  The royal wedding spectacle on Saturday, March 19 was an example of British branding at its finest, with much procession and pageantry, gleaming black Rolls Royces, Union Jack-themed suits, umbrellas and dog scarves and souvenirs featuring the image of the couple on now-collectible tea towels.
This royal wedding was also special for many reasons. It was an improbable match from the beginning. But when Los Angeles actress Meghan Markle met Harry Prince of Wales something clicked and they soon were making vows that together they would change the world. Their marriage on Saturday May 19 will certainly change the image of the royal family of the House of Windsor, breaking from certain traditions and boldly going in a direction that few would have imagined just a decade ago. 
Until recently Meghan Markle was a little known actress, most recently appearing as an attorney in the series "Suits" for the USA Network. She is divorced, and the child of a Los Angeles-based biracial family. In addition to her modest Hollywood career, Markle had also had a pretty typical Southern California lifestyle, enjoying yoga, healthy diets and the beach. She had a lifestyle blog and social media accounts that focused on food, her dogs and fashion.  While strikingly glamorous, Markle was also seen as very approachable and is refreshingly outspoken about her biracial identity and feminism.
Prince Harry on the other hand is the son of the very beloved Princess Diana, the boy of 12 who walked so bravely behind his mother's coffin after she was tragically killed in an automobile accident in 1997. He was a bit of a wild child in the context of the royal family, partying in Las Vegas, getting into trouble and dating lots of women until he straightened out and began taking his role as a prince more seriously, a man who is sixth in line of succession to the British throne.
They met completely by chance, with Markle agreeing to a blind date on a vacation in London to find out that she would be out on the town with the Prince of Wales. It was a perfect Hollywood story, and an immediate attraction led to the discovery that they had more in common than they could have imagined, especially a devotion for public service and helping the underprivileged.

From the beginning, the romance of Harry and Meghan broke with tradition on what a royal couple should be, and as the royal wedding proceeded on Saturday there were concessions to a new, more modern view of a wedding ceremony. An estimated 100,000 celebrants lined the streets, including the tree-lined road known as the Long Walk, to watch the Duke and Duchess of Sussex pass by and once inside St. George's Chapel at Windsor Castle, the break from longstanding British tradition became evident, with an inclusion of several African-American influences. As part of the ceremonies, Karen Gibson and The Kingdom Choir performed the beloved classic "Stand By Me," by Ben E. King, (which was also covered by John Lennon). Following that performance the Most Reverend Michael Curry, the first African American to preside in the Episcopal Church, delivered a rousing sermon to an audience that included Oprah, the Clooneys, the Beckhams, Serena Williams and Elton John.
"There's power in love," Curry told the couple. "We were made by a power of love and our lives were meant to be lived with that love."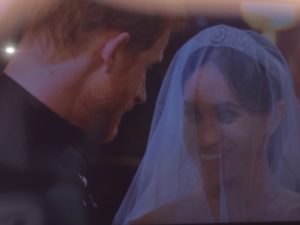 These are touching and emotional moments during the service, as were the beaming smiles that Harry gave his new bride throughout the ceremony.
As the many millions of images of this royal wedding passes into history, the couple can now return to a life that will be a continuation of the romance and a new commitment to service as members of an extended royal family.
According to friends, the couple bonded over a deep and genuine devotion to charitable causes. In fact, in place of gifts the couple requested donations to organizations involved in environmental work, women's empowerment and helping the homeless. They even requested support for a group called Surfers Against Sewage.  Not the sort of thing that newly married royals would have specified in years past.
So as another royal wedding captivates the world and then becomes part of the lore of British royalty, it's a moment that we can all celebrate, shed a few tears, marvel at the pageantry and wish the newlyweds a charmed life as they move forward. Royalty has always held a fascination for most of us, a peek into the lives of a very privileged and very private family. Maybe some of that fascination is reflected in the immense popularity of shows like "The Crown," the accolades and Oscar wins for "The King's Speech" and our interest in stories from the life of Grace Kelly, who left fame and stardom in Hollywood to marry Prince Rainier of Monaco, only to die tragically in a car accident.  We've also seen the personal struggles of Prince Harry's aunt, Sarah Ferguson (also known as "Fergie,"), the former wife of Prince Andrew who later became a spokesperson for Weight Watchers. Interestingly enough I myself have lots of stories to tell that all refer back to this one day in modern history almost as a culmination of a series of events in my personal life connecting the dots and realizing that what Prince Harry said at the opening of his very own JEUX INVICTUS GAMES in Toronto in 2017: " You are proving to the world that everything is possible," indeed is true!
There is so much more to add to this glamorous event than this one article can include, therefore it is to be continued. But, what makes me marvel at their commitment to make the world a healthier and better place is that I share that vision in a very humanitarian and outspoken way through a platform that serves to discover information fast about entrepreneurs and start-ups contributing to health and wellness around the world; academic research that teaches us about the human condition, whether in developing countries or the very popular anti-aging movement; sponsors that make all this possible; and also the power of the entertainment industry; all on one platform that along with modern technology creates a gigantic International audience and as such is educational in nature. These elements individually have been emphasized throughout the heartwarming story of this extraordinary couple destined to change the world. After all as humans we can only control individually that which we put into our body, onto our body and the way we think. Yet, these three elements combined make all the difference in the world according to one's choice
Royalty, for all its trappings can include many limitations and some burdensome historical precedents but for now we celebrate this new love story, between a seemingly unlikely couple, who will use their fame and social position to do many great things, one hopes.
This is a new day for royalty in the United Kingdom and both Hollywood and Buckingham Palace can be proud of their part in the glitz and glamour of a bonding that is full of love and also seriously committed to making the world a little better for us all.
About the Author of this Article: Lady Adrienne Papp is the President and Founder of the platform Youthful and Ageless™ that serves as a humanitarian movement and by combining information and leveraging technology reaches millions around the world. From sponsoring various causes, including the small business owner offering the world a healthier way of life to academia in various research fields, the platform brings people together reaching nearly one billion extraordinary demographics of the same mindset and one thought in mind: to change the world. She works with extraordinary companies such as Drink Maple, a company that supplies 200 gallons of clean water to individuals in developing nations and has its own farm in Africa; Lisa Alexander, a model and founder of LAFACE Laboratories that manufactures a unique anti-aging sustainable / organic skin care line that carries the same vision as its owner: dedicated, ethical and truthful; Dr. Malcolm Lesavoy who is referred to as the best plastic surgeon and clinical professor in California, if not in the world; Pizootz invented by a genius scientist, Dr. Alfred P. Pizootz; and other extraordinary people with extraordinary stories, such as fellow Knight, Dr. Sir Garth Fisher.
Photo: CBS; ABC; ET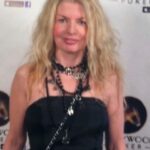 About the Author of This Article:  Adrienne Papp is a recognized journalist, economist and feature writer, who has written for many publications including Savoir; The Westside Today Publications ; such as Beverly Hills 90210; Malibu Beach; Santa Monica Sun; The Beverly Hills Times; Brentwood News; Bel-Air View ; Celebrity Society ; Celeb Staff ; It Magazine;  Chic Today;  LA2DAY;  West Side Today among many others. She is the President and CEO of Los Angeles / New York-based publicity company, Atlantic Publicity and publishing house, Atlantic Publisher. Adrienne writes about world trends, Quantum Physics, entertainment and interviews celebrities, world leaders, inventors, philanthropists and entrepreneurs. She also owns Atlantic United Films that produces and finances true stories made for theatrical release or the silver screen. Spotlight News Magazine is owned by Atlantic Publicity that just opened a new extension to it : PublicityLosAngeles. Adrienne Papp is a member of the International Press Academy.She is the Founder, CEO and President  of Youthful & Ageless ™, Bringing Information to Billions™, An Honorable Cause™  www.LatestAgeless.com. www.OurMediaVenuesAndCompanies.com, Atlantic Publicity Articles, Latest Ageless, Events Photo Collection, Linked In Profile, Movie Data Base  Profile, Twitter, Instagram, Youthful and Ageless Google+, Atlantic Publicity Google+, Atlantic Publisher Google+, Adrienne Papp Google+, Adrienne Papp Personal Google+, Spotlight News Magazine, Atlantic Publicity Productions, Atlantic Altitude, Altitude Pacific, Atlantic Publicity Photography and Filming, About Adrienne Papp   What Others Say  AtlanticPublicitySEO, BrilliantMarketing365, An Honorable Cause, Academic Research, Knighthood Today,    Youthful and Ageless™. She was knighted and became a Dame in 2010. Her official name is Lady Adrienne Papp and Dame Adrienne Papp. Voting Member of The International Press Academy and The Oscars: Academy of Motion Picture Arts and Sciences. She is the Managing Editorial Director of The Beverly Hills Times Magazine, and Hollywood Weekly. She has a Master of Science in Economics majoring Logistics; an MBA Degree; An International Law, Trade and Finance Postgraduate: Marketing and Advertising Postgraduate from NYU and UCLA. Guest Professor at Oxford University; Director and Producer of TV and Airline On Camera Editorials; Adrienne Papp Enterprises