The press conference to announce the event outline of the 28th edition of Tokyo International Film Festival (TIFF) was held today, on July 28 at Roppongi Hills, Tokyo.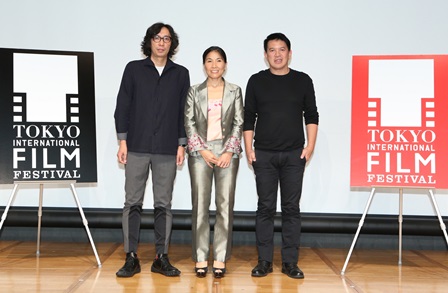 Isao Yukisada, Sotho Kulikar and Brillante Mendoza
©2015 TIFF
The press conference opened with a welcoming address from Yasushi SHIINA (Director General, TIFF & TIFFCOM). Following this, new festival venues in Shinjuku City and newly added sections; Panorama, Japan Now, Japanese Classics, were introduced. Also the OPENING FILM and the CLOSING FILM of the 28th TIFF were announced. "The Walk" directed by Robert Zemeckis, starring Joseph Gordon-Levitt will open the festival and the "TERMINAL" directed by Tetsuo Shinohara, starring Koichi Sato, will close the 28th TIFF.
Also this year's Jury President was announced. Bryan Singer, the director of The Usual Suspects which won two Academy Awards® and the Tokyo Gold Prize in Young Cinema Competition at the 8th TIFF will serve as the head of jury.
In addition, Isao YUKISADA, Sotho Kulikar and Brillante Mendoza, the three directors of the omnibus film project, "Asian Three-Fold Mirror" came up on the stage as guests and the outline of the project was revealed. Three directors will be filming it in Asian countries and the world premiere of their completed project will be screened in 2016, at the 29th TIFF. Also it is planned to be presented at major film festival around the world and to be released in Japan and abroad.
OPENING FILM of the 28th TIFF – "The Walk"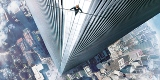 ©2015 TriStar Pictures, Inc. All Rights Reserved.
Twelve people have walked on the moon. Only one has ever, or will ever, walk where Philippe Petit did in 1974. Overcoming odds, betrayals, dissension and countless close calls, he executes a seemingly impossible plan. An emotional, character-driven story.
—–
Director: Robert Zemeckis
Cast: Joseph Gordon-Levitt, Ben Kingsley, Charlotte Le Bon
[The film will be released by Sony Pictures on January 23, 2016 in Japan.]
CLOSING FILM of the 28th TIFF – "TERMINAL"

©2015 Shino Sakuragi,Shogakukan/Terminal Partners
A final stop becomes a starting station.
The masterpiece of Shino Sakuragi, who won the 149th Naoki Prize at HOTEL ROYAL in 2013, is in motion picture. In Kushiro, Hokkaido, a pair who abandoned their own lives encounters and develops a moving drama by restarting new lives.
—–
Director: Tetsuo Shinohara
Cast: Koichi Sato, Tsubasa Honda, Machiko Ono
[The film will be released by TOEI on November 7, 2015 in Japan.]
Special Messages
Closing Film "TERMINAL"
Koichi Sato (Cast) Ten years ago in 2005, I won the best actor award at the Tokyo International Film Festival for the film "What the Snow Brings" directed by Kichitaro Negishi. Strangely, when I went to the shooting location of the film "Terminal" on the first day, I felt the same sensation, the same air and determination from everyone on-site, including the director and the staffs, that this film was going towards a certain direction and that was exactly what I felt on the first day of shooting "What the Snow Brings". The fact that "Terminal" is selected as the Closing film for the TIFF this year fills me with great pleasant surprise.
Tsubasa Honda (Cast)
This is a heart-warming film that leaves you with a little happy feeling after watching. I am looking forward to meeting everyone this fall.
Shino Sakuragi (Author)
I would like to thank everyone who has been involved in giving my story a new expression as a film to be loved by a great audience. I hope that this film will be the first station in your life even in a small way.
Jury President: Bryan Singer (Director, Writer, Producer)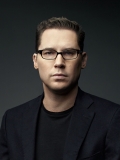 First of all I am thrilled to be returning to Tokyo. It's my eighth time, but it has been awhile. As a lover of film, the opportunity to see fresh new work is first and foremost an honor. To help in the advancement of filmmakers as a jury president/member of such a prestigious festival is an even greater honor. Although I have made some rather commercial pictures, my career was born out of the festival system. I truly understand its importance and look forward to being part of it again. As a juror, but most importantly as an audience member.
Notes and Quotes from the Press Conference
Yasushi SHIINA (Director General, TIFF & TIFFCOM)
This year is the special year as the milestone since the festival has started 30 years ago in 1985. While we respect Cannes and Venice, which have much longer histories than TIFF, we would like to maintain "Tokyo taste." TIFF is a significant platform in which Japanese films gain exposure from overseas. To enhance the role, we reestablished sections this year to display the diverse works of Japanese cinema. To attract wider audience we will expand the festival area and number of screenings and hold special events that everyone can enjoy.
Isao Yukisada (Japan; "Parade" "Five Minutes to Tomorrow")
For "Asian Three-Fold Mirror" we had long but fruitful meeting with these two directors. The discussion was so stimulating. In fact, I am influenced greatly by Asian films. Since I am from the host country Japan, I should take an initiative and play as a lubricant on this project. The two directors told me that they would like to shoot in Japan, so perhaps I should film in the Philippines and Cambodia. To work with different directors with different background, many challenges arise but give us a chance to learn and allow to pull something you don't think of. So, I am thrilled to work on this.
Sotho Kulikar (Cambodia; "The Last Reel" winner of the 27th TIFF's The Spirit of Asia Award)
I have a great passion to Tokyo, especially Japanese cuisine, culture and Japanese films. There is something in the air, perhaps this heat makes me fall in love with Japan. While researching for the project, I found similar cultural roots between Japan and Cambodia. I see this as the fantastic opportunity to discover something new.
Brillante Mendoza (Philippines; "TAKLUB" "Kinatay")
I did some similar project in the past, and I am thrilled to work on this. I would like people to see our film, not like "which is better or not" but to see whole as one film. The Philippines and Japan have the special connection, we haven't come up with specific topic yet but I am happy to seek more. Also, I appreciate that TIFF will show my 5 films this year in CROSSCUT ASIA section.
New festival venues in Shinjuku City
This year, we will hold screenings in Shinjuku as well as in our usual venue at Roppongi Hills to increase the number of screenings and visitors. In addition, in collaboration with the Shinjuku Convention & Visitors Bureau, TIFF is joining forces with Shinjuku Art Heaven 2015, which is the part of the 36th Grand Shinjuku City Festival in a spirit of neighborhood cooperation to offer a variety of ways to enjoy the film festival.
Newly added sections; Panorama, Japan Now, Japan Classics
Panorama features premiere screenings of a diverse array of brand new films brought together for their originality and variety. Encompassing stimulating films whose genres range from human drama to horror, animation, and more, the section showcases the diversity of film.
Japan Now looks back on the past year in Japanese film and showcases several works representative of Japan. Selections for this section are made from the unique perspective of TIFF and offer an overview of the current state of Japanese film, while also giving a multifaceted look at the country today.
Japanese Classics features digitally restored classic Japanese films and provides an opportunity to reflect on the many masterpieces of Japanese film.
Outline of Special Programs
-Ken Takakura and His Era: Commemorative Screening
Ahead of the first anniversary of a distinguished actor Ken Takakura (1931-2014) who passed away last year on November 10th, his works from the chivalry films (Ninkyo-films) in his early days to literary works in his mature years are carefully selected for screening. His long-term fans as well as overseas and younger film fans alike, please take this opportunity to enjoy "Ken-san's" appeal with the films with English subtitles.
-This Year's Special Animation Program: "Gundam"
-Japan Premiere, 4K Digital Restored Version of "Ran"
It is exactly 30 years since the first Tokyo International Film Festival was held in 1985. This memorable festival was opened with Ran by the great master Akira Kurosawa (1910-1998). The film has much to offer from lavish costumes to the horseback battle scenes of incredible scale, which has been brought back to the screen beautifully restored both in picture and sound!
-Collaboration with Kyoto Historica International Film Festival
This year, TIFF will arrange stimulating lectures for the "Masters Session," a new program of "Kyoto Filmmakers Lab," a workshop that has been held as a part of Kyoto Historica International Film Festival since 2007. For the "Masters Session" lectures, a variety of guests who will be invited to TIFF will serve as guest lecturers.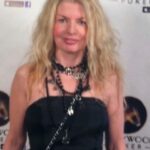 About the Author of This Article:  Adrienne Papp is a recognized journalist, economist and feature writer, who has written for many publications including Savoir; The Westside Today Publications ; such as Beverly Hills 90210; Malibu Beach; Santa Monica Sun; The Beverly Hills Times; Brentwood News; Bel-Air View ; Celebrity Society ; Celeb Staff ; It Magazine;  Chic Today;  LA2DAY;  West Side Today among many others. She is the President and CEO of Los Angeles / New York-based publicity company, Atlantic Publicity and publishing house, Atlantic Publisher. Adrienne writes about world trends, Quantum Physics, entertainment and interviews celebrities, world leaders, inventors, philanthropists and entrepreneurs. She also owns Atlantic United Films that produces and finances true stories made for theatrical release or the silver screen. Spotlight News Magazine is owned by Atlantic Publicity that just opened a new extension to it : PublicityLosAngeles. Adrienne Papp is a member of the International Press Academy.She is the Founder, CEO and President  of Youthful & Ageless ™, Bringing Information to Billions™, An Honorable Cause™  www.LatestAgeless.com. www.OurMediaVenuesAndCompanies.com, Atlantic Publicity Articles, Latest Ageless, Events Photo Collection, Linked In Profile, Movie Data Base  Profile, Twitter, Instagram, Youthful and Ageless Google+, Atlantic Publicity Google+, Atlantic Publisher Google+, Adrienne Papp Google+, Adrienne Papp Personal Google+, Spotlight News Magazine, Atlantic Publicity Productions, Atlantic Altitude, Altitude Pacific, Atlantic Publicity Photography and Filming, About Adrienne Papp   What Others Say  AtlanticPublicitySEO, BrilliantMarketing365, An Honorable Cause, Academic Research, Knighthood Today,    Youthful and Ageless™. She was knighted and became a Dame in 2010. Her official name is Lady Adrienne Papp and Dame Adrienne Papp. Voting Member of The International Press Academy and The Oscars: Academy of Motion Picture Arts and Sciences. She is the Managing Editorial Director of The Beverly Hills Times Magazine, and Hollywood Weekly. She has a Master of Science in Economics majoring Logistics; an MBA Degree; An International Law, Trade and Finance Postgraduate: Marketing and Advertising Postgraduate from NYU and UCLA. Guest Professor at Oxford University; Director and Producer of TV and Airline On Camera Editorials; Adrienne Papp Enterprises