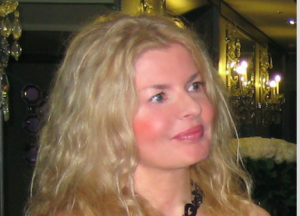 In its live telecast on Sunday night, the 90th Academy Awards show proved to be both daring and predictable, a celebration of the motion picture industry in which numerous causes were highlighted and nearly every favorite was a winner.
Hosted by Jimmy Kimmel, who set a balanced tone with just the right amount of social commentary and light-hearted humor, the broadcast went off without any major controversies orkerfuffles, like the bungled best picture announcement in last year's presentation. In an attempt at redemption for the Academy Awards themselves, the Oscar for best picture was again presented by Faye Dunaway and Warren Beatty, who were both involved in last year's jaw-dropping announcement that musical "La La Land" had won for best picture instead of the actual winner, "Moonlight." "This year, when you hear your name called, don't get up right away," Kimmel joked in one of several nods to the bungle throughout the night. "Give us a minute. We don't want another thing."
Over the course of the night, ten dramatic features, not counting foreign-language nominees, went home with Oscars, including seven of the nine best picture nominees. Only Greta Gerwig's "Lady Bird" came up empty handed among the competing films.
The big winner on Hollywood's biggest night was Guillermo del Toro's "The Shape of Water," achieving a 2018 high of four Oscars, including best picture and director in what was considered one of the most wide-open best picture races in years, beating out a strong field of eight rivals that included box office hits like "Dunkirk" and "Get Out" as well as smaller, more intimate fare such as "Call Me By Your Name" and "Lady Bird." The fantasy sci-fi romance "The Shape of Water," a movie about a mute cleaning woman falling deeply in love with a fish-man also won the Oscars for original score and production design.
A number of the night's winners were first-time nominees including Jordan Peele, who won the Oscar for original screenplay for his horror satire "Get Out." Allison Janney, who won for supporting actress, and Sam Rockwell, who won for supporting actor, were also first-time nominees. A well deserved win for Rockwell. A great talent in many memorable roles with outstanding characterization!
Frances McDormand, one of my all-time favorite actresses, gave the most rousing speech of the night when accepting the lead actress Oscar for her performance as a grieving mother trying to spur the police to solve her daughter's murder in the stark morality drama "Three Billboards Outside Ebbing, Missouri" and also invited every one of the female nominees to stand up and be recognized, singling out Meryl Streep in the first row with a personal "if you do it, everyone will." McDormand's Oscar added to her haul of awards this year including her wins at the Golden Globes and the Screen Actors Guild.
There were other touching moments too, equally heartfelt, as when supporting actor winner Sam Rockwell remembering his father sneaking him out of school to go to the movies and Gary Oldman telling his soon-to-be-99-year-old mother, "put the kettle on, I'm bringing Oscar home." Oldman, who has swept virtually every acting award this season, won his first Oscar in the lead actor category for his turn as Winston Churchill in the World War II drama "Darkest Hour."
Rockwell's supporting actor award was for his role as a racist small-town cop in "Three Billboards," while Allison Janney earned the supporting actress award for playing figure skater Tonya Harding's emotionally abusive mother in "I, Tonya." Rockwell and Janney had been considered the favorites in their categories and were both first-time winners.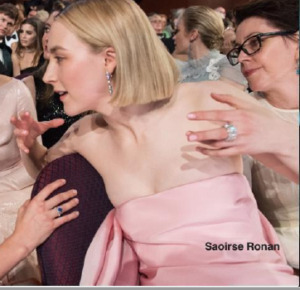 Other poignant moments included night's oldest winner, James Ivory, for adapted screenplay, taking a moment to mention his longtime partners, now departed, producer Ismail Merchant and screenwriter Ruth Jhabvala, responsible with him for films like "Howards End" and "A Room With a View." "In voting for me," he said with simple feelings, "you are remembering them." 93-year-old Eva Marie Saint also made an appearance saying "I'm older than the academy" and talking movingly about her late husband Jeffrey Hayden before she presented the costume design award.
In a notable fashion moment actress Rita Moreno walked the Oscars red carpet on Sunday in the same black and gold gown she wore to the Oscars in 1962, when she won the award for best actress in a supporting role for "West Side Story."
Presenters and winners this year mostly refrained from political comment, instead celebrating movies in this most unbelievable and spectacular event with Swarovski Crystals elegantly shining by the thousands creating the single most glamorous stage I have ever seen. And, of course the length of the event was also mentioned jokingly as the presentation goes on and on without food or drinks. The best thing to do for any journalist back stage is having snacks here and there, like my favorite beef jerky from Chops Snacks, the kind of goody the stars at the Oscars were deprived of until the after parties, of course. From Elton John's to Vanity Fair's post Oscar soirees, the diversity of attendees include influencers, movers and shakers from around the world.
After several years of adding more women and people of color to the Academy of Motion Picture Arts and Sciences' membership in response to criticism about its lack of diversity, this year's crop of nominees, while lacking a clear frontrunner, were full of accolades for women and minorities; they also represented a host of new milestones and "firsts" that indicated the Academy's efforts to diversify were paying off in interesting ways. That is significant, and with women and minorities now ascending and giving voice to their collective humanity, expect more diversity to come in the future, and hopefully more films reflecting on our common humanity. My favorite part was when Kimmel thanked all cinemagoers for their accolades, and credited the success of movies to those who pay for a ticket to watch them.
Good cinema to me always represented the times that are before us, and the collective consciousness that are yet to come in our individual lives. Something we have yet to discover! Some movies are predicting 10 to 20 years into the future; some are reaching for the soul; some are touching the heart leaving you with a wiser version of yourself; some with the comforting understanding that you are not alone; some making you feel more at home in our world and more connected to your fellow humans, who are just as part of the human condition as you are. And, in that we are all one!
After all in life, like in the best movies, the moments that touch our emotions are the ones we remember most of all.
List of Oscar Winners 2018
Best Picture: "The Shape of Water"
Director: Guillermo del Toro, "The Shape of Water"
Actor: Gary Oldman, "Darkest Hour"
Actress: Frances McDormand, "Three Billboards Outside Ebbing, Missouri"
Supporting Actor: Sam Rockwell, "Three Billboards Outside Ebbing, Missouri"
Supporting Actress: Allison Janney, "I, Tonya"
Original Screenplay: "Get Out"
Adapted Screenplay: "Call Me by Your Name"
Foreign Language Film: "A Fantastic Woman"
Animated Feature: "Coco"
Visual Effects: "Blade Runner 2049"
Film Editing: "Dunkirk"
Animated Short: "Dear Basketball"
Live Action Short: "The Silent Child"
Documentary Short: "Heaven Is a Traffic Jam on the 405"
Score: "The Shape of Water"
Song: "Remember Me" from "Coco"
Production Design: "The Shape of Water"
Cinematography: "Blade Runner 2049"
Costume Design: "Phantom Thread"
Makeup and Hairstyling: "Darkest Hour"
Documentary Feature: "Icarus"
Sound Editing: "Dunkirk"
Sound Mixing: "Dunkirk"
About the Author of This Article:  Adrienne Papp is a recognized journalist, economist and feature writer, who has written for many publications including Savoir; The Westside Today Publications ; such as Beverly Hills 90210; Malibu Beach; Santa Monica Sun; The Beverly Hills Times; Brentwood News; Bel-Air View ; Celebrity Society ; Celeb Staff ; It Magazine;  Chic Today;  LA2DAY;  West Side Today among many others. She is the President and CEO of Los Angeles / New York-based publicity company, Atlantic Publicity and publishing house, Atlantic Publisher. Adrienne writes about world trends, Quantum Physics, entertainment and interviews celebrities, world leaders, inventors, philanthropists and entrepreneurs. She also owns Atlantic United Films that produces and finances true stories made for theatrical release or the silver screen. Spotlight News Magazine is owned by Atlantic Publicity that just opened a new extension to it : PublicityLosAngeles. Adrienne Papp is a member of the International Press Academy.She is the Founder, CEO and President  of Youthful & Ageless ™, Bringing Information to Billions™, An Honorable Cause™  www.LatestAgeless.com. www.OurMediaVenuesAndCompanies.com, Atlantic Publicity Articles, Latest Ageless, Events Photo Collection, Linked In Profile, Movie Data Base  Profile, Twitter, Instagram, Youthful and Ageless Google+, Atlantic Publicity Google+, Atlantic Publisher Google+, Adrienne Papp Google+, Adrienne Papp Personal Google+, Spotlight News Magazine, Atlantic Publicity Productions, Atlantic Altitude, Altitude Pacific, Atlantic Publicity Photography and Filming, About Adrienne Papp   What Others Say  AtlanticPublicitySEO, BrilliantMarketing365, An Honorable Cause, Academic Research, Knighthood Today,    Youthful and Ageless™. She was knighted and became a Dame in 2010. Her official name is Lady Adrienne Papp and Dame Adrienne Papp. Voting Member of The International Press Academy and The Oscars: Academy of Motion Picture Arts and Sciences. She is the Managing Editorial Director of The Beverly Hills Times Magazine, and Hollywood Weekly. She has a Master of Science in Economics majoring Logistics; an MBA Degree; An International Law, Trade and Finance Postgraduate: Marketing and Advertising Postgraduate from NYU and UCLA. Guest Professor at Oxford University; Director and Producer of TV and Airline On Camera Editorials; Adrienne Papp Enterprises 
Photo Credit: Hollywood Weekly, Adrienne Papp Feature Editor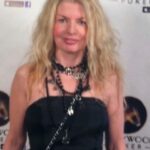 About the Author of This Article:  Adrienne Papp is a recognized journalist, economist and feature writer, who has written for many publications including Savoir; The Westside Today Publications ; such as Beverly Hills 90210; Malibu Beach; Santa Monica Sun; The Beverly Hills Times; Brentwood News; Bel-Air View ; Celebrity Society ; Celeb Staff ; It Magazine;  Chic Today;  LA2DAY;  West Side Today among many others. She is the President and CEO of Los Angeles / New York-based publicity company, Atlantic Publicity and publishing house, Atlantic Publisher. Adrienne writes about world trends, Quantum Physics, entertainment and interviews celebrities, world leaders, inventors, philanthropists and entrepreneurs. She also owns Atlantic United Films that produces and finances true stories made for theatrical release or the silver screen. Spotlight News Magazine is owned by Atlantic Publicity that just opened a new extension to it : PublicityLosAngeles. Adrienne Papp is a member of the International Press Academy.She is the Founder, CEO and President  of Youthful & Ageless ™, Bringing Information to Billions™, An Honorable Cause™  www.LatestAgeless.com. www.OurMediaVenuesAndCompanies.com, Atlantic Publicity Articles, Latest Ageless, Events Photo Collection, Linked In Profile, Movie Data Base  Profile, Twitter, Instagram, Youthful and Ageless Google+, Atlantic Publicity Google+, Atlantic Publisher Google+, Adrienne Papp Google+, Adrienne Papp Personal Google+, Spotlight News Magazine, Atlantic Publicity Productions, Atlantic Altitude, Altitude Pacific, Atlantic Publicity Photography and Filming, About Adrienne Papp   What Others Say  AtlanticPublicitySEO, BrilliantMarketing365, An Honorable Cause, Academic Research, Knighthood Today,    Youthful and Ageless™. She was knighted and became a Dame in 2010. Her official name is Lady Adrienne Papp and Dame Adrienne Papp. Voting Member of The International Press Academy and The Oscars: Academy of Motion Picture Arts and Sciences. She is the Managing Editorial Director of The Beverly Hills Times Magazine, and Hollywood Weekly. She has a Master of Science in Economics majoring Logistics; an MBA Degree; An International Law, Trade and Finance Postgraduate: Marketing and Advertising Postgraduate from NYU and UCLA. Guest Professor at Oxford University; Director and Producer of TV and Airline On Camera Editorials; Adrienne Papp Enterprises