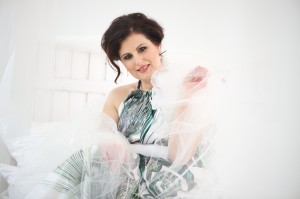 Every once in a great while a singular talent will come along, a talent so special and unique that it shines brightly, distinguished from all the other mass-produced entertainment and music that the world has become saturated with.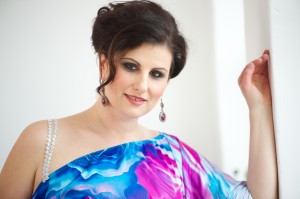 We are lucky to have such a person now sharing her inspirational, intuitive, and creative, never-before songs with music aficionados, and even using her very special talents to produce healing and a sense of well-being in those who are able to experience her music.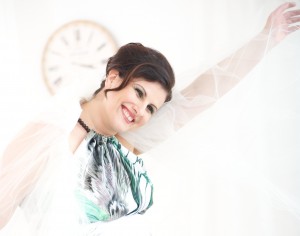 Andrea Asharti Szabó is a singer, but she is also much more than that. It feels as if she was God sent, as if she was from another planet blessed with abilities that I personally have not seen in my entire life, nor did anyone else. She is a vocalist who simply seems to channel music spontaneously, delivering spellbinding performances in unison with her accompanist Richárd Látó. Performing with no established repertoire, no set list, not even any songs per se, Andrea simply sings, using her voice and connecting to a larger creative spirit, effortlessly delivering stunning musical performances in vocal tones that are language unto themselves, beautiful rhapsodic melodies accompanied by Látó, each of them in perfect sync with the other, without missing a note or hitting an off-key tone in a form of music so pure, so ethereally beautiful that it simply can't be compared to anything else. If it sounds like Andrea Asharti Szabó and Richárd Látó perform some kind of completely unique, otherworldly musical experience, that's because they do.
The inspired musical performances created by Andrea and Richard are the result of not only their unique musical talents, but also years of formal musical training. Andrea had many years of formal training in Budapest, where she grew up, including work with the operatic institute Artisvox Operastudio in Budapest and private singing classes with mezzosoprano Mária Temesi, tenors Róbert Magyar, Bernadett Tunyogi, and took an internal voice course with Imre Enrico Marosfalvy in 2010.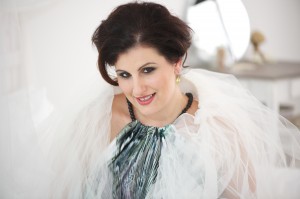 The formal training developed her voice to a state of perfection, but it was when she decided to follow her own creative direction that she really began to find herself as a singer.
"When I was taking the classes I really had no idea about intuitive singing," Andrea says. "Then somebody told me it was good for people to hear me singing, that it had a very positive effect on them. When I heard that, suddenly something I've tried to hide for many years bursted up out of my soul. Something in me was released and I began singing directly from my heart. More and more I would come out with purely intuitive songs, just singing whatever I felt in my heart. Over time, as I continued to sing, the amount of written and intuitive songs became equal at my concerts. And then finally I abandoned the written songs in my repertoire."
As she noticed the effect that her singing had on people, their amazement and pure bliss that they got out of her music, she knew that this intuitive singing, singing directly from her heart was her life's calling, a way to express the love and feeling that she had felt deeply in her soul. It was almost as if she was channeling a higher power, a powerful spirit that expressed itself through her voice and her music.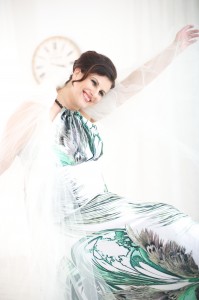 "Finally in my concerts the intuitive songs predominated," Andrea says, who began using her middle name Asharti for her performances in 2012. "Just as my singing technique has improved steadily over the years, I also subjected myself to a higher, heavenly power, a divinity that I felt."
Her concerts are now becoming popular as the word spreads about the wonderful vocal performances that astonish those who are fortunate to experience them. "I feel really lucky. One of the numerous 'coincidences' in my very diverse walk of life brought me to meet my composer and musician partner, Richárd Látó," Andrea says. "His working style is similar to mine. The only difference between us is that he uses instruments while I use my voice. It doesn't matter to him if he has a whole symphony orchestra to work with or just a single piano to play. When we work together we don't even need to look at each other, we feel the vibes of one another, and our thoughts are connected by the Universe."
That's her description of the very synergistic relationship that the two performers have, Andrea vocalizing and singing not lyrics or language, but tones that simply come to her in the moment. "I dream and just use my voice to float the music and then Richard accompanies me with the musical support…," instinctively without preparation, going solely on intuition and invisible "communication" with Andrea and the Universe. "Or it can be the other way around and he presents an idea and I improvise on it. Together we bring the stars down from the sky."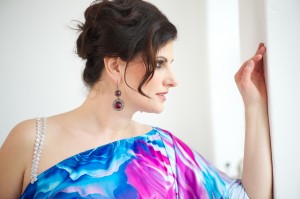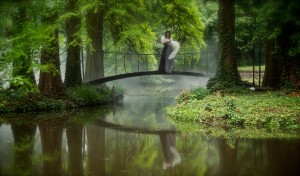 The concerts Andrea and Richard present go by names like "Reborn" and "The Leightseeker." Their last concert was recorded and will be published by a private company and Richard and Andrea have been working on a CD called "Colours of Symphony" and developing a theatre project called "Return of Arcadia." But as sensational as the live performances and recorded works are, maybe the most rewarding aspect of her immense gift is the way it affects disabled and emotionally challenged children. It's something she does on a regular basis, visiting with children in hospitals who have special needs, and her performances never fail to uplift and physically change the expression and attitude of the young people she is singing to. "It is something that I am able to do, giving them some pleasure, uplifting them spiritually in ways they would otherwise not experience." She has been told that her singing has physical benefits, something that is therapeutic in the lives of these children.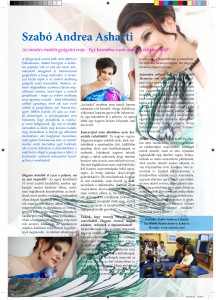 Andrea is in great demand and is booked up sometimes months ahead for healing people in hospitals, concert openings, her own concerts with Richi, organized in various countries by special New Age Groups with insight into the "unknown." Those who understand the human mind and its connection to the Universe, to a higher power, and are able to accept it, take it in and live by it, will change their lives by listening to Andrea Asharti, – and that is what I know for sure! From both by interviewing her and detecting a very decisive force in her voice, but also by her captivating and strong presence as if there was an aura around her, yet her personality is approachable and engaging, she is on her way to becoming a star in a field within music that has been unheard of until Andrea took center stage. I am convinced after our interview that she is with us for a reason and probably carries attributes that others do not posses.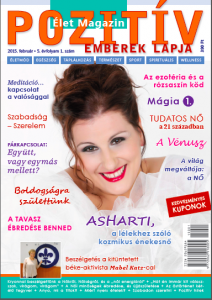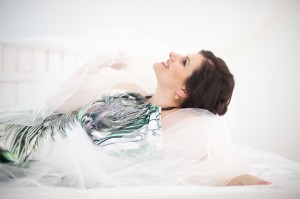 Listening to her music, my favorite is being Asharti- Kyrie Eleison simply changes your energy field. It does more good than any "medicine" and it does it in a natural way. She is able to tap into human energy frequency and her music changes as the audience changes and with them their special and individually unique frequency. She is indeed a blessing to all of us and a messenger of God.


"It's impossible to describe the experience when I'm singing and the disabled child in my arms calms down and happily takes my hand to stroke her face with it. It is always also amazing to feel the astonished silence of my audience, feeling that time and space have ceased and the listener flies to an entirely different world"
It's Andrea's world, and some people are lucky enough to experience it. "My world is the world of voices where the soul can fly freely. My songs are created by the moment and the notes are all perfectly connected to become complete symphonies," she says. "It's as if they had been already written and all I have to do is to receive and then deliver them to my audience."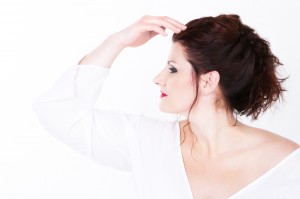 As a footnote I would like to insert here that she simply feels, talks about, and lives by the principles of Quantum Physics intuitively. I will elaborate on it later in this article as Quantum Physics is a serious science, but her referring to the fact that these songs feel like they already have been written and she just brings them to us, is one of the pillars of the 21st Century biggest discovery: Quantum Physics in ways we did not understand before. See the box office hit: The Theory Of Everything)
"These songs are messages that bear special energetic values. Both the frequencies of the sounds and words create the tunes what gently but powerfully affect the physical and spiritual body at the same time. They cherish and hug the soul enabling it to soak up love and be cleansed," she continues.
"I once I asked my higher self: Who am I?" Andrea says. "The maid-servant of the female part of God was the answer. At that moment I realized why I was praying to Maria most of the time. I understood that the change itself is what really matters. And my life now is devoted to living in that change, to live in the moment creatively when that higher spirit flows through me and out into the world."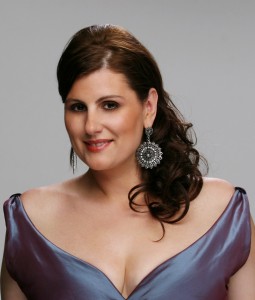 What is most thought provoking as I learn more and more about Andrea is that all of what she says, all of what she does, and their affects on people is proven today in Quantum Physics, as referred to above, to be true in science. I do strongly believe that Andrea is a forerunner with a mission of preparing those who sense that a human spirit is much more than the mundane tasks of every day life, a life that falls into a robotic routine, a life with no particular purpose, inspiration or calling.
Andrea makes us realize that there is a much bigger and stronger power that we all are part of. And, that the existence of God does not need more proving, he in fact is here with us when Andrea translates the frequencies and energies with words that are not written in any language, melody that carries messages and through the power of acceptance she exudes the energies that govern our Universe. A genius of music, an extraordinary talent, a song and music writer even for films based on intuitively recognizing instantly the message the film cannot bring out without her music.
She proves that music is a universal language about love, abundance, and happiness; and that all can come to those who are willing to listen.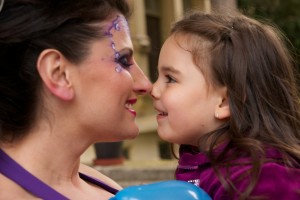 Andrea Asharti has been featured in numerous magazine covers.
About the Author of This Article: Dame Adrienne Papp is a recognized journalist, economist and feature writer who has written for many publications including Savoir; The Westside Today Publications ; such as Beverly Hills 90210; Malibu Beach; Santa Monica Sun; The Beverly Hills Times; Brentwood News; Bel-Air View ; Celebrity Society ; Celeb Staff ; It Magazine;  Chic Today;  LA2DAY;  West Side Today among many others. She is the President and CEO of Los Angeles / New York-based publicity company, Atlantic Publicity and publishing house, Atlantic Publisher. Adrienne writes about world trends, Quantum Physics, entertainment and interviews celebrities, world leaders, inventors, philanthropists and entrepreneurs. She also owns Atlantic United Films that produces and finances true stories made for theatrical release or the silver screen. Spotlight News Magazine is owned by Atlantic United, Inc. Adrienne Papp is a member of the International Press Academy.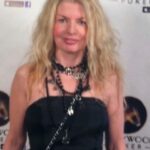 About the Author of This Article:  Adrienne Papp is a recognized journalist, economist and feature writer, who has written for many publications including Savoir; The Westside Today Publications ; such as Beverly Hills 90210; Malibu Beach; Santa Monica Sun; The Beverly Hills Times; Brentwood News; Bel-Air View ; Celebrity Society ; Celeb Staff ; It Magazine;  Chic Today;  LA2DAY;  West Side Today among many others. She is the President and CEO of Los Angeles / New York-based publicity company, Atlantic Publicity and publishing house, Atlantic Publisher. Adrienne writes about world trends, Quantum Physics, entertainment and interviews celebrities, world leaders, inventors, philanthropists and entrepreneurs. She also owns Atlantic United Films that produces and finances true stories made for theatrical release or the silver screen. Spotlight News Magazine is owned by Atlantic Publicity that just opened a new extension to it : PublicityLosAngeles. Adrienne Papp is a member of the International Press Academy.She is the Founder, CEO and President  of Youthful & Ageless ™, Bringing Information to Billions™, An Honorable Cause™  www.LatestAgeless.com. www.OurMediaVenuesAndCompanies.com, Atlantic Publicity Articles, Latest Ageless, Events Photo Collection, Linked In Profile, Movie Data Base  Profile, Twitter, Instagram, Youthful and Ageless Google+, Atlantic Publicity Google+, Atlantic Publisher Google+, Adrienne Papp Google+, Adrienne Papp Personal Google+, Spotlight News Magazine, Atlantic Publicity Productions, Atlantic Altitude, Altitude Pacific, Atlantic Publicity Photography and Filming, About Adrienne Papp   What Others Say  AtlanticPublicitySEO, BrilliantMarketing365, An Honorable Cause, Academic Research, Knighthood Today,    Youthful and Ageless™. She was knighted and became a Dame in 2010. Her official name is Lady Adrienne Papp and Dame Adrienne Papp. Voting Member of The International Press Academy and The Oscars: Academy of Motion Picture Arts and Sciences. She is the Managing Editorial Director of The Beverly Hills Times Magazine, and Hollywood Weekly. She has a Master of Science in Economics majoring Logistics; an MBA Degree; An International Law, Trade and Finance Postgraduate: Marketing and Advertising Postgraduate from NYU and UCLA. Guest Professor at Oxford University; Director and Producer of TV and Airline On Camera Editorials; Adrienne Papp Enterprises