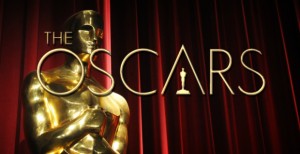 By Adrienne Papp
The Oscars have been handed out, the corks on the champagne bottles have been popped, the winners are all sleeping off their hangovers, and the movie industry has put a wrap on the 2015 Oscars.
On Sunday night during the 87th Academy Awards broadcast shown on ABC, "Birdman" took home Best Picture and Best Director prizes on an Oscar night filled with passionate political speeches. At evening's end, "Birdman" took home four Oscars — not a huge haul for a best picture winner, and "The Grand Budapest Hotel" matched its total with wins in largely technical categories. Sharing the wealth, the other seven best picture nominees all claimed at least one of the coveted golden statuettes.
"Birdman," the story of an actor battling his own inner demons and irrelevance in Alexandro Iñárritu's surreal dramedy, which was filmed in several long cuts to give the impression of an unbroken sequence, won four Oscars with statuettes for Best Director, Best Original Screenplay, and Best Cinematography.
The night's other big winner was Wes Anderson's "The Grand Budapest Hotel," which also had four Oscars. The only other film to win more than one prize was Damien Chazelle's "Whiplash," which took home three awards, including J.K. Simmons' Oscar for Best Supporting Actor.
The ceremony itself — always a great showcase of Hollywood glitz and glamour – was hosted by the affable Neil Patrick Harris, the loose, singing, dancing and joking showman. He was also aided by several great music performances, including a stirring performance of "Glory" from the movie "Selma," Lady Gaga's "Sound of Music" tribute and Jennifer Hudson's "In Memoriam" tribute.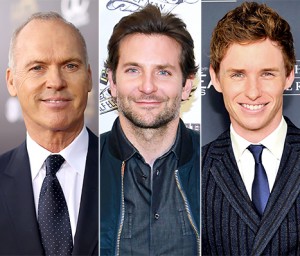 Some of the Oscars were awarded to heavy favorites, nominees who had either won in their categories at the SAG awards show, winners like J.K. Simmons. Patricia Arquette, and Julianne Moore, and there were also the surprising upsets that help keep the Academy Awards unpredictable. We also found out a lot about Hollywood's favorite movies of the year, and all in all, during Sunday night's broadcast there was enough surprise, virtuosity and weirdness to keep things lively during the nearly four-hour long ceremony.
Host Neil Patrick Harris opened the ceremony with a visually dazzling musical tribute. Along with Anna Kendrick from "Into the Woods," Harris paid homage to 87 years of film history as well as the year's nominees in a performance aided by movie clips and special effects. The performance included shadow dancing, holograms and visual effects that made Harris look like he belonged in the collage of Oscar-nominated films, past and present.
As the awards got rolling, one of the themes that got a lot of air time was one of social change and equality. Patricia Arquette, who won the Best Supporting Actress Oscar for "Boyhood," received enthusiastic applause for making a pitch for equal pay for women. "To every woman who gave birth to every taxpayer and citizen of this nation, we have fought for everybody else's equal rights," she said. "It's our time to have wage equality once and for all and equal rights for women in the United States of America."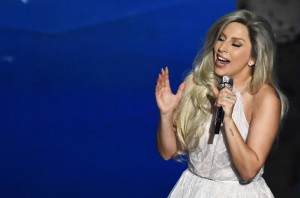 From the red carpet, where Best Actress nominee Reese Witherspoon spoke up about a social media campaign (#AskHerMore) encouraging the media to ask women about more than their outfits, to their acceptance speeches on the Oscar stage, many other performers made socially relevant remarks before their time ran out and they got played off by the orchestra.
Adapted screenplay winner Graham Moore (for "The Imitation Game") made extremely personal remarks about why the story of Alan Turing, a British closeted gay codebreaker during World War II, resonated with him.
"Alan Turing never got to stand on a stage like this and look out at all of these disconcertingly attractive faces. And I do. And now I'm standing here, and so I would like for this moment to be for that kid out there who feels like she's weird or she's different or she doesn't fit in anywhere. Yes you do. I promise you do – you do. Stay weird, stay different."
The night also had its share of inspiring musical performances. "Lost Stars," written by Gregg Alexander and Danielle Brisebois for the film "Begin Again," a nominee for Best Song was dramatically performed by Maroon Five's Adam Levine. The four other nominated songs were "Everything Is Awesome" from "The Lego Movie," "Glory" from "Selma," "Grateful" from "Beyond the Lights" and "I'm Not Gonna Miss You" from "Glen Campbell…I'll Be Me."
Common and John Legend's stirring rendition of "Glory" from the movie "Selma" proved to be one of highlights of the night, as the camera panned over actors David Oyelowo and Chris Pine in the audience who were clearly moved by the performance.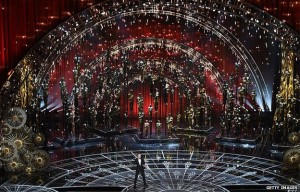 Finally, as the evening drew to a close, Director Alejandro González Iñárritu, who won for co-writing and directing the quirky Michael Keaton film "Birdman," and used his Best Picture acceptance speech as a platform to address his native Mexico and the broken immigration system here in the United States. "I want to dedicate this award for my fellow Mexicans, the ones who live in Mexico. I pray that we can find and build a government that we deserve. And the ones that live in this country who are part of the latest generation of immigrants in this country," said Iñárritu. "I just pray that they can be treated with the same dignity and respect as the ones who came before and built this incredible immigrant nation."
So the curtain closes on another celebration of cinematic greatness produced around the world. Among the studio winners are Fox Searchlight and New Regency, which had a best picture winner for the second year in a row, Focus Features, which produced a best actor winner for the second year in a row, and Radius-TWC, which took the Oscar for best documentary for the second year in a row. Other consecutive year winners include Sony Classics with second straight best actress winner and Disney with a second consecutive Oscar for best animated feature.
Full List of Nominees and Winners:
Best Picture
American Sniper
Birdman–WINNER
Boyhood
The Grand Budapest Hotel
The Imitation Game
Selma
The Theory of Everything
Whiplash
Best Actress
Marion Cotillard, Two Days One Night
Felicity Jones, The Theory of Everything
Julianne Moore, Still Alice-WINNER
Rosamund Pike, Gone Girl
Reese Witherspoon, Wild
Best Actor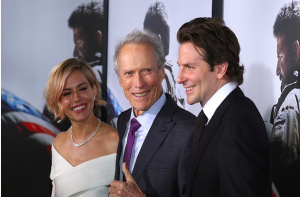 Steve Carell, Foxcatcher
Bradley Cooper, American Sniper
Benedict Cumberbatch, The Imitation Game
Michael Keaton, Birdman
Eddie Redmayne, The Theory of Everything–WINNER
Best Supporting Actress
Patricia Arquette, Boyhood–WINNER
Laura Dern, Wild
Keira Knightley, The Imitation Game
Emma Stone, Birdman
Meryl Streep, Into the Woods
Best Supporting Actor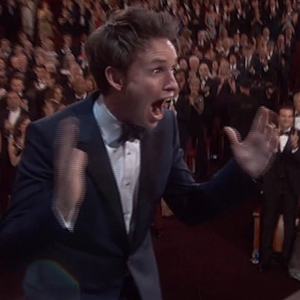 Robert Duvall, The Judge
Ethan Hawke, Boyhood
Edward Norton, Birdman
Mark Ruffalo, Foxcatcher
J.K. Simmons, Whiplash–WINNER
Best Director
Alexandro G. Iñárritu, Birdman–WINNER
Richard Linklater, Boyhood
Bennett Miller, Foxcatcher
Wes Anderson, The Grand Budapest Hotel
Morten Tyldum, The Imitation Game
Best Adapted Screenplay
American Sniper, Jason Hall
The Imitation Game, Graham Moore–WINNER
Inherent Vice, Paul Thomas Anderson
The Theory of Everything, Anthony McCarten
Whiplash, Damien Chazelle
Best Original Screenplay

Birdman, Alejandro G. Iñárritu, Nicolás Giacobone, Alexander Dinelaris, Jr. & Armando Bo–WINNER
Boyhood, Richard Linklater
Foxcatcher, E. Max Frye and Dan Futterman
The Grand Budapest Hotel, Wes Anderson & Hugo Guinness
Nightcrawler, Dan Gilroy
Best Animated Feature
Big Hero 6–WINNER
The Boxtrolls
How to Train Your Dragon 2
Song of the Sea
The Tale of Princess Kaguya
Best Documentary – Feature

Citizenfour–WINNER
Finding Vivien Maier
Last Days of Vietnam
The Salt of the Earth
Virunga
Best Foreign Language Film
Ida, Poland–WINNER
Leviathan, Russia
Tangerines, Estonia
Timbuktu, Mauritania
Wild Tales, Argentina
Best Original Score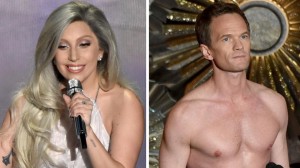 The Grand Budapest Hotel–WINNER
The Imitation Game
Interstellar
Mr. Turner
The Theory of Everything
Best Original Song
"Everything Is Awesome" from The Lego Movie; Music and Lyric by Shawn Patterson
"Glory" from Selma; Music and Lyric by John Stephens and Lonnie Lynn–WINNER
"Grateful" from Beyond the Lights; Music and Lyric by Diane Warren
"I'm Not Gonna Miss You" from Glen Campbell…I'll Be Me; Music and Lyric by Glen Campbell and Julian Raymond
"Lost Stars" from Begin Again; Music and Lyric by Gregg Alexander and Danielle Brisebois
Best Cinematography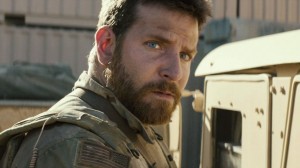 Emmanuel Lubezki, Birdman–WINNER
Robert Yeoman, The Grand Budapest Hotel
Lukasz Zal and Ryszard Lenczewski, Ida
Dick Pope, Mr. Turner
Roger Deakins, Unbroken
Best Film Editing
Joel Cox and Gary D. Roach, American Sniper
Sandra Adair, Boyhood
Barney Pilling, The Grand Budapest Hotel
William Goldenberg, The Imitation Game
Tom Cross, Whiplash–WINNER
Best Production Design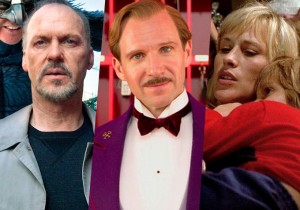 The Grand Budapest Hotel, Production Design: Adam Stockhausen; Set Decoration: Anna Pinnock–WINNER
The Imitation Game, Production Design: Maria Djurkovic; Set Decoration: Tatiana Macdonald
Interstellar, Production Design: Nathan Crowley; Set Decoration: Gary Fettis
Into the Woods, Production Design: Dennis Gassner; Set Decoration: Anna Pinnock
Mr. Turner, Production Design: Suzie Davies; Set Decoration: Charlotte Watts
Best Makeup and Hairstyling
Bill Corso and Dennis Liddiard, Foxcatcher
Frances Hannon and Mark Coulier, The Grand Budapest Hotel–WINNER
Elizabeth Yianni-Georgiou and David White, Guardians of the Galaxy
Best Costume Design

Milena Canonero, The Grand Budapest Hotel–WINNER
Mark Bridges, Inherent Vice
Colleen Atwood, Into the Woods
Anna B. Sheppard and Jane Clive, Maleficent
Jacqueline Durran, Mr. Turner
Best Animated Short
The Bigger Picture
The Dam Keeper
Feast–WINNER
Me and My Moulton
A Single Life
Best Visual Effects
Captain America: The Winter Soldier, Dan DeLeeuw, Russell Earl, Bryan Grill and Dan Sudick
Dawn of the Planet of the Apes, Joe Letteri, Dan Lemmon, Daniel Barrett and Erik Winquist
Guardians of the Galaxy, Stephane Ceretti, Nicolas Aithadi, Jonathan Fawkner and Paul Corbould
Interstellar, Paul Franklin, Andrew Lockley, Ian Hunter and Scott Fisher–WINNER
X-Men: Days of Future Past, Richard Stammers, Lou Pecora, Tim Crosbie and Cameron Waldbauer
Best Sound Editing

American Sniper, Alan Robert Murray and Bub Asman–WINNER
Birdman, Martín Hernández and Aaron Glascock
The Hobbit: The Battle of the Five Armies, Brent Burge and Jason Canovas
Interstellar, Richard King
Unbroken, Becky Sullivan and Andrew DeCristofaro
Best Sound Mixing
American Sniper, John Reitz, Gregg Rudloff and Walt Martin
Birdman, Jon Taylor, Frank A. Montaño and Thomas Varga
Interstellar, Gary A. Rizzo, Gregg Landaker and Mark Weingarten
Unbroken, Jon Taylor, Frank A. Montaño and David Lee
Whiplash, Craig Mann, Ben Wilkins and Thomas Curley–WINNER
Best Documentary—Short
Crisis Hotline: Veterans Press 1–WINNER
Joanna
Our Curse
The Reaper
White Earth
Best Live Action Short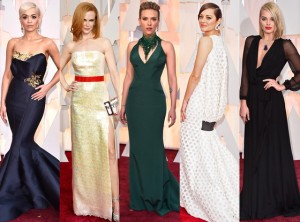 Aya
Boogaloo and Graham
Butter Lamp
Parvaneh
The Phone Call–WINNER
About the Author of This Article: Dame Adrienne Papp is a recognized journalist, economist and feature writer who has written for many publications including Savoir; The Westside Today Publications ; such as Beverly Hills 90210; Malibu Beach; Santa Monica Sun; The Beverly Hills Times; Brentwood News; Bel-Air View ; Celebrity Society ; Celeb Staff ; It Magazine;  Chic Today;  LA2DAY;  West Side Today among many others. She is the President and CEO of Los Angeles / New York-based publicity company, Atlantic Publicity and publishing house, Atlantic Publisher. Adrienne writes about world trends, Quantum Physics, entertainment and interviews celebrities, world leaders, inventors, philanthropists and entrepreneurs. She also owns Atlantic United Films that produces and finances true stories made for theatrical release or the silver screen. Spotlight News Magazine is owned by Atlantic United, Inc. Adrienne Papp is a member of the International Press Academy.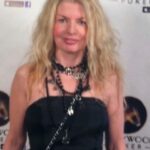 About the Author of This Article:  Adrienne Papp is a recognized journalist, economist and feature writer, who has written for many publications including Savoir; The Westside Today Publications ; such as Beverly Hills 90210; Malibu Beach; Santa Monica Sun; The Beverly Hills Times; Brentwood News; Bel-Air View ; Celebrity Society ; Celeb Staff ; It Magazine;  Chic Today;  LA2DAY;  West Side Today among many others. She is the President and CEO of Los Angeles / New York-based publicity company, Atlantic Publicity and publishing house, Atlantic Publisher. Adrienne writes about world trends, Quantum Physics, entertainment and interviews celebrities, world leaders, inventors, philanthropists and entrepreneurs. She also owns Atlantic United Films that produces and finances true stories made for theatrical release or the silver screen. Spotlight News Magazine is owned by Atlantic Publicity that just opened a new extension to it : PublicityLosAngeles. Adrienne Papp is a member of the International Press Academy.She is the Founder, CEO and President  of Youthful & Ageless ™, Bringing Information to Billions™, An Honorable Cause™  www.LatestAgeless.com. www.OurMediaVenuesAndCompanies.com, Atlantic Publicity Articles, Latest Ageless, Events Photo Collection, Linked In Profile, Movie Data Base  Profile, Twitter, Instagram, Youthful and Ageless Google+, Atlantic Publicity Google+, Atlantic Publisher Google+, Adrienne Papp Google+, Adrienne Papp Personal Google+, Spotlight News Magazine, Atlantic Publicity Productions, Atlantic Altitude, Altitude Pacific, Atlantic Publicity Photography and Filming, About Adrienne Papp   What Others Say  AtlanticPublicitySEO, BrilliantMarketing365, An Honorable Cause, Academic Research, Knighthood Today,    Youthful and Ageless™. She was knighted and became a Dame in 2010. Her official name is Lady Adrienne Papp and Dame Adrienne Papp. Voting Member of The International Press Academy and The Oscars: Academy of Motion Picture Arts and Sciences. She is the Managing Editorial Director of The Beverly Hills Times Magazine, and Hollywood Weekly. She has a Master of Science in Economics majoring Logistics; an MBA Degree; An International Law, Trade and Finance Postgraduate: Marketing and Advertising Postgraduate from NYU and UCLA. Guest Professor at Oxford University; Director and Producer of TV and Airline On Camera Editorials; Adrienne Papp Enterprises