Bob Massi, an Extraordinary Lawyer and Show Host, Dies at age 67,By Adrienne Papp
In recent months, Youthful & Ageless™ has been running a widespread marketing campaign across some of the highest profile cable channels in broadcasting, including Fox Business News. We've been proud to be associated with these networks, but have recently found out that one of the shows on which Youthful & Ageless™ has been prominently featured has lost its host.
It's with great sadness that we share the news that Bob Massi, a Nevada based lawyer and Fox News legal analyst, died Wednesday February 9thafter a battle with cancer, his law firm announced.
Mr. Massi, 67, served as a real estate attorney and hosted "Bob Massi Is the Property Man," which aired on Fox News and Fox Business, Fox News reported. The Nevada-based real estate attorney was nicknamed "The Property Man" for his ability to break down how the residential housing market operates in layman's terms both on his radio show and the cable news network, the latter of which he joined upon its inception in 1996. Massi also appeared on "Fox & Friends" for regular segments, according to the network.
"You might know him as 'The Property Man,' to many of us here at Fox News, he was a … cherished colleague and a great friend," Fox News anchor Shepard Smith said in a recent tribute.
Smith said that Massi joined the network "right when the lights first came on." He covered high-profile trials, including O.J. Simpson and the Unabomber: "If it was a big trial, Bob was on it," Smith commented.
Bob Massi dedicated his professional life to the idea the application of the law in a fair and just way made us all truly equal, and he truly enjoyed sharing his knowledge and helping people understand the trends in the constantly shifting real estate markets. In his half hour show he provided a lot of information to homeowners who were dealing with fluctuating property values and other dilemmas following the housing crisis. In a time of crisis he was a man of the people, and his knowledge and great sense of humanity will be missed.
Source: FOX; Photo: USA Today
About the author of this article: Adrienne Papp Enterprises   
Adrienne Papp
President of Atlantic Publicity and Atlantic Publisher.
SpotlightMediaProductions
Feature Editor and Anti-Aging Editorial Director of Hollywood Weekly;
President and founder of the 
Youthful and Ageless™ Digital Branding Platform
Master of Science in Economics and Logistics /Publicist/Journalist / MBA / Marketing and Advertising Executive / NYU / UCLA;
Guest Professor at Oxford University;
Director and Producer of TV and
Airline On Camera Editorials;
Managing Editorial Director of The Beverly Hills Times Magazine;
She was knighted and became a Dame in 2010. Her official name is Lady Adrienne Papp and Dame Adrienne Papp.
Voting Member of The International Press Academy and The Oscars: Academy of Motion Picture Arts and Sciences.
Publicist ImdbPro.com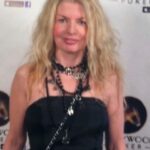 About the Author of This Article:  Adrienne Papp is a recognized journalist, economist and feature writer, who has written for many publications including Savoir; The Westside Today Publications ; such as Beverly Hills 90210; Malibu Beach; Santa Monica Sun; The Beverly Hills Times; Brentwood News; Bel-Air View ; Celebrity Society ; Celeb Staff ; It Magazine;  Chic Today;  LA2DAY;  West Side Today among many others. She is the President and CEO of Los Angeles / New York-based publicity company, Atlantic Publicity and publishing house, Atlantic Publisher. Adrienne writes about world trends, Quantum Physics, entertainment and interviews celebrities, world leaders, inventors, philanthropists and entrepreneurs. She also owns Atlantic United Films that produces and finances true stories made for theatrical release or the silver screen. Spotlight News Magazine is owned by Atlantic Publicity that just opened a new extension to it : PublicityLosAngeles. Adrienne Papp is a member of the International Press Academy.She is the Founder, CEO and President  of Youthful & Ageless ™, Bringing Information to Billions™, An Honorable Cause™  www.LatestAgeless.com. www.OurMediaVenuesAndCompanies.com, Atlantic Publicity Articles, Latest Ageless, Events Photo Collection, Linked In Profile, Movie Data Base  Profile, Twitter, Instagram, Youthful and Ageless Google+, Atlantic Publicity Google+, Atlantic Publisher Google+, Adrienne Papp Google+, Adrienne Papp Personal Google+, Spotlight News Magazine, Atlantic Publicity Productions, Atlantic Altitude, Altitude Pacific, Atlantic Publicity Photography and Filming, About Adrienne Papp   What Others Say  AtlanticPublicitySEO, BrilliantMarketing365, An Honorable Cause, Academic Research, Knighthood Today,    Youthful and Ageless™. She was knighted and became a Dame in 2010. Her official name is Lady Adrienne Papp and Dame Adrienne Papp. Voting Member of The International Press Academy and The Oscars: Academy of Motion Picture Arts and Sciences. She is the Managing Editorial Director of The Beverly Hills Times Magazine, and Hollywood Weekly. She has a Master of Science in Economics majoring Logistics; an MBA Degree; An International Law, Trade and Finance Postgraduate: Marketing and Advertising Postgraduate from NYU and UCLA. Guest Professor at Oxford University; Director and Producer of TV and Airline On Camera Editorials; Adrienne Papp Enterprises