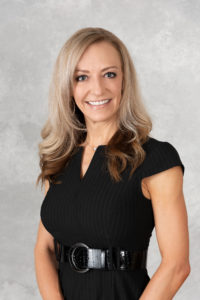 Former beauty queen Dr. Kristy Van Kirk has a well-established medical reputation in her hometown of Cheyenne, Wyoming, and is continuing to expand the services she can offer her patients. After graduating from the University of Wyoming she attended the University of Washington School of Medicine and completed her OB/GYN residency at the University of Iowa Hospital and Clinics, where she was selected to be Chief Resident.
Returning to her hometown, Van Kirk began her practice at the Cheyenne Woman's Clinic, dedicated to assisting women at various stages of their lives, whether it be pregnancy, advising on surgery or helping with graceful aging.
"I feel it's important to relate to my patients on an emotional, as well as a clinical level," Van Kirk says, "being supportive and teaching them how to listen to their bodies, to be in tune with it, and able to heal themselves is key to me. My work in OB/GYN also taught me about the mind/body relationship. Making the right lifestyle choices, optimizing one's health for the best possible outcome through exercise, diet, sleep and stress control are all important factors in a woman's health."
2019 promises to be a big year for Van Kirk, with plans for an alternative therapy clinic near the Woman's Clinic, and the world famousLodge & Spa at Brush Creek Ranchto supplement her medical practice.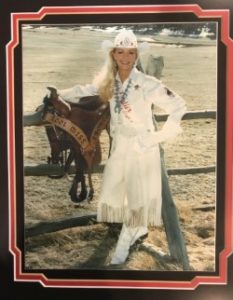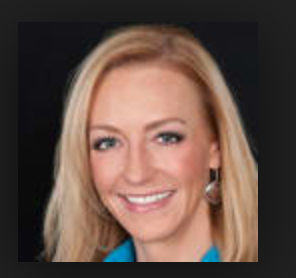 "As I continue my education and research I see an opportunity to combine the strengths of traditional medical treatments and pharmaceuticals with other health and wellness therapies," Van Kirk explains. "One of my ideas involves the use of IV therapies, a nutritional vitamin-laden cocktail that would help offset the side effects of chemotherapy, for instance.  I've also recently joined the American Academy of Anti-Aging Medicine, and will be offering hormone therapies, nutritional plans and other integrative resources to my patients as part of an overall health program.  In my view, health is either a 'pay now or pay later' proposition."
Meeting Kristy was one of those miraculous moments when you just grasp for air. She is absolutely gorgeous and tremendously compassionate.
"We all start with the genes we are born with," she continues.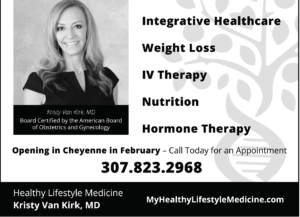 It is up to us and the lifestyle we choose to lead: such as nutrition, exercise, stress management, relationships, spirituality, love (of self and others), gratitude, supplements, sleep, work, environment, nature exposure, and so many other things that nurture our Tree of Life to flourish. And of course, the Tree of Life alone has so much significance: deep roots, strength, growing, thriving, giving life, connecting, reaching, weathering the storm, being unique, beautiful, living green, being knowledgeable and connected to heaven and earth."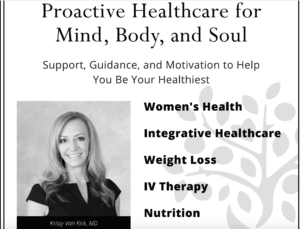 Kristy is opening her Healthy Lifestyle Medicine, Proactive Healthcare for Mind, Body and Soul Practice, giving you support, guidance and motivation to become the healthiest version of you through integrative care, weight loss, nutritional and hormonal therapy. I personally would not skip a moment with Kristy. She has a very comprehensive approach to life and a great deal of compassion and understanding about your health.  Tel: 307-823-2968.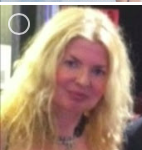 About the Author of This Article:  Adrienne Papp is a recognized journalist, economist and feature writer, who has written for many publications including Savoir; The Westside Today Publications ; such as Beverly Hills 90210; Malibu Beach; Santa Monica Sun; The Beverly Hills Times; Brentwood News; Bel-Air View ; Celebrity Society ; Celeb Staff ; It Magazine;  Chic Today;  LA2DAY;  West Side Today among many others. She is the President and CEO of Los Angeles / New York-based publicity company, Atlantic Publicity and publishing house, Atlantic Publisher. Adrienne writes about world trends, Quantum Physics, entertainment and interviews celebrities, world leaders, inventors, philanthropists and entrepreneurs. She also owns Atlantic United Films that produces and finances true stories made for theatrical release or the silver screen. Spotlight News Magazine is owned by Atlantic Publicity that just opened a new extension to it : PublicityLosAngeles. Adrienne Papp is a member of the International Press Academy.She is the Founder, CEO and President  of Youthful & Ageless ™, Bringing Information to Billions™, An Honorable Cause™  www.LatestAgeless.com. www.OurMediaVenuesAndCompanies.com, Atlantic Publicity Articles, Latest Ageless, Events Photo Collection, Linked In Profile, Movie Data Base  Profile, Twitter, Instagram, Youthful and Ageless Google+, Atlantic Publicity Google+, Atlantic Publisher Google+, Adrienne Papp Google+, Adrienne Papp Personal Google+, Spotlight News Magazine, Atlantic Publicity Productions, Atlantic Altitude, Altitude Pacific, Atlantic Publicity Photography and Filming, About Adrienne Papp   What Others Say  AtlanticPublicitySEO, BrilliantMarketing365, An Honorable Cause, Academic Research, Knighthood Today,    Youthful and Ageless™. She was knighted and became a Dame in 2010. Her official name is Lady Adrienne Papp and Dame Adrienne Papp. Voting Member of The International Press Academy and The Oscars: Academy of Motion Picture Arts and Sciences. She is the Managing Editorial Director of The Beverly Hills Times Magazine, and Hollywood Weekly. She has a Master of Science in Economics majoring Logistics; an MBA Degree; An International Law, Trade and Finance Postgraduate: Marketing and Advertising Postgraduate from NYU and UCLA. Guest Professor at Oxford University; Director and Producer of TV and Airline On Camera Editorials; Adrienne Papp Enterprises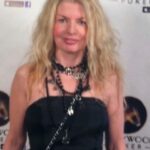 About the Author of This Article:  Adrienne Papp is a recognized journalist, economist and feature writer, who has written for many publications including Savoir; The Westside Today Publications ; such as Beverly Hills 90210; Malibu Beach; Santa Monica Sun; The Beverly Hills Times; Brentwood News; Bel-Air View ; Celebrity Society ; Celeb Staff ; It Magazine;  Chic Today;  LA2DAY;  West Side Today among many others. She is the President and CEO of Los Angeles / New York-based publicity company, Atlantic Publicity and publishing house, Atlantic Publisher. Adrienne writes about world trends, Quantum Physics, entertainment and interviews celebrities, world leaders, inventors, philanthropists and entrepreneurs. She also owns Atlantic United Films that produces and finances true stories made for theatrical release or the silver screen. Spotlight News Magazine is owned by Atlantic Publicity that just opened a new extension to it : PublicityLosAngeles. Adrienne Papp is a member of the International Press Academy.She is the Founder, CEO and President  of Youthful & Ageless ™, Bringing Information to Billions™, An Honorable Cause™  www.LatestAgeless.com. www.OurMediaVenuesAndCompanies.com, Atlantic Publicity Articles, Latest Ageless, Events Photo Collection, Linked In Profile, Movie Data Base  Profile, Twitter, Instagram, Youthful and Ageless Google+, Atlantic Publicity Google+, Atlantic Publisher Google+, Adrienne Papp Google+, Adrienne Papp Personal Google+, Spotlight News Magazine, Atlantic Publicity Productions, Atlantic Altitude, Altitude Pacific, Atlantic Publicity Photography and Filming, About Adrienne Papp   What Others Say  AtlanticPublicitySEO, BrilliantMarketing365, An Honorable Cause, Academic Research, Knighthood Today,    Youthful and Ageless™. She was knighted and became a Dame in 2010. Her official name is Lady Adrienne Papp and Dame Adrienne Papp. Voting Member of The International Press Academy and The Oscars: Academy of Motion Picture Arts and Sciences. She is the Managing Editorial Director of The Beverly Hills Times Magazine, and Hollywood Weekly. She has a Master of Science in Economics majoring Logistics; an MBA Degree; An International Law, Trade and Finance Postgraduate: Marketing and Advertising Postgraduate from NYU and UCLA. Guest Professor at Oxford University; Director and Producer of TV and Airline On Camera Editorials; Adrienne Papp Enterprises