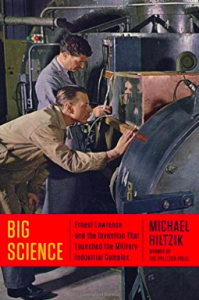 By Adrienne Papp 
Welcome to TWO Great Mind Events: Michael Hiltzik, Pulitzer Prize-winning journalist on BIG SCIENCE Thursday, September 17 and on September 26 Steven Drucker (by Skype) and Jane Goodall (in person) ALTERED GENES, TWISTED TRUTH:  How GMOs TOOK OVER THE FOOD SUPPLY ( I personally know about this one, as my ex-"fiancé" from Weight Watchers did ask me whether or not investing into genetically altered food and its profitability is a good idea?????  Let me stop right there… ) 
…………………………………………………………………………………………………… 
BIG SCIENCE
Ernest Lawrence and the Invention that Launched the Military-Industrial Complex
By Michael Hiltzik
Michael Hiltzik is a Pulitzer Prize-winning journalist and author who has covered business, technology, and public policy for the Los Angeles Times for more than twenty years.  
Host: Jan Goodman and Jerry Manpearl
MODERATOR: K.C. Cole, professor at USC journalism school. She's a former LAT colleague as a science correspondent, wrote a bio of Frank Oppenheimer, who's a figure in Big Science
*******************************************************************************
In BIG SCIENCE: Ernest Lawrence and the Invention That Launched the Military-Industrial Complex (Simon & Schuster; July 7, 2015; $30), Pulitzer Prize-winning journalist Michael Hiltzik tells the fascinating story of how one man and one invention forever changed the course of scientific research.   Hiltzik explains how science went "big," built the bombs that helped win World War II, and became dependent on government and industry. He also sheds new light on the forgotten genius who started it all, Ernest Lawrence 
Hiltzik shares many surprising facts about Ernest Lawrence and his times, including:
Without Ernest Lawrence, the atomic bomb would never have been built.
In the prewar period,Allied physicists, especially those who had fled the Nazi regime, were panicked that Hitler's scientists might learn the secrets of nuclear weapons before those in the U.S. and Britain. The allies launched a research program into the fissioning of uranium, but by 1941 progress in the U.S. had been so slow that the Roosevelt Administration was on the verge of canceling the project until after the war. Lawrence, then the most respected physicist in America, learned from his British friends that a bomb was feasible, and could be developed in time to be used in the war. He brought the word to Roosevelt's top advisors, and committed himself to working full time to make the bomb a reality..
Ernest Lawrence invented the color television tube that delivered the first color TV broadcast in history and became the Sony Trinitron-in the 1950s.
Ernest Lawrence's friendship with the generals who won World War II helped the military-industrial complex.
Lawrence's widow, Molly, tried to get her husband's name removed from Livermore
                                      *****************************************************
Hiltzik's thoughts on the future of Big Science:
The biggest "Big Science" programs today, such as Europe's Large Hadron Collider and NASA's planetary explorations and studies of Earth from space, face daunting challenges.
"Big Science" is increasingly the province of private corporations, but they're unwilling to fund research tangential to their narrow business goals.
A new generation of scientific leaders with the public stature and credibility to attract patrons willing to spend millions or billions.
There's hope in international consortiums, or entrepreneurs willing to spend heavily in the public interest.
The main driver of "Big Science" is the same driver behind all science: human curiosity about the world we inhabit and the universe around us. 
                                    **********************************************************
ABOUT THE BOOK
Ernest Lawrence and the Invention That Launched the Military-Industrial Complex
Simon & Schuster
ABOUT THE AUTHOR
Michael Hiltzik is a Pulitzer Prize-winning journalist and author who has covered business, technology, and public policy for the Los Angeles Times for more than twenty years. He currently serves as the Times's business columnist. His previous books include Colossus: The Turbulent, Thrilling Saga of the Building of Hoover Dam and The New Deal: A Modern History. In addition to the Pulitzer Prize, Mr. Hiltzik's other awards include the 2004 Gerald Loeb Award for outstanding business commentary and the Silver Gavel from the American Bar Association for outstanding legal reporting. He is a graduate of Colgate University and the Graduate School of Journalism at Columbia University and lives with his family in Southern California.
Visit the author at LATimes.com/Hiltzik or follow him @hiltzikm
………………………………………………………………………………….
How the Venture to Genetically Engineer Our Food Has Subverted Science, Corrupted Government, and Systematically Deceived the Public.  ( What a sad reality! There is sooo much more to it!  I will address this topic over and over again along with other despicable issues that inundate us from every which direction these days! What is the purpose? MONEY!!!!) 
 "Without doubt one of the most important books of the last 50 years."
 – from the Foreword by Jane Goodall
Steven M. Druker is a public interest attorney who initiated the lawsuit that exposed how the commercialization of genetically engineered foods occurred through the systematic fraud of the U.S. Food and Drug Administration
Steven Druker will appear via Skype; Jane Goodall will appear in person.
Moderator: Lance Simmens
Host: Jan Goodman and Jerry Manpearl
This book uncovers the biggest scientific fraud of our age!! It tells the fascinating and frequently astounding story of how the massive enterprise to restructure the genetic core of the world's food supply came into being, how it advanced by consistently violating the protocols of science, and how for more than three decades, hundreds of eminent biologists and esteemed institutions have systematically contorted the truth in order to conceal the unique risks of its products and get them onto our dinner plates.
Altered Genes, Twisted Truth provides a graphic account of how this elaborate fraud was crafted and how it not only deceived the general public, but Bill Clinton, Bill Gates, Barack Obama and a host of other astute and influential individuals as well. The book also exposes how the U.S. Food and Drug Administration (FDA) was induced to become a key accomplice–and how it has broken the law and repeatedly lied in order to usher genetically engineered foods onto the market without the safety testing that's required by federal statute. As a result, for almost twenty years America's families have been regularly ingesting a group of novel products that the FDA's own scientific staff had previously determined to be unduly hazardous to human health.
 By the time this gripping story comes to a close, it will be clear that the degradation of science it documents has not only been unsavory but unprecedented–and that in no other instance have so many scientists so seriously subverted the standards they were trained to uphold, misled so many people, and imposed such magnitude of risk on both human health and the health of the environment.
PRAISE FOR ALTERED GENES, TWISTED TRUTH
"A fascinating book: highly informative, eminently readable, and most enjoyable. It's a real page-turner and an eye-opener." 
      — Richard C. Jennings, PhD 
Department of History and Philosophy of Science, University of Cambridge, UK 
"This incisive and insightful book is truly outstanding. Not only is it well-rea­soned and scientifically solid, it's a pleasure to read – and a must-read. Through its masterful marshalling of facts, it dispels the cloud of disinformation that has misled people into believing that GE foods have been adequately tested and don't entail abnormal risk." 
        — David Schubert, PhD  Molecular biologist and Head of Cellular Neurobiology, 
                 Salk Institute for Biological Studies
"Altered Genes, Twisted Truth is lucid, illuminating, and alarming. As a former New York City prosecutor, I was shocked to discover how the FDA illegally exempted GE foods from the rigorous testing mandated by federal statute. And as the mother of three young kids, I was outraged to learn how America's children are being callously exposed to experimental foods that were deemed abnormally risky by the FDA's own experts."
"A great book. The evidence is comprehensive and irrefutable; the reasoning is clear and compelling. No one has documented other cases of irresponsible behavior by government regulators and the scientific establishment nearly as well as Druker documents this one."
       — John Ikerd, PhD Professor Emeritus of Agricultural and Applied Economics, 
                     University of Missouri – Columbia
"Steven Druker's meticulously documented, well-crafted, and spellbinding narrative should serve as a clarion call to all of us."
        – Stephen Naylor, PhD CEO and Chairman of MaiHealth Inc.
                    Professor of Biochemistry and Molecular Biology, & Pharmacology
                    Mayo Clinic (1991-2001)     
ABOUT THE BOOK
ALTERED GENES, TWISTED TRUTH
How the Venture to Genetically Engineer Our Food Has Subverted Science, Corrupted Government, and Systematically Deceived the Public
Clear River Press
March 2015
ISBN: 978-0-9856169-1-5 (Hardcover)
          978-0-9856169-0-8 (Softcover)
ABOUT THE AUTHOR
Steven M. Druker is a public interest attorney who founded the Alliance for Bio-Integrity and, as its executive director, initiated a lawsuit that forced the FDA to divulge its files on genetically engineered foods. This revealed that politically influenced administrators had covered up the warnings of their own scientists about the unusual risks of these foods and then allowed them to be marketed illegally. 
He is a prominent commentator on the risks of GE foods and has served on the food safety panels at conferences held by the National Research Council and the FDA, has given lectures at numerous universities (including the Biological Laboratories at Harvard), and has met with government officials throughout the world, including the heads of food safety for the UK, France, Ireland, and Australia. In 1998, he was invited to the White House Executive Offices to discuss risks of GE crops with a task force of President Clinton's Council on Environmental Quality.      
His articles on GE food have appeared in several respected publications, including TheCongressional Quarterly Researcher, The Parliament Magazine, and The Financial Times. 
He earned his B.A. in philosophy at the University of California, Berkeley (with a special award for "Outstanding Accomplishment") and received his Juris Doctor from the same institution (and was elected to both the Law Review and the Order of the Coif, the legal honor society).
The above information was released by Ilene Proctor.
About This Article:  Adrienne Papp is a recognized journalist, economist and feature writer, who has written for many publications including Savoir; The Westside Today Publications ; such as Beverly Hills 90210; Malibu Beach; Santa Monica Sun; The Beverly Hills Times; Brentwood News; Bel-Air View ; Celebrity Society ; Celeb Staff ; It Magazine;  Chic Today;  LA2DAY;  West Side Today among many others. She is the President and CEO of Los Angeles / New York-based publicity company, Atlantic Publicity and publishing house, Atlantic Publisher. Adrienne writes about world trends, Quantum Physics, entertainment and interviews celebrities, world leaders, inventors, philanthropists and entrepreneurs. She also owns Atlantic United Films that produces and finances true stories made for theatrical release or the silver screen. Spotlight News Magazine is owned by Atlantic United, Inc. Atlantic Publicity just opened a new extension to it : PublicityLosAngeles. Adrienne Papp is a member of the International Press Academy.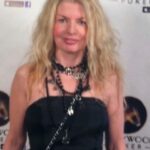 About the Author of This Article:  Adrienne Papp is a recognized journalist, economist and feature writer, who has written for many publications including Savoir; The Westside Today Publications ; such as Beverly Hills 90210; Malibu Beach; Santa Monica Sun; The Beverly Hills Times; Brentwood News; Bel-Air View ; Celebrity Society ; Celeb Staff ; It Magazine;  Chic Today;  LA2DAY;  West Side Today among many others. She is the President and CEO of Los Angeles / New York-based publicity company, Atlantic Publicity and publishing house, Atlantic Publisher. Adrienne writes about world trends, Quantum Physics, entertainment and interviews celebrities, world leaders, inventors, philanthropists and entrepreneurs. She also owns Atlantic United Films that produces and finances true stories made for theatrical release or the silver screen. Spotlight News Magazine is owned by Atlantic Publicity that just opened a new extension to it : PublicityLosAngeles. Adrienne Papp is a member of the International Press Academy.She is the Founder, CEO and President  of Youthful & Ageless ™, Bringing Information to Billions™, An Honorable Cause™  www.LatestAgeless.com. www.OurMediaVenuesAndCompanies.com, Atlantic Publicity Articles, Latest Ageless, Events Photo Collection, Linked In Profile, Movie Data Base  Profile, Twitter, Instagram, Youthful and Ageless Google+, Atlantic Publicity Google+, Atlantic Publisher Google+, Adrienne Papp Google+, Adrienne Papp Personal Google+, Spotlight News Magazine, Atlantic Publicity Productions, Atlantic Altitude, Altitude Pacific, Atlantic Publicity Photography and Filming, About Adrienne Papp   What Others Say  AtlanticPublicitySEO, BrilliantMarketing365, An Honorable Cause, Academic Research, Knighthood Today,    Youthful and Ageless™. She was knighted and became a Dame in 2010. Her official name is Lady Adrienne Papp and Dame Adrienne Papp. Voting Member of The International Press Academy and The Oscars: Academy of Motion Picture Arts and Sciences. She is the Managing Editorial Director of The Beverly Hills Times Magazine, and Hollywood Weekly. She has a Master of Science in Economics majoring Logistics; an MBA Degree; An International Law, Trade and Finance Postgraduate: Marketing and Advertising Postgraduate from NYU and UCLA. Guest Professor at Oxford University; Director and Producer of TV and Airline On Camera Editorials; Adrienne Papp Enterprises